7amleh Center held a roundtable discussion on the report "Palestine and PayPal - Towards Economic Equality" in light of the intensification of violations of Palestinian digital rights and of Palestinian content online.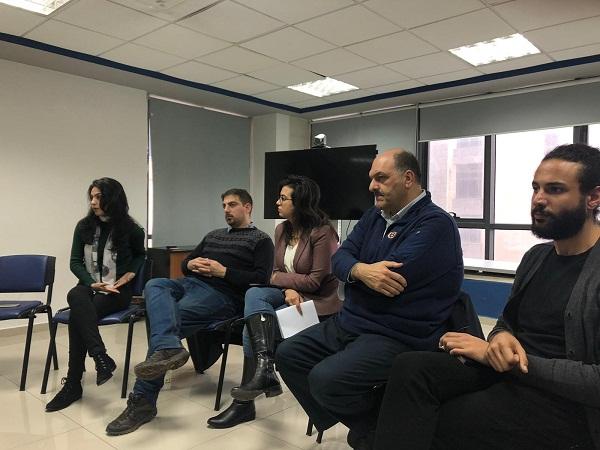 7amleh - The Arab Center for the Advancement of Social Media held a roundtable discussion on 27th February 2019 in Ramallah to discuss the research report "Palestine and PayPal - Towards Economic Equality", which sheds light on the impact of PayPal's refusal to operate for Palestinians in the occupied West Bank and Gaza and its' repercussions for Palestinian digital rights. Firstly, the researcher Ubai Aboudi gave a summary of the findings and stressed the importance of an understanding of digital rights as human rights. With the lack of PayPal services available to Palestinians, economic opportunities are lost.
Furthermore, businessmen and women participated in the discussion: Sam Bahour, part of the founding team of the #PayPal4Palestine campaign stressed that even though alternative payment services to PayPal have been created, it is the Palestinians right to have access to PayPal, the world's biggest online payment service. The supposed instability of the region can not be used as an excuse, as the service operates in more than 203 countries around the world, among them politically unstable countries such as Somalia and Yemen. Furthermore, the service is available within the West Bank, but exclusively for Israeli settlers within settlements illegal under international law, but not for Palestinians in the West Bank. Derrar Ghanem from BuildPalestine suggested running a joint crowdfunding campaign alongside the advocacy campaign, and not to be disempowered by PayPal's refusal to operate for Palestinians, as Palestinians have always been finding alternatives - as proven by BuildPalestine bringing in over $200,000 to organizations in Palestine.
The discussion concluded with a set of recommendations, including to conduct further specialized research on the potential of economic development that can be generated through the operation of PayPal in Palestine as well as the remaining barriers to financial and technological preparedness. Furthermore, the importance of a continuation of a campaign for PayPal to start operation in Palestine was stressed, as well as setting up direct meetings with PayPal.