June - August 2021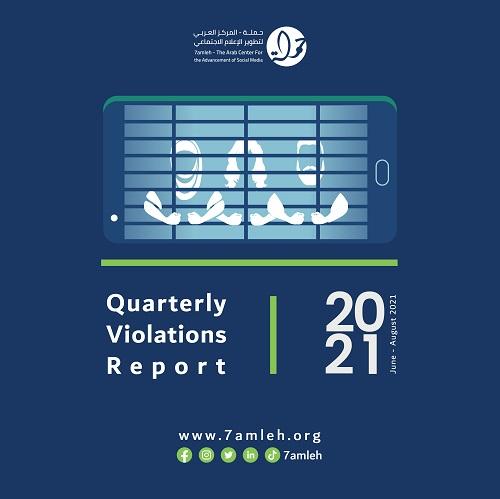 Ramallah, Haifa, September 8, 2021- 7amleh -- the Arab Center for the Advancement of Social Media issued its quarterly report on Palestinian digital rights violations in the period between June and August 2021. The report highlights the most prominent digital rights violations by various parties and entities, outlines the most prominent repercussions on the state of Palestinian digital rights following the recent developments in the Palestinian arena, and highlights other violations by the Israeli authorities and technology companies.
During the reporting period, 7amleh documented a total of 116 violations against Palestinian users and supporters of the Palestinian cause by social media companies. These violations included 16 content removals and 100 account suspensions on various platforms.
The digital rights violations committed against Palestinians in the West Bank also included extensive smear campaigns on social media platforms, where 7amleh documented 20 cases of defamation against activists relating to their participation in peaceful protests. Following the confiscation of their phones, accounts supporting the Palestinian Authority published private personal photos belonging to participants in the protests with the aim of blackmailing and defaming them and to prevent them from exercising their right to peaceful assembly and protest. It is worth mentioning that the majority of the aforementioned cases targeted female activists and journalists. 7amleh has reached out to social media companies as a trusted partner to report these violations.
On the other hand, the spread of Israeli incitement content has continued across social media platforms, as about 100 articles and inflammoatry posts were documented to have been posted online by Israeli politicians and influential writers. As for privacy and digital security, it has been reported that the Israeli police are seeking to enact a law that allows them to set up face recognition cameras in public spaces and streets, whereby a number of security agencies other than the police can obtain the information collected by these cameras.
As for technology companies, a recent report by Amnesty International revealed that a list of over 50,000 individuals, public figures, organizations, activists and journalists were targets of hacking attempts by the clients of the Israeli company NSO Group. Additionally, 7amleh sent a letter alongside the Palestinian Digital Rights Coalition to PayPal and Venmo demanding that they stop closing and freezing accounts on political and ethnic grounds, especially the accounts of Arab and Muslim users.
This report comes as part of 7amleh's ongoing efforts to protect and promote Palestinian digital rights, as the center systematically and continuously intensifies its efforts to document cases of violations that affect the Palestinian digital space, follow up with technology companies, as well as coordinate advocacy efforts against violating governments and parties, in order to ensure protecting Palestinian digital rights and providing a safe, fair and free digital space for Palestinians and activists supporting Palestine.
Check out th full report: Click here