7amleh participated in the international Day of the Right of Access to Information.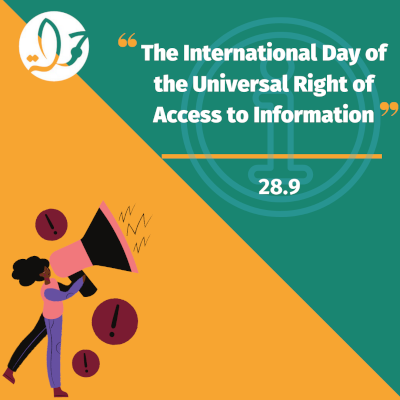 The International Day of the Right to Access to Information is held yearly on September 28th. This year, 7amleh - The Arab Center for the Advancement of Social Media participated in a social media campaign to stress the importance of a Right to Access to Information Law for Palestinians under the Palestinian Authority. The campaign included several graphics. Through its social media campaign, 7amleh reached more than 5000, and engaged more than 2000 people.
The Right to Information is the Right of all citizens to access information from their governments. 7amleh notes that 72% Palestinians have been exposed to Fake News in their research "Fake News in Palestine", in violation of their right to access to information. This year, the annual day focused on the right to information in times of crisis - such as the Covid-19 pandemic - which should not be misused to derogate the right to information. 7amleh, in this regard, has published the research "The discrepancies between the Israeli Ministry of Healths campaigns on COVID-19 in Arabic and Hebrew", which showed clear discrimination of Arabic-speaking Palestinians - a violation of the right to information. Furthermore, 7amleh published the position paper "Israeli Impact on Palestinian Digital Rights During the Coronavirus Pandemic" which details how Israeli authorities' digital rights violations of Palestinians have increased during the coronavirus pandemic.