Check out our weekly report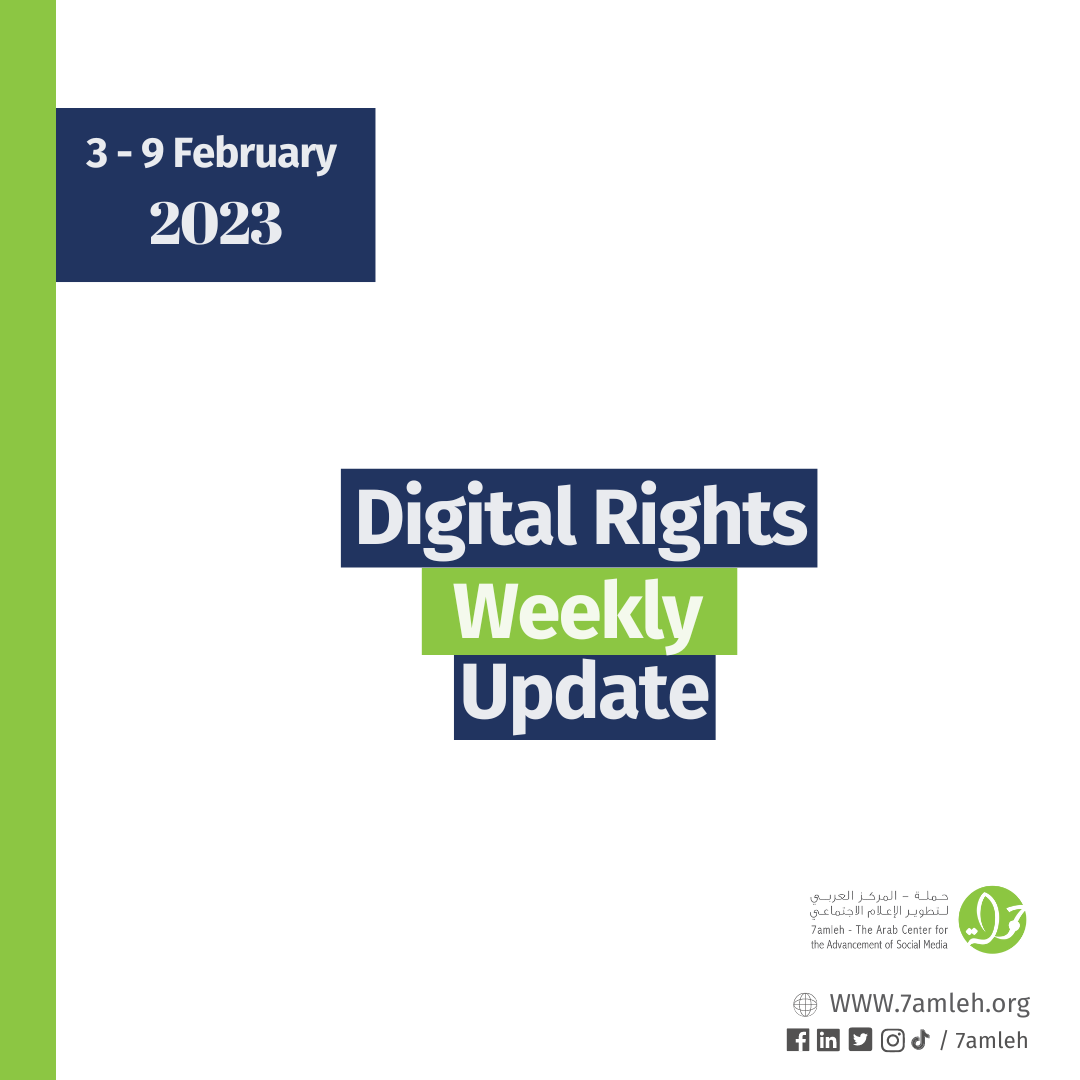 1.
7amleh: We Monitor Thousands of Digital Violations, and this is how we can Protect our Accounts from Incitement (Arabic)
Palestinian Refugees Portal
Social media platforms continue their multi-form attack on Palestinian digital content, whether by closing the accounts of Palestinian media pages or restricting access to them, as happened with the official page of the Palestinian refugee portal on "Facebook" platform, or by applying censorship and ban on accounts and content criticizing Israeli Occupation's violations under the pretext that they are labeled "incitement". In this regard, the Palestinian Refugees Portal spoke with Ahmed Qadi, coordinator of monitoring and documentation at the Arab Center for the Advancement of Social Media - 7amleh, who, in turn, confirmed that the 7amleh aims at enabling Palestinian and Arab civil society in digital advocacy by building professional capacities, defending digital rights and building Influential media campaigns.
2.
"Hashtag Palestine 2022": Facebook Tops the List of Tech Companies Violating the Palestinian Digital Rights (Arabic)
Al-Quds Al-Arabi
The Arab Center for the Advancement of Social Media" issued its eighth annual report, "Hashtag Palestine", in which it sheds light on the violations of Palestinian digital rights that Palestinians and their supporters are subjected to in the digital space by the various governments and big technology companies. The report diagnoses the state of digital freedoms, and outlines the most prominent patterns of digital rights violations and their trends during 2022. 7amleh collected and documented information on violations during the year within the Observatory for Documentation of Palestinian Digital Rights Violations (7or) and monitored local, regional and international media materials in addition to cooperating with partners in analyzing and monitoring digital violations.
3.
34 Reports Prepared by the Palestinian Observatory "Tahaqaq" during January, Topped by the Jenin and Jerusalem Field Events (Arabic)
Tahaqaq
The Palestinian Observatory for Information Verification and Media Education "Tahaqaq" continues its efforts to address misleading information in the Palestinian digital space, as its team documented 33 false and misleading content during January. In January the percentage of misleading content reached 44% of the total content monitored during the past month, which focused on field developments in Jenin following the occupation's aggression against it and its camp, as well as the field events that occupied Jerusalem witnessed against the backdrop of the two shootings.
4.
Why Should we Promote Women Awareness and Digital Protection? (Arabic)
Community Media Centre
The presence of girls and women on the internet and social media platforms, and their use of mobile applications that facilitate their daily lives, requires women and girls to be more aware of their digital rights, especially with the increasing cases of digital privacy crimes. Online GBV is every act that harms others through the use of the internet such as computers, social media platforms and mobile phones and based on gender. Although, the vast majority of victims of gender-based digital violence in different cultures are girls and women; However, it is not confined to females only, but also includes males.