Check out our digital rights weekly update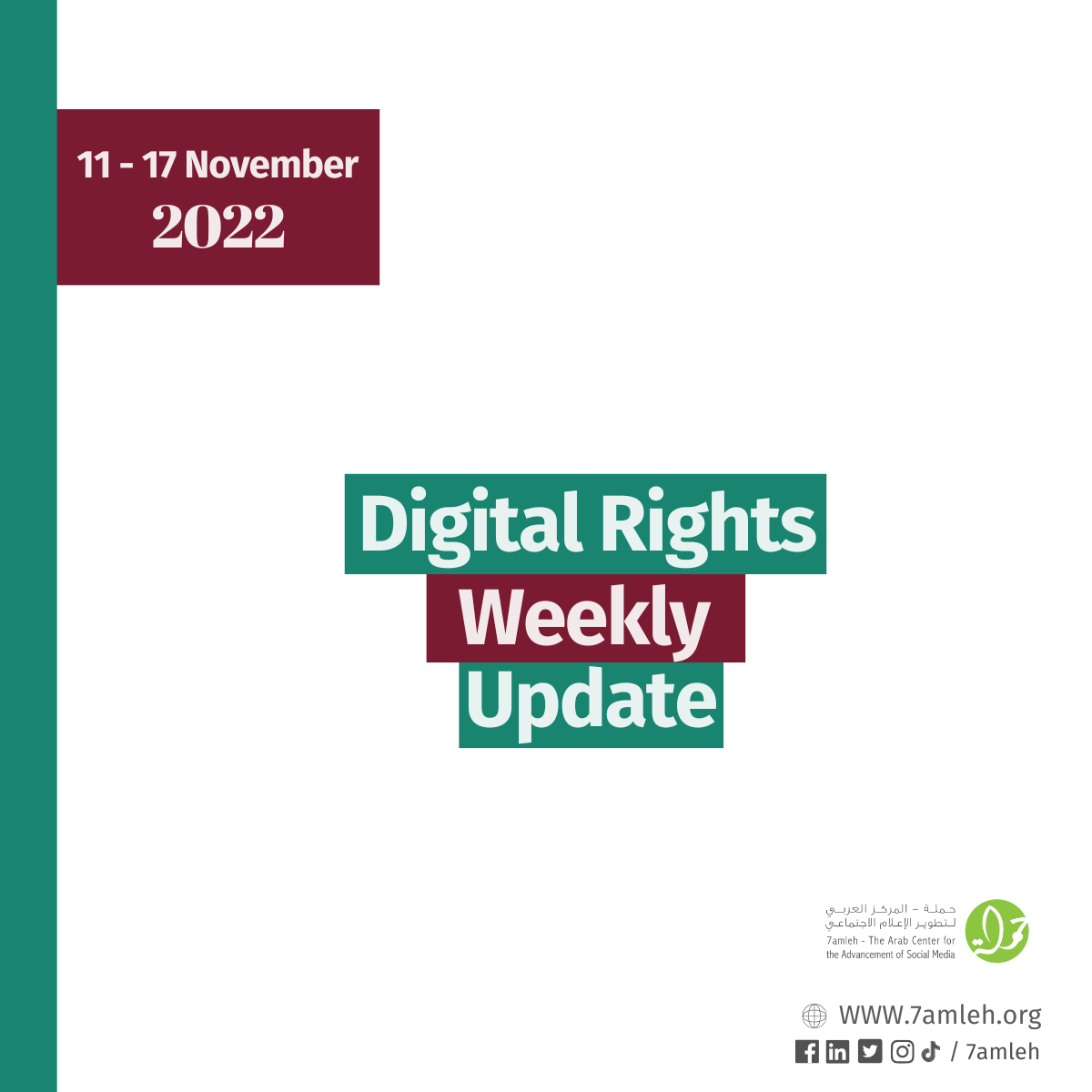 1.
Palestine Rejects EU-Israeli Draft Agreement, Says it Violates Int'l Law (English)
Asharq Al-Awasat
Palestine has rejected the European Commission's engagement in talks with Israel that would allow the exchange of personal data, including that of Palestinian citizens living in areas run by the Palestinian Authority. Member of the Executive Committee of the Palestinian Liberation Organization (PLO) Ahmed Majdalani said the talks represent a flagrant violation of international law and the Palestinian people's rights and international protocols.
2.
"Twitter Has Been a Lifeline" (English)
Jewish Currents
Over the past few years, Palestinian activists have used Twitter to share reports from the ground in Palestine and to call out media coverage that unquestioningly adopts the Israeli government's line. Now, that platform is at risk: Twitter's new owner, Elon Musk, has laid off more than half of its 7,500-person staff since he took control at the end of October and prompted 1,200 more to resign, raising fears that the site could soon stop functioning. "Twitter has been a lifeline for many Palestinians around the world, for civil society organizations and grassroots activists," said Marwa Fatafta, who serves as MENA policy manager at the digital rights advocacy organization Access Now. "It has managed to connect an otherwise fragmented population: Palestinians from Gaza, Jerusalem, Europe, the US."
3.
The MTIT kicks off a workshop entitled Palestinian Digital Rights "as part of the activities of Global Entrepreneurship Week 2022" (Arabic)
MTIT
The MTIT kicked off a workshop entitled "Palestinian Digital Rights" under the Global Entrepreneurship Week 2022, which is supervised by the National Center for Technological Creativity and Innovation, in cooperation with 7amleh. The workshop touched upon many topics and issues related to digital rights, defining digital rights and freedoms, and their local and international sources, in addition to the most prominent of these rights, responsibilities towards them, the right to privacy and protection of personal data, its references, content and reality, explaining the policies that threaten the exercise of Palestinian digital rights.
4.
Israel Delays Palestinian Journalist's Hearing, Extends House Arrest, Social Media Ban (English)
Palestine Chronicle
The Israeli District Court postponed Palestinian journalist Lama Ghosheh's hearing, scheduled for Tuesday, until December 20, extending her house arrest and social media ban, the official Palestinian news agency WAFA reported. Ghosheh, 30, is a mother of two and works as a freelance journalist. She was detained by Israeli occupation forces from her family home in the Sheikh Jarrah neighborhood on September 4 and has had her detention extended several times. She was arrested for "incitement" on social media after posting her interviews with former Palestinian prisoners online and writing against illegal Jewish settlers who attempted to take over Palestinian homes in her neighborhood.