Check out our digital rights weekly update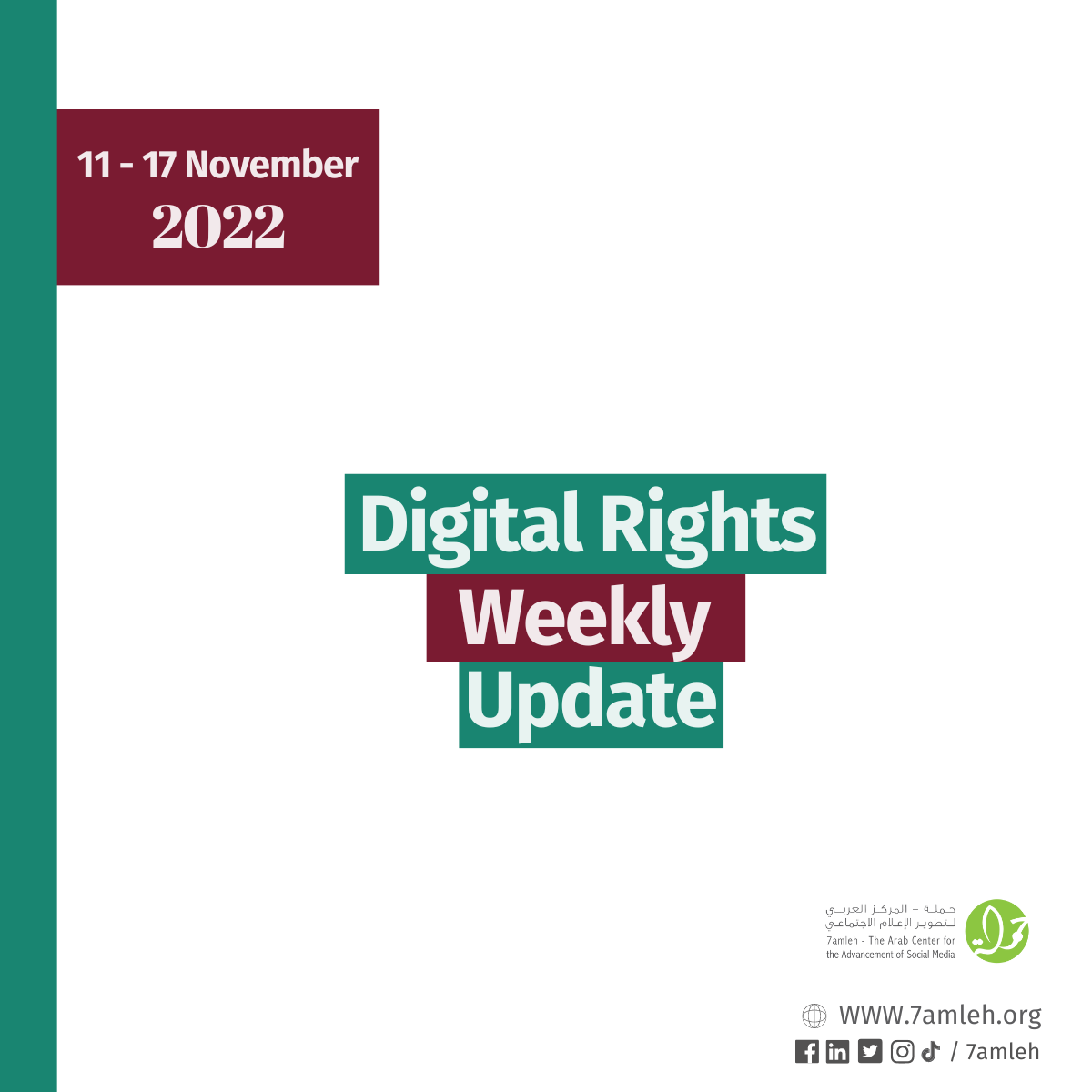 The Ministry of Telecom and Information Technology opens a workshop entitled Palestinian Digital Rights "as part of the activities of Global Entrepreneurship Week 2022" (Arabic)
Ministry of Telecom and Information Technology
The Ministry of Telecom and Information Technology opened a workshop entitled "Palestinian Digital Rights" as part of the activities of the Global Entrepreneurship Week 2022, which is supervised by the National Center for Technological Creativity and Innovation, in cooperation with the 7amleh - the Arab Center for the Advncement of Social Media. The workshop addressed many issues related to digital rights. This included; defining digital rights and liberties, their local and international legal basis, in addition to the most prominent examples of such rights, and responsibilities towards them. In addition to the right to privacy and protection of personal data, its references, content and reality, explaining the policies that threaten the exercise of Palestinian digital rights.
UN Invites Public Inputs For A New Global Digital Compact For An "Open, Free And Secure Digital Future For All" (English)
Medianama
The United Nations' (UN) newly-proposed "Global Digital Compact" seeks to build international consensus on "shared principles for an open, free and secure digital future for all". To be jointly deliberated by the United Nations, state government, civil society, and the private sector, issues discussed under the nascent treaty include reaffirming the commitment to bring the unconnected online, avoiding fragmentation of the Internet, allowing people to choose how their data is used, and introducing accountability measures to promote a "trustworthy Internet".
The Shin Bet Admits Spying on Journalists through their Cell Phones (Arabic)
Arab 48
The Israeli General Security Service (Shin Bet) admitted that it spied on journalists through communications data kept by cell phone companies. He also used this data in investigations into criminal incidents, and not only in security investigations. This came in the Public Prosecution's response to a petition submitted by the Association for Civil Rights in Israel to the Supreme Court.
Mass Layoffs Hit Technology Companies.. Mita Gives up 11,000.. and "Twitter" Expels 50% (Arabic)
youm7
The mass layoffs in tech that ended with Meta and Salesforce today bring the total number of employees who have lost their jobs this year to around 60,000 highly skilled workers. The coverage explained that Meta that owns Facebook will lay off 11,000 employees, as part of the campaign to reduce expenses that it announced a few days ago. It also decided to continue freezing new appointments until the first quarter of next year, as part of a plan aimed at reducing spending. In light of the sharp slowdown in the digital advertising market, and the fluctuation of the global economy, which faces recession risks. The two companies join Twitter, Microsoft and nearly a dozen other high-profile technology companies in shrinking their workforces, while companies like Apple and Amazon have announced they will temporarily close their doors to new hires.