Check out our digital rights weekly update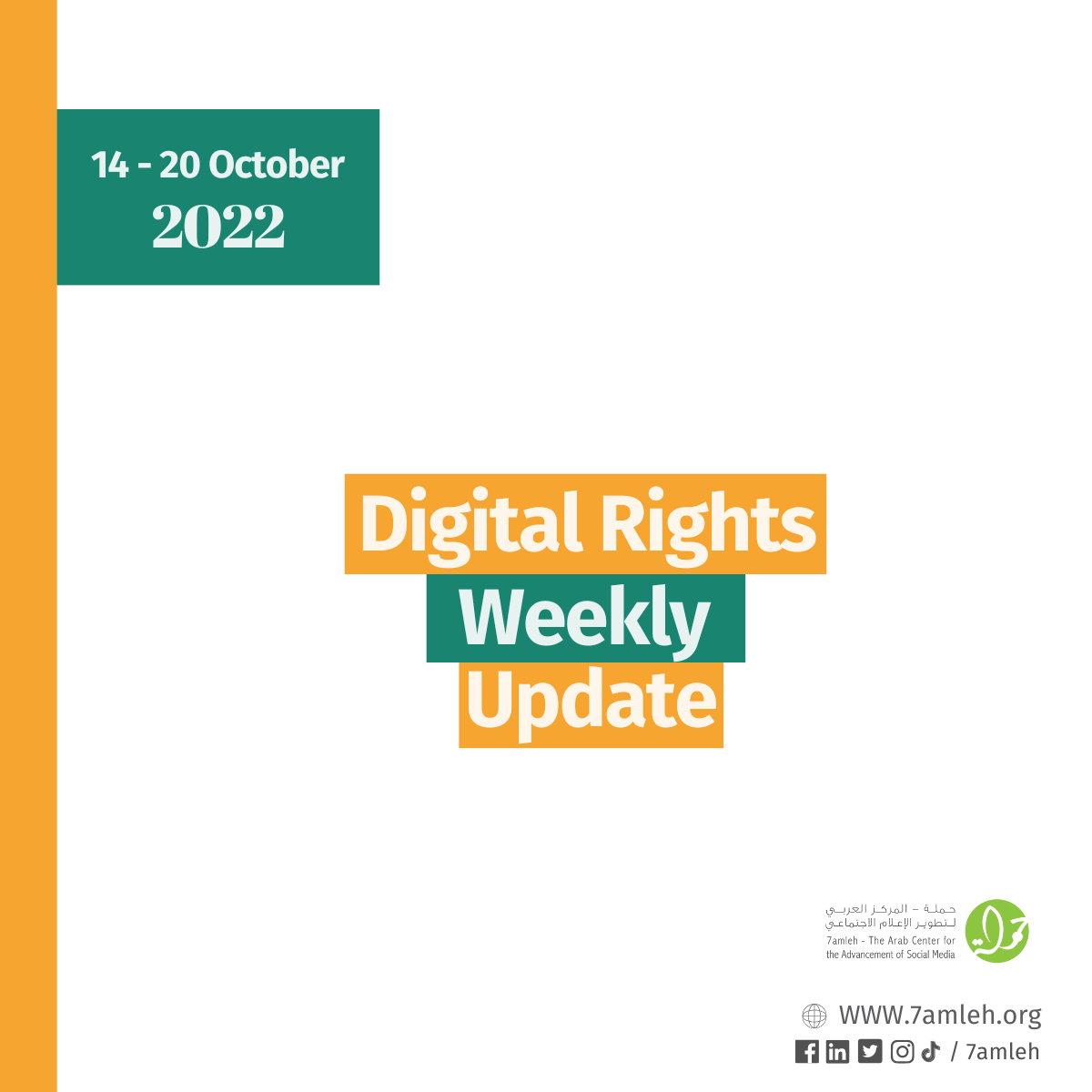 Weekly Update 14 - 20 October
Dear Instagram, Stop Shadow Banning Me And Other Palestinians (English)
Grazia
It seems as though Meta thinks that supporting Palestinian human rights goes against their guidelines. What is the point of having a 'dedicated Human Rights team' if they are complicit in denying the advocacy for all human rights, including Palestinian human rights? As of last night, I have not been able to access anything from my Instagram page. I haven't been logged out and you will be able to search for my name, and yet I still cannot post, see my feed, my messages or my own profile.
Instagram Briefly Suspends Eye on Palestine for 'not following' Guidelines (English)
MEE
Instagram on Wednesday briefly suspended Eye on Palestine, an account with over three million followers that highlights Israeli human rights abuses against Palestinians. A back-up account confirmed the suspension in a post on Wednesday, accompanied by a screenshot that read: "We suspended your account on 19 October 2022. There are 30 days to disagree with this decision. Your account, or activity on it, doesn't follow our Community Guidelines on dangerous individuals and organisations."
After Suspending a popular page on "Instagram"... How Can we Deal With the Censorship of Palestinian Content? (Arabic)
The New Arab
Palestinian activists woke up to the news of the disabling of "Eye on Palestine" page on the "Instagram", which they considered to be part of the continuous censorship campaign against the Palestinian content on social media motivated by the Israeli incitement. The suspension came days after an Israeli security decision to intensify monitoring of Palestinians on social media, under the pretext of preventing incitement, in an effort to confront the escalation in the Palestinian territory.
After Restrictions on Palestinian Content, Quds News Network Deactivates its Facebook Page (Arabic)
Quds News Network
Quds News Network announced the temporary deactivation of its official page on the Facebook, after receiving a series of reports on publications related to the Palestinian cause. The network said in a statement issued last Thursday, that it "temporarily deactivated its Facebook page after a series of unjustified reports in an attempt to block and restrict Palestinian content and voice." This comes after a statement by the Israeli defense minister, in which he said that Israel will work against pages that incite resistance against the occupation.