Check out our digital rights weekly update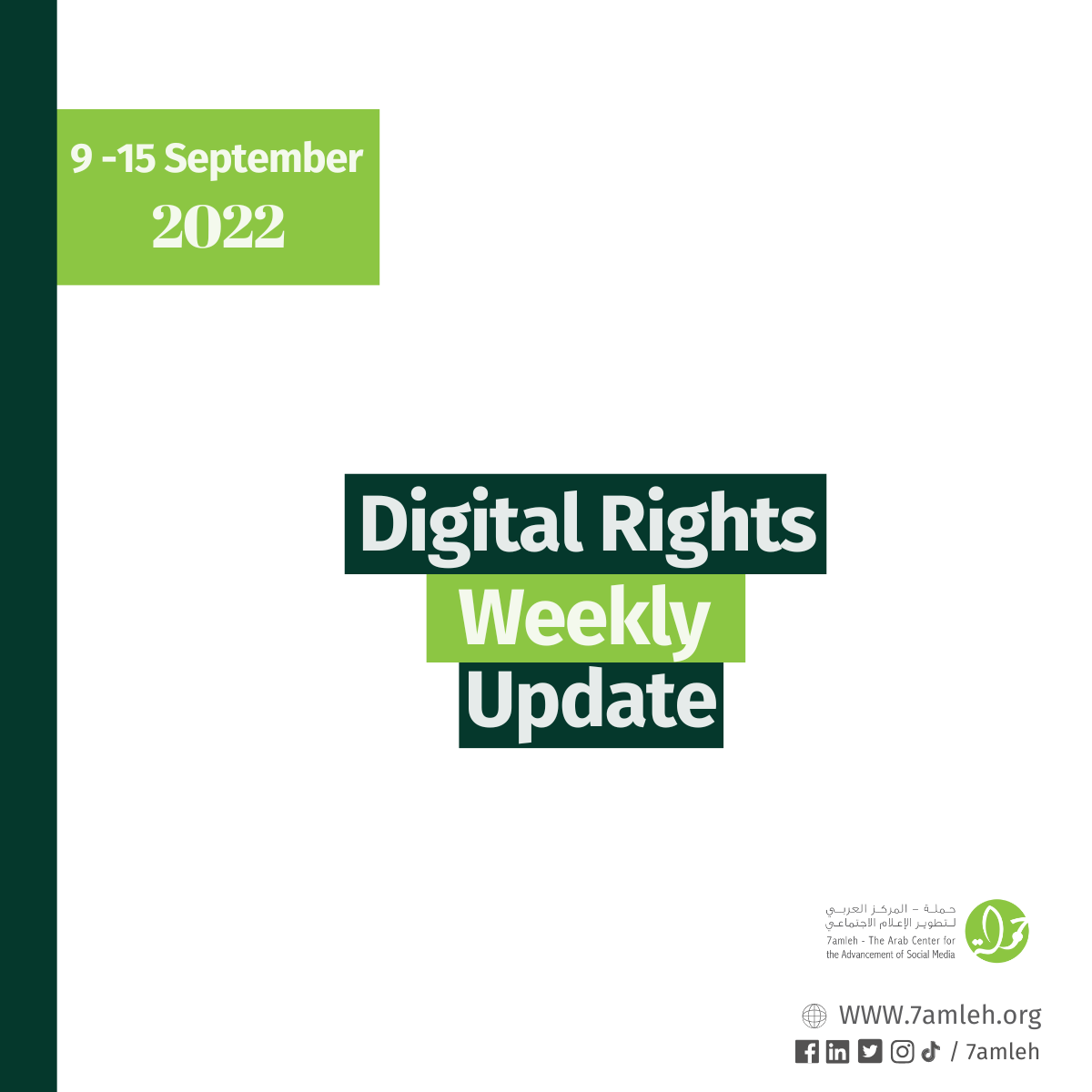 Weekly update 9 - 15 September
Civil Society Organizations Stand in Solidarity with Tech Workers who Speak out against Oppression (English)
7amleh
We, the undersigned Palestinian civil society organizations and human rights organizations, are in solidarity with tech workers, who speak out against corporations whose policies contravene international law, as well as business and human rights principles. Large tech companies are continually investing in profits over people. We are witnessing an alarming trend of tech giants cozying up to repression regimes around the world, thereby exacerbating the digital divide, ongoing oppression, and existing racism toward marginalized and occupied communities, such as the Palestinian people. Google, for example, through its Nimbus project, provides very advanced AI tools that provide Israel with facial recognition, automated image categorization, and object tracking capabilities, in addition to sentiment analysis that is supposed to assess the emotional content of pictures, speech, and writing. Palestinians have been living under Israeli military occupation, and seen these technologies used against them, for decades. Where Israeli authorities and surveillance corporations have been producing and testing surveillance technologies on Palestinians, technologies which are then sold internationally. Therefore, the experience of Palestinians has shown that such technologies are often used in a discriminatory manner, and weaponized for military purposes and to profit from human rights abuses. This raises the concerns of Palestinians and tech workers alike.
#NoTechforApartheid: Google and Amazon Put Profit before Principles with Project Nimbus (English)
The New Arab
Partnerships between tech giants and colonial regimes only ever lead to further repression, persecution, and systematic discrimination. In the case of Israel, it uses the Palestinian territory as a testing lab for its surveillance and spying technologies that it then sells off worldwide. As Palestinians, we have lived under Israel's enforced panopticon for many years. Among the technologies developed and tested on us are CCTV cameras with facial recognition, spyware, Blue Wolf and Wolfpack databases. The recent advanced AI tools contract between Google and the Israeli army will only strengthen the already existing surveillance state.
Sadly, this is not the first time that giant companies have invested in projects that serve the policies of systematic human rights violations practised by the Israeli authorities against us. However, there have been increasing concerns about the censorship of Palestinian workers, as well as other workers within these companies who express opposition to the oppression of Palestinians.
Google Amazon Employees Protest Tech Giants' Contract with Israel as Worker Activism Ramps (English)
Ejourno.net
Hundreds of Google and Amazon employees protested Thursday outside the company's offices in San Francisco, New York, Seattle and Durham, NC, demanding that the tech giants end their $1.2 billion Project Nimbus contract to supply Israel and its military with artificial intelligence and cloud computing technology. Some Google and Amazon employees believe the contract will help Israel's Palestinian surveillance efforts, Josh Marxen, a Sunnyvale-based Google Cloud engineer, told The Chronicle before the protest. About 1,100 Google employees have signed a petition calling on the company to drop the Nimbus contract, Marxen said. "There is no way to participate without giving input to the Israeli government that is oppressing the Palestinians," he said. "It is worrying.Google denied the contract would help intelligence services or strengthen the military, saying protesters were inaccurately describing Project Nimbus.
Digital Aِpartheid: How Palestinian Voices are being Suppressed Online (English)
Doha News
In early September, Meta-owned WhatsApp banned a number of Palestinian accounts from its platform. Palestinian journalist Jalal Abkhater WhatsApp account reported A number of senior Palestinian authorities and members of the Palestinian Liberation Organization have been purged in a series of bans. This is the latest red flag for relying on pro-Israel platforms such as Meta, which owns Facebook, Instagram, WhatsApp, and more. Banning the Palestinian voice not only limits communication within the region, but also affects the world's perception of Israel's illegal occupation of Palestine. Social media allows anyone to record and disseminate viral posts, giving everyone a voice online and influencing how people feel offline. Cutting the Palestinian voice out to its roots means fewer voices from Palestinians and more voices from the occupiers.