Check out our digital rights weekly update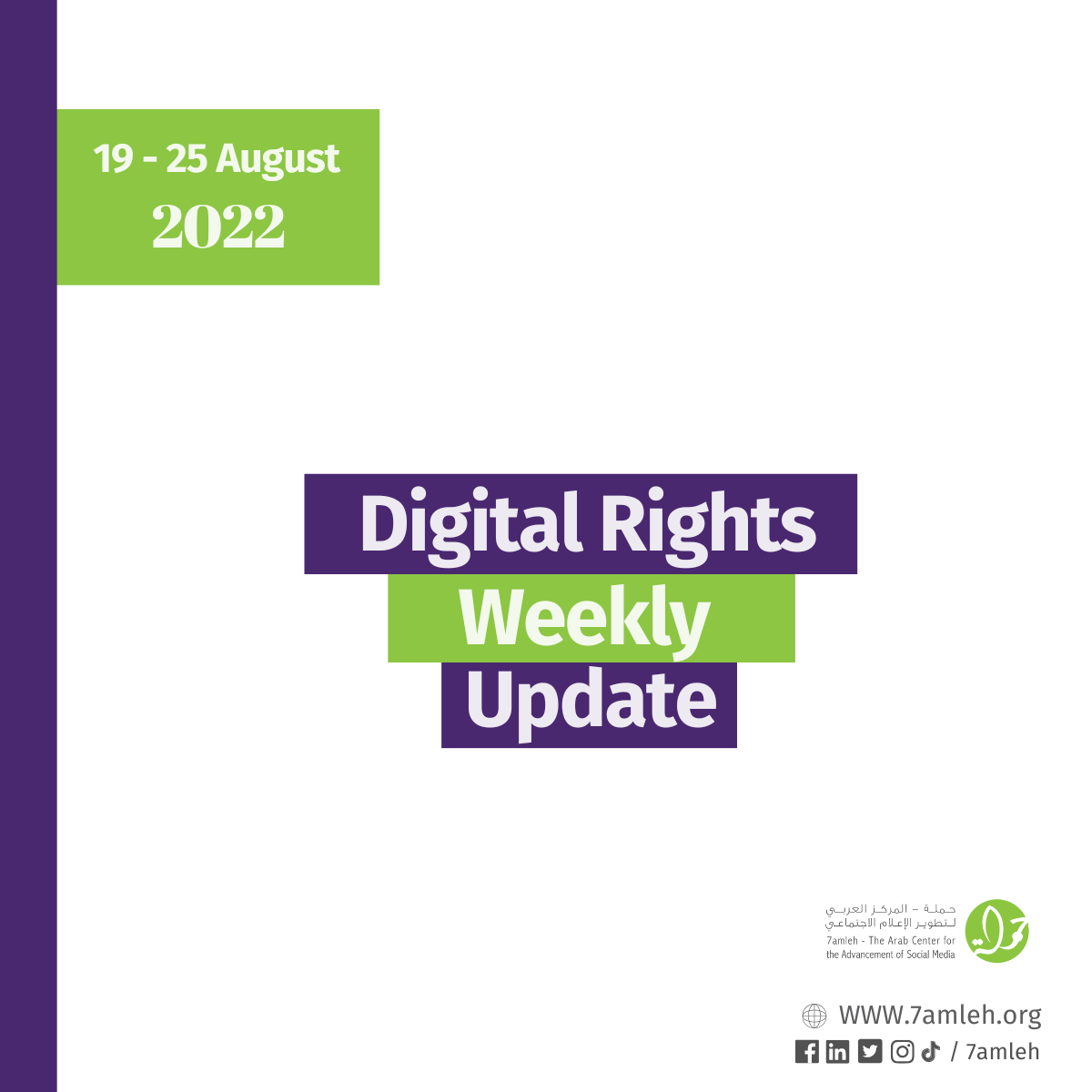 7amleh in Numbers (English)
7amleh
In the first half of 2022, 7amleh is continuing to raise the capacity of Palestinian civil society, activists and human rights organizations, to raise awareness on digital rights, and to advocate for Palestinian digital rights locally, regionally and internationally in order to achieve a free, fair and secure digital space. 7amleh has also successfully launched the sixth edition of the Palestine Digital Activism Forum (PDAF) with more than 1300 live attendants and more than 300.000 viewers throughout social media. And trained more than 600 individuals on digital rights issues, including 11 trainers of digital security, as well as 20 organizations. Furthermore, a total of 151 pieces of online content that had been removed from social media platforms was reinstated so far through 7amleh's efforts.
Digital Repression for the Palestinian Voices (Arabic)
The New Arab
Digital rights are human rights applied in the digital world, where human rights in digital networks apply as much as in reality. As occupation, expulsion, killing and abuse are conducted in the real world, Palestinians are also subjected to oppression, expulsion and silencing in the virtual world, where the massive violations of human rights committed under the Israeli occupation are largely reflected in the virtual world, and this is particularly evident in the occupation's dominance of the infrastructure linked to the digital network.
Focus On: Palestinian Digital Rights (English)
Shabaka
The arrival of new digital technologies over the past decade has had critical implications for Palestinian activism. On the one hand, these developments have reinvigorated the Palestinian cause. Indeed, social media platforms have facilitated new channels and modes of social organization, helping Palestinians counter their geographic fragmentation under Israeli apartheid; multimedia visualizations offer novel ways to communicate the histories and ongoing realities of the Palestinian struggle to global audiences; and digital currencies may help Palestinians in the West Bank and Gaza circumvent Israeli economic domination.
TikTok has been Accused of 'Aggressive' Data Harvesting. Is your Information at Risk? (English)
The Guardian
Cybersecurity experts have warned Australian TikTok users that the Chinese government could use the app to harvest personal information, from in-app messages with friends to precise device locations. The warnings follow a report by Australian-US cybersecurity firm Internet 2.0, which found the most popular social media app of the year collects "excessive" amounts of information from its users. Here's what you need to know about TikTok's data harvesting, and how to keep your information safe.