Check out our digital rights weekly update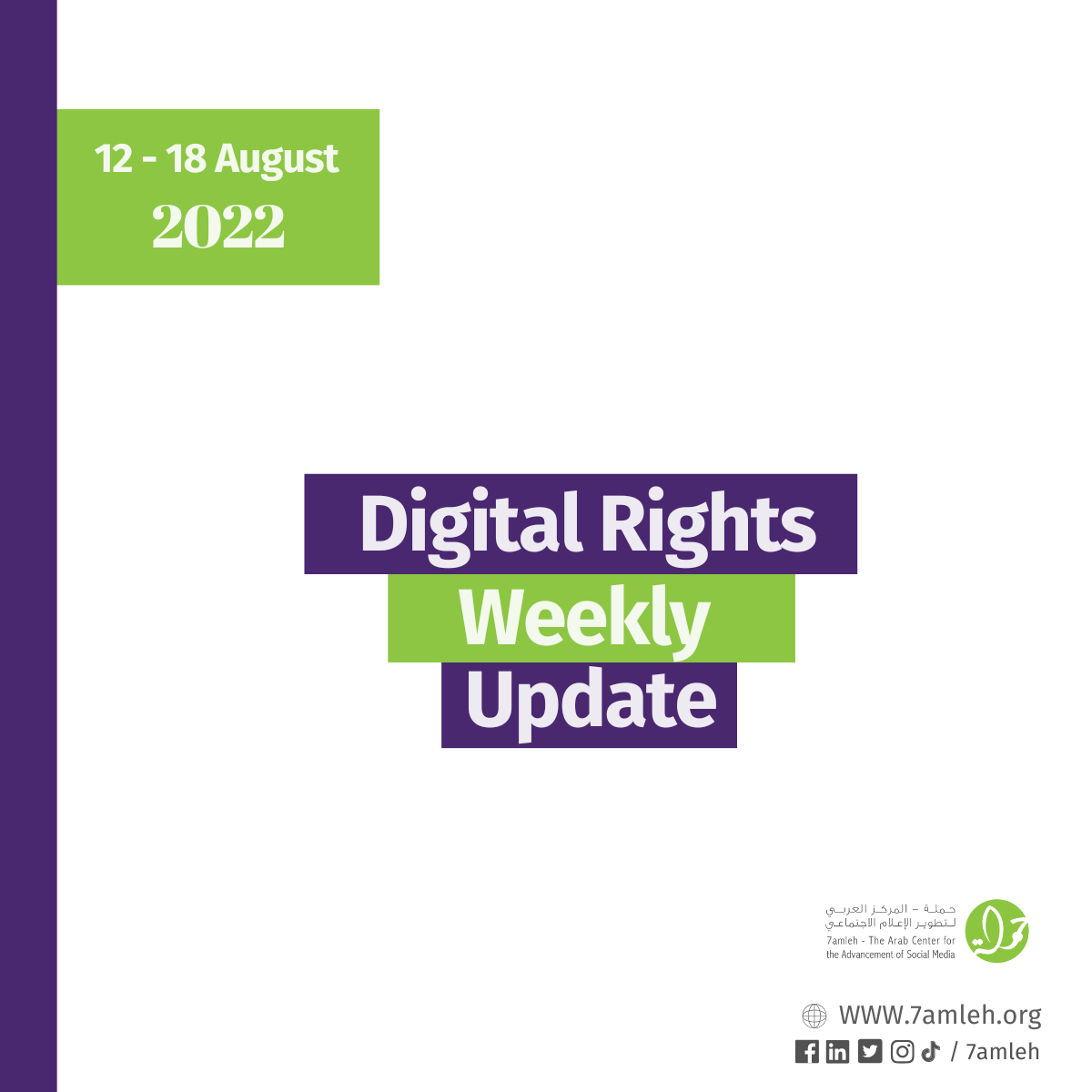 7amleh Achieves Consultative Status at the United Nations Economic and Social Affairs Council (ECOSOC) (English)
7amleh
7amleh - The Arab Center for the Advancement of Social Media is honoured to receive consultative status at the United Nations Economic and Social Affairs Council (ECOSOC), which was decided through a vote on 22nd July 2022 at the council meeting in New York. 7amleh would like to thank all the members of ECOSOC who voted in favour of this decision.
ECOSOC is the UN body responsible for advancing the Sustainable Development Goals, and the three areas of sustainable development – economic, social and environmental. This accreditation to consultative status will allow 7amleh to bring the world's attention to Palestinian digital rights, and the human rights violations they are exposed to such as surveillance, online censorship and online hate speech.
Hundreds of Palestinian Content, Accounts Deleted or Restricted by Social Media Giants (English)
The New Arab
Activists and digital watchdogs have reported a noticeable increase restrictions on Palestinian content online, with at least 300 Palestinian journalists and activists' accounts being restricted or entirely deleted on various social media platforms, including Facebook, Instagram, TikTok, and Twitter.
At Israel's Cyber Week, Generals and CEOs sell Warfare as a Techno-Utopia (English)
+972 Magazine
The human cost of warfare is hard to remember when the business of militarism is dressed up like a Silicon Valley work retreat. At Cyber Week, generals talk up the future of military conflict the same way big-tech executives brag about the Metaverse. Both adhere to a genre of techno-utopianism that distracts from a present reality of pervasive surveillance and endless war. It is hard to tell what is just the discharge of hot air and what new technologies a militarised technology industry is capable of churning out. But it is clear that war is as lucrative an investment as ever, and Israel's military establishment is eager to keep it that way.
Meta Slammed for 'Digital Aggression' Amid Systematic Censorship Campaign Against Palestinians (English)
Press TV
In a raid on the occupied West Bank city of Nablus on August 9, Israeli forces assassinated al-Nabulsi, who was a fighter and member of the al-Aqsa Martyrs' Brigade, along with his fellow Islam Sabbouh and a 16-year-old teen, Hussein Jamal Taha.
Soon afterward, Palestinian journalists and activists took to social media platforms to cover the story and report the suffering inflicted on Palestinians by the Israeli regime, but they were faced with a massive censorship campaign.