Check out our digital rights weekly update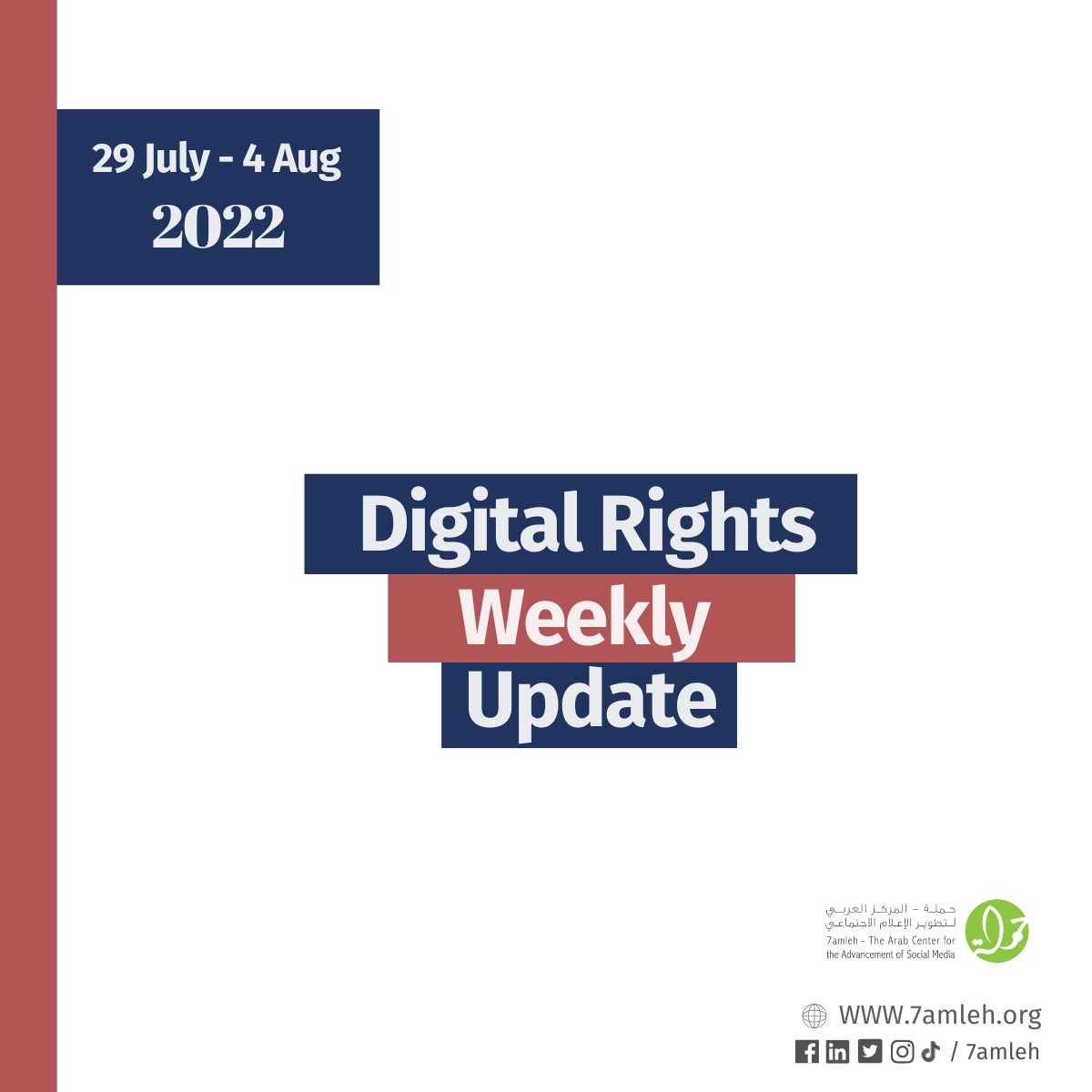 Meta Facilitates Bullying of Palestine Activists (English)
Electronic Intifada
Tech giant Meta – owner of Facebook – is increasingly being identified with censorship and repression of pro-Palestine content. The company has regularly targeted accounts advancing the Palestinian liberation struggle in various capacities, subjecting them to all forms of obstruction, from shadow-banning to outright deletion. But up until now, Meta's political bigotry has largely revolved around hiding, blocking or removing content that centers Palestine. Now, it seems the platform is also tacitly supporting clear and open targeted abuse of pro-Palestine content creators by anti-Palestinian accounts.
Google Arming Israel with Advanced AI, Machine-Learning Capabilities, Report Reveals (English)
MEMO
Google is providing advanced artificial intelligence (AI) and machine-learning capabilities to the Israeli government, through its controversial "Project Nimbus" contract, reported The Intercept. "The project is intended to provide the government, the defence establishment and others with an all-encompassing cloud solution," the Ministry said in its announcement. According to The Intercept, training documents and videos obtained through a publicly accessible educational portal intended for Nimbus users, reveal Google is providing the Israeli government with machine-learning and AI tools, including facial detection, automated image categorisation, object tracking and even sentiment analysis that claims to assess the emotional content of pictures, speech and writing, through Google Cloud Platform.
How Much Longer Can Google Own the Internet? (English)
Vox
A group of lawmakers led by Sen. Mike Lee (R-UT) introduced the Competition and Transparency in Digital Advertising Act on Thursday. This bipartisan and bicameral legislation would forbid any company with more than $20 billion in digital advertising revenue — that's Google and Meta, basically — from owning multiple parts of the digital advertising chain. Google would have to choose between being a buyer or a seller or running the ad exchange between the two. It currently owns all three parts, and has been dogged by allegations, which it denies, that it uses that power to unfairly manipulate that market to its own advantage.
Israeli Racism in Legal Procedures for Crimes of Incitement: 77% of Indictments Target Arabs (Arabic)
Arab 48
A report published on Sunday, revealed that 77% of the indictments for crimes of incitement to violence and racism submitted by the Israeli Public Prosecution in recent years targeted Arab citizens. This came in a report prepared by the "Reformatory Center for Religion and the State" in an analysis of databases it obtained from the Israeli Ministry of Justice and law enforcement authorities, following requests made by the Center to make these data available under freedom of information and the right to know, and the data provided relate to the period between 2014 and 2021.