Check out our digital rights weekly update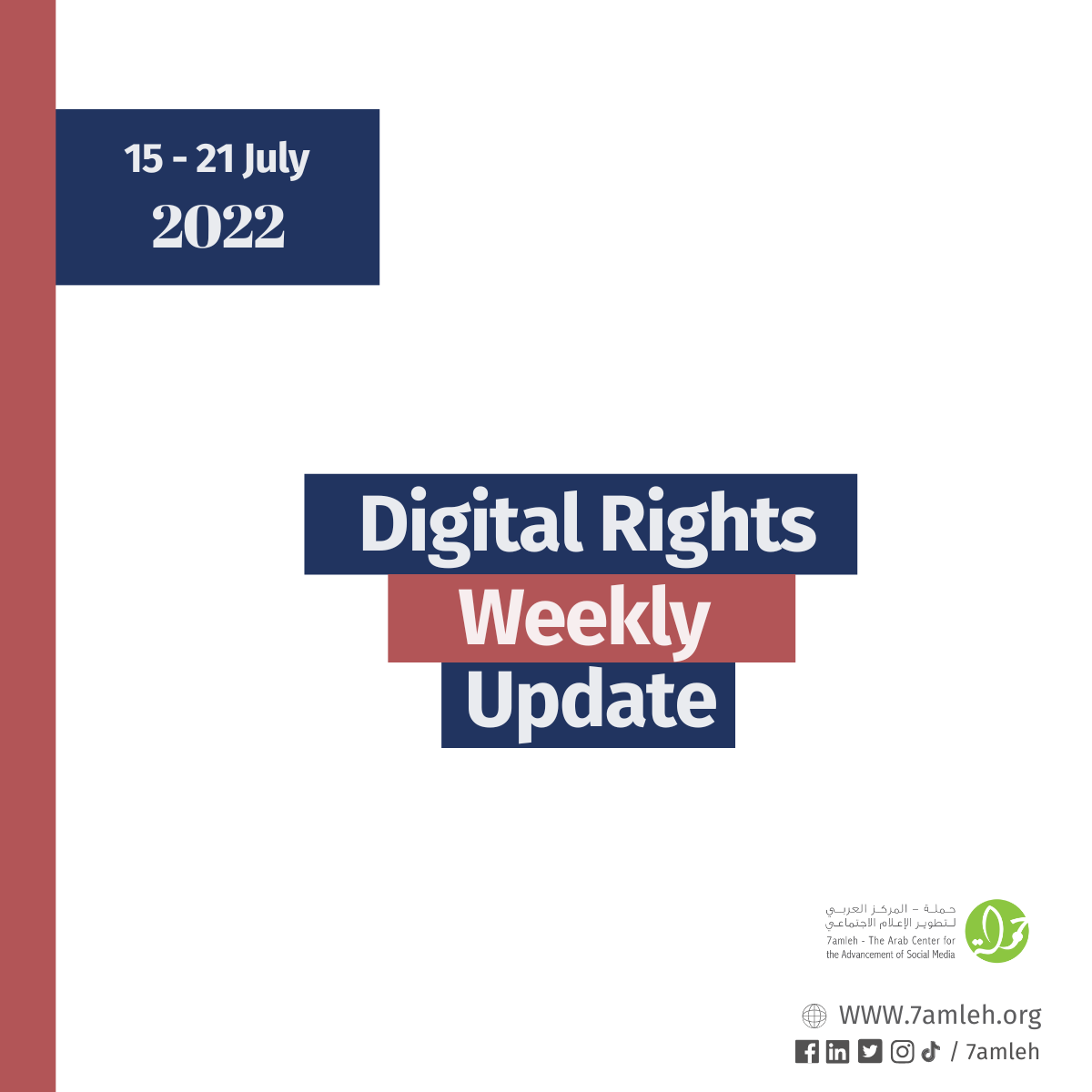 Weekly Update 15 - 21 July
Targeting Palestinian Content... Digital Campaigns Led by PA Affiliates (Arabic)
The New Arab
Coordinated digital campaigns target Palestinian and public media pages, the investigation reveals networks of affiliates with the security forces taking a leading role in distributing reporting tasks aiming to suspend accounts, by exploiting Facebook community standards. A member of the Preventive Security Forces, R.H. from the city of Salfit, in the northern West Bank, apparently boasted, in a post on his Facebook page on July 25, 2021, that "activists on social media were able to eliminate a new network of the misinformation networks, by suspending the official page of "Quds News Network", which mastered lies and fabrication and abet sedition among the Palestinian people for the benefit of suspicious political parties and factions that only care about their own interests," as he put it.
Who is Leading Campaigns Questioning the Killing of Muhammad Al-Durrah on Twitter? (Arabic)
Misbar
There was renewed controversy in social media about Muhammad al-Durrah, who was subjected with his father to a barrage of bullets by Israeli soldiers on September 30, 2000, and the cameras documented on video the moment of his death. Recently, In conjunction with the killing of the Palestinian journalist Shereen Abu Aqleh by Israeli soldiers, the name of Muhammad al-Durrah appeared again on Twitter, in the forms of misleading and false tweets questioning his killing itself or questioning his killing by Israeli soldiers. "Misbar" conducted an analysis of the tweets that included misleading claims about Muhammad Al-Durra, while tracking accounts that interacted with Muhammad al-Durrah's name immediately after the killing of journalist Shereen Abu Aqleh, by questioning the idea that he had been killed in the first place.
"Wafa" Monitors Incitement and Racism in the Israeli media (Arabic)
Wafa
The Palestinian News and Information Agency (Wafa) monitored incitement and racism in the Israeli media between July 10 and July 16. In its (264) report, "Wafa" provides monitoring and documentation of the inflammatory and racist discourse in the Israeli visual, written and audio media, and some pages on social media for political and legal figures in Israeli society.
Digital Media Specialists Call for Developing Arab Social Media Platforms Supporting Palestinian Content (Arabic)
Al-Quds Newspaper
On Tuesday, specialists and technical experts recommended to establish digital Arab platforms to support Palestinian content that is being censored in the Western social media platforms, including "Facebook" and "Twitter". This came during a symposium organized by the Journalists Support Committee entitled: "The Challenges Facing Arab Social Media Applications in Supporting Palestinian Content", in Gaza City, in the presence of a number of male and female media professionals.
Pegasus inquiry: MEPs finish fact-finding visit to Israel (English)
European Parliament
Following the alleged use of the Pegasus surveillance spyware against journalists, politicians, law enforcement officials, diplomats, lawyers, business people, civil society actors and other citizens, the European Parliament decided in March to establish a new committee of inquiry to investigate the use of Pegasus and other surveillance spyware, and whether this use has breached EU law and fundamental rights. The committee is expected to submit a final report after 12 months of work and make recommendations on how to address the threats to key democratic values and civil rights. The committee plans to visit Poland and Hungary in the second half of 2022 and possibly other countries in 2023.