Check out our weekly update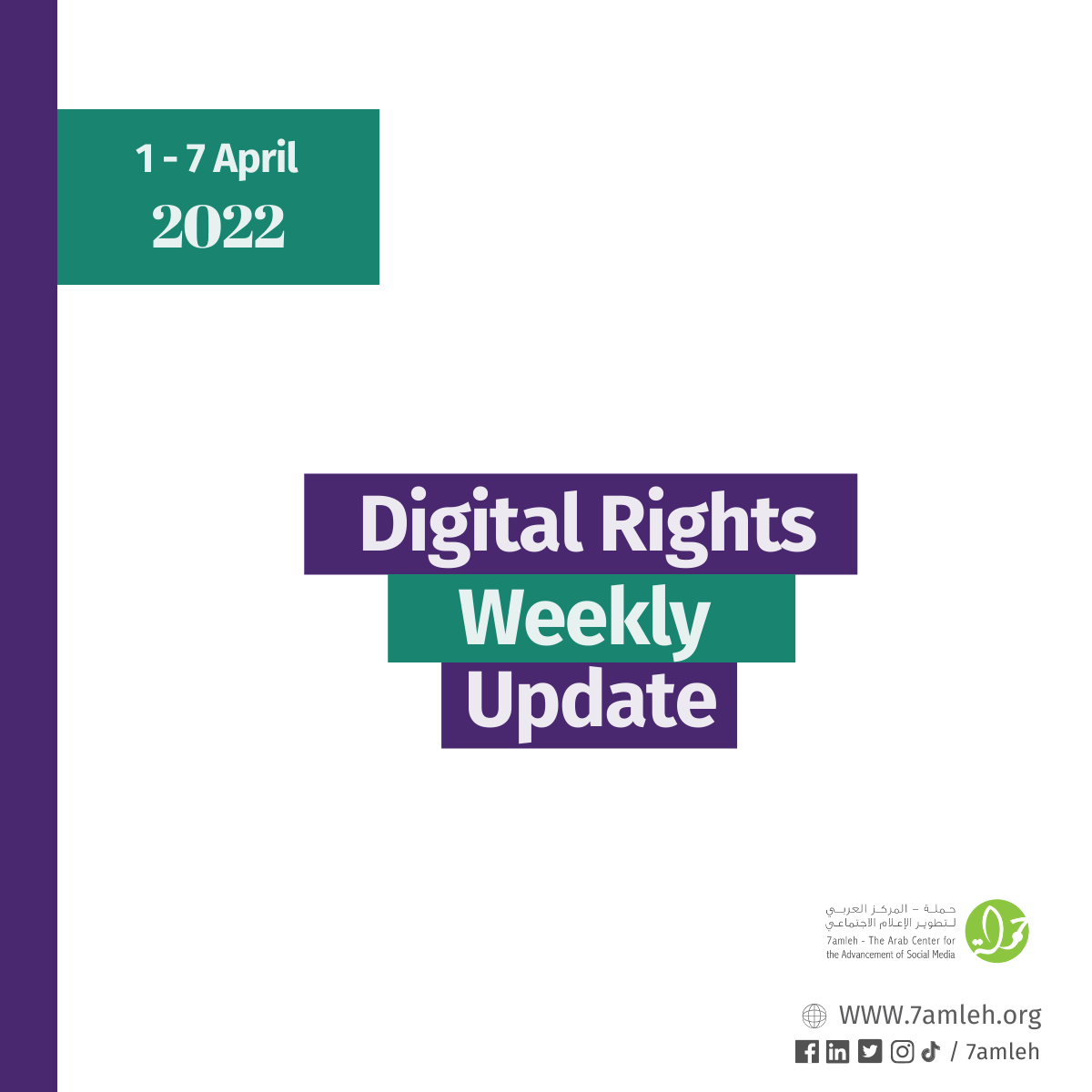 The Palestinian Digital Rights Coalition (PDRC) welcomes filing of a lawsuit against the Israeli Surveillance tech NSO Group (English)
7amleh
The Palestinian Digital Rights Coalition (PDRC) support the effort of The International Federation of Human Rights (FIDH), The Human Rights League (LDH) and Salah Hammouri in filing a complaint in France targeting NSO Group, for illegally infiltrating the phone of Salah Hammouri, a violation that was initiated in Palestine and continued on French soil, which constitute violation of the right to privacy under French law and international human rights conventions.
The Occupation Opens a Special Section to Target Palestinian Content (Arabic)
Shehab News Agency
On Saturday morning, 2 April, the military correspondent of the Hebrew Channel 12, Nir Dvory, revealed the formation of a new special section to target Palestinian content on social media, by representatives of the army, the Shin Bet, and the police force. It was claimed that the section would contribute to reducing the state of tension and preventing incitement to carry out operations. According to the channel's correspondent, "Israel '' submitted a new request to Facebook and Tik Tok to help them detect inciters and disrupt their work.
Release of Activist Rola Mazawi from Nazareth (Arabic)
Arab 48
On Saturday evening, 2 April, the Israeli police released the director of the "Al-Dar for Culture" association in Nazareth, Rola Mazawi, after her arrest at dawn today, as part of a larger series of political prosecutions carried out by Israeli security services against political activists. Lawyer Khaled Mahajna, who was entrusted with the defence of Rola, said: "My client was released before she was brought to trial without any conditions or restrictions, and it was clear for us from the beginning that the arrest was without any reason or excuse, as her arrest was a form of censorship, and the post on Mazawi's social media deleted by the police as a form of censorship."
Mahajna explained that "in this series of arrests, the police wants to intimidate citizens from expressing their opinions online, and deprive them of their right to write and express their opinion without inciting violence," and that "the coming period will be difficult on social media sites. I believe that many Arab citizens will be arrested due to posts on social media, and it is therefore important to be careful when posting."
Palestinians Use Social Media to out the Israeli Undercover Agents Haunting their Protests (English)
The Guardian
Messages have spread in WhatsApp groups advising young protesters to cover their faces at all times to avoid being filmed by Mista'arvim (undercover agents); [...] Unlike during previous uprisings – most notably the first and second Intifadas – the agents' presence during May's protests in Arab and mixed cities in Israel is well documented due to the rise of social media and mobiles.
Tools for connecting a fragmented Palestine (English)
Mondoweiss
In her latest book, "Networked Refugees: Palestinian Reciprocity and Remittances in the Digital Age", Nadya Hajj explores how the spread of Information and Communication Technologies (ICTs) has facilitated Palestinian global interconnectedness while also posing new challenges. [...] The main question Hajj seeks to answer through her research is how practices of reciprocity and cooperative interactions tying Palestinian refugees with the international diaspora develop in a context marked by the importance of ICTs. What she finds out is that "digital spaces offer further opportunities for Palestinians in the diaspora to develop economic and moral connections to their Palestinian family and village."