Check out our digital rights weekly update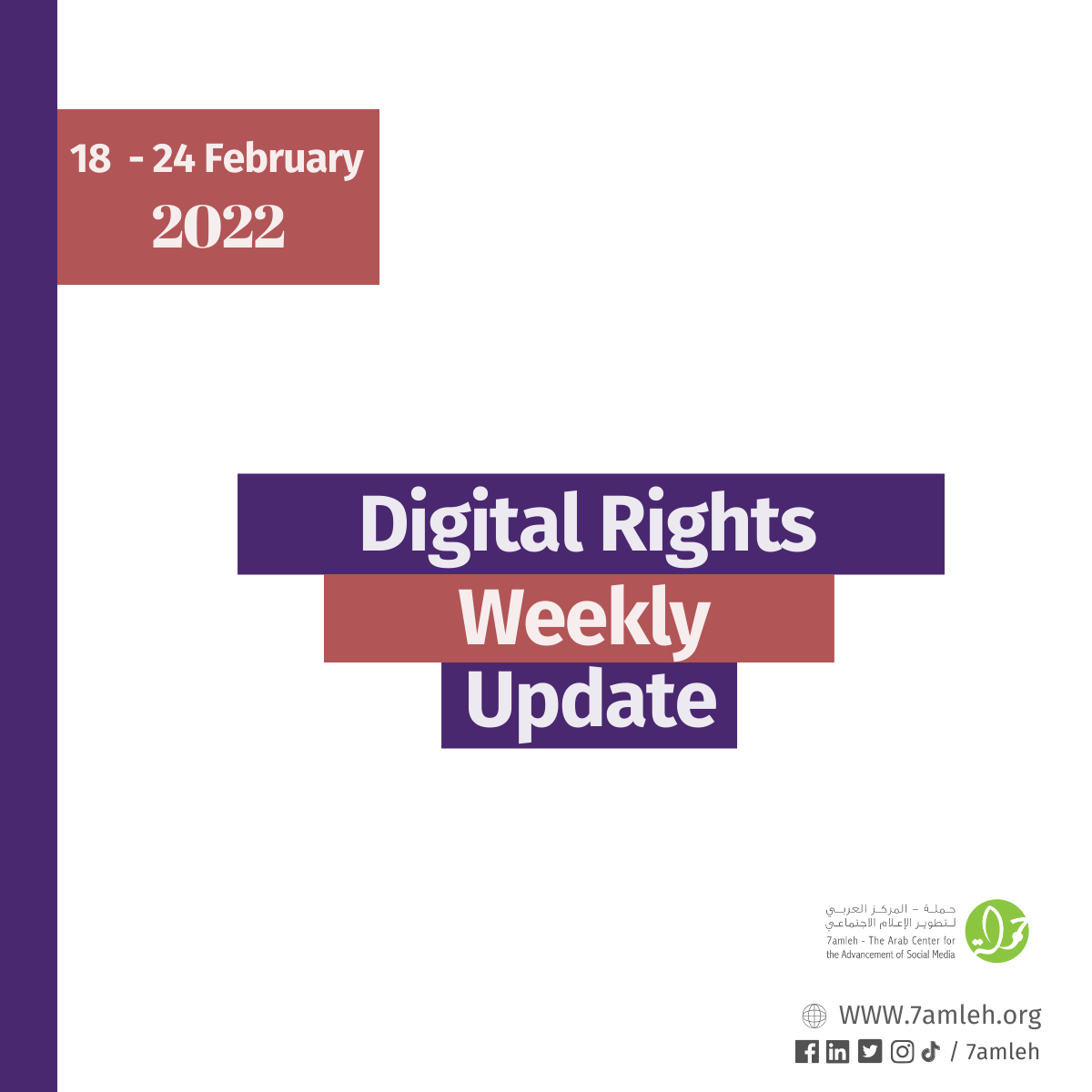 Weekly Update 18 - 24 February
Over 100 civil society organizations call on DW to retract the biased report and end the smear Campaign (English)
7amleh
Over one hundred local, regional and international civil society organizations have signed an open letter in solidarity with Palestinians, condemning Deutsche Welle's (DW) inaccurate and defamatory report, calling for the retraction of the accusations and demanding the protection of the right to Palestinian freedom of speech. This report is just the latest development in an ongoing anti-Palestinian smear campaign intended to silence Palestinian voices, restrict freedom of expression, suppress legitimate criticism of ongoing Israeli violations against Palestinians, and ultimately prevent Palestinian journalists and Palestinian organizations from seeking accountability. The result is a chilling effect that prevents Palestinians from sharing their experiences of oppression and systematic human rights violations with the rest of the world.
The occupation enters the Metaverse (English)
+972 Magazine
I am designing a digital Keffiyeh to wear in "the Metaverse." It seems a little bizarre to be translating the netted pattern into a triangular mesh to be compatible with virtual worlds. Yet billions are being invested in immersive digital spaces, as tech giants like Meta (formerly Facebook) and Microsoft push their own grandiose visions of an internet transformed by virtual reality, 3-D computing, and blockchain-based technologies.
UK lawyers file complaint against Facebook over anti-Palestinian bias (English)
Middle East Eye
A London-based legal and justice centre has filed a formal complaint to Facebook, accusing the social media platform of arbitrarily censoring and suspending accounts affiliated with Palestinian news agencies, advocates and journalists. The complaint, delivered by London law firm Bindmans LLP on behalf of the International Centre of Justice for Palestinians (ICJP) and digital rights group Sada Social, requests that the platform, which rebranded as Meta last October, issue an urgent review of its actions and explain why it censored those accounts. "The complaint reinstates the request that Meta/Facebook discloses and reviews its decision-making process, and explains why the accounts were closed, suspended or posts taken down, and whether in doing so an algorithm or human discretion was used," the ICJP said in a press release on Tuesday.
How the Occupation Fuels Tel Aviv's Booming AI Sector (English)
Foreign Policy
Three closed-circuit television (CCTV) cameras peer off the roof of Wijdan Ziadeh's home in the Tel Rumeida neighborhood of Hebron in the occupied West Bank, where old stone homes and new clapboard caravans crowd the hillside overlooking one of the most sacred sites to both Islam and Judaism. In early 2021, a crowd of teenage soldiers in the Israel Occupying Forces (IOF) stormed up a winding staircase to install the cameras on her house's rooftop. According to Ziadeh, they return every few weeks to make sure the cameras continue working and have broken the lock off the front door if no one is home to let them in.
The shaky legal ground of Deutsche Welle's anti-Semitism probe (English)
The New Arab
On Monday, 7 February, Deutsche Welle (DW) announced the findings of a two-month report into allegations of anti-Semitism within its Arabic-language news department. Those tuning in were promptly told that five DW journalists had been sacked. The grounds for their termination, which the fired journalists were told about only hours earlier, were outlined in a report released the same day. But lawyers who have since studied that report say there are serious faults with how the investigation was conducted.