Check out the full report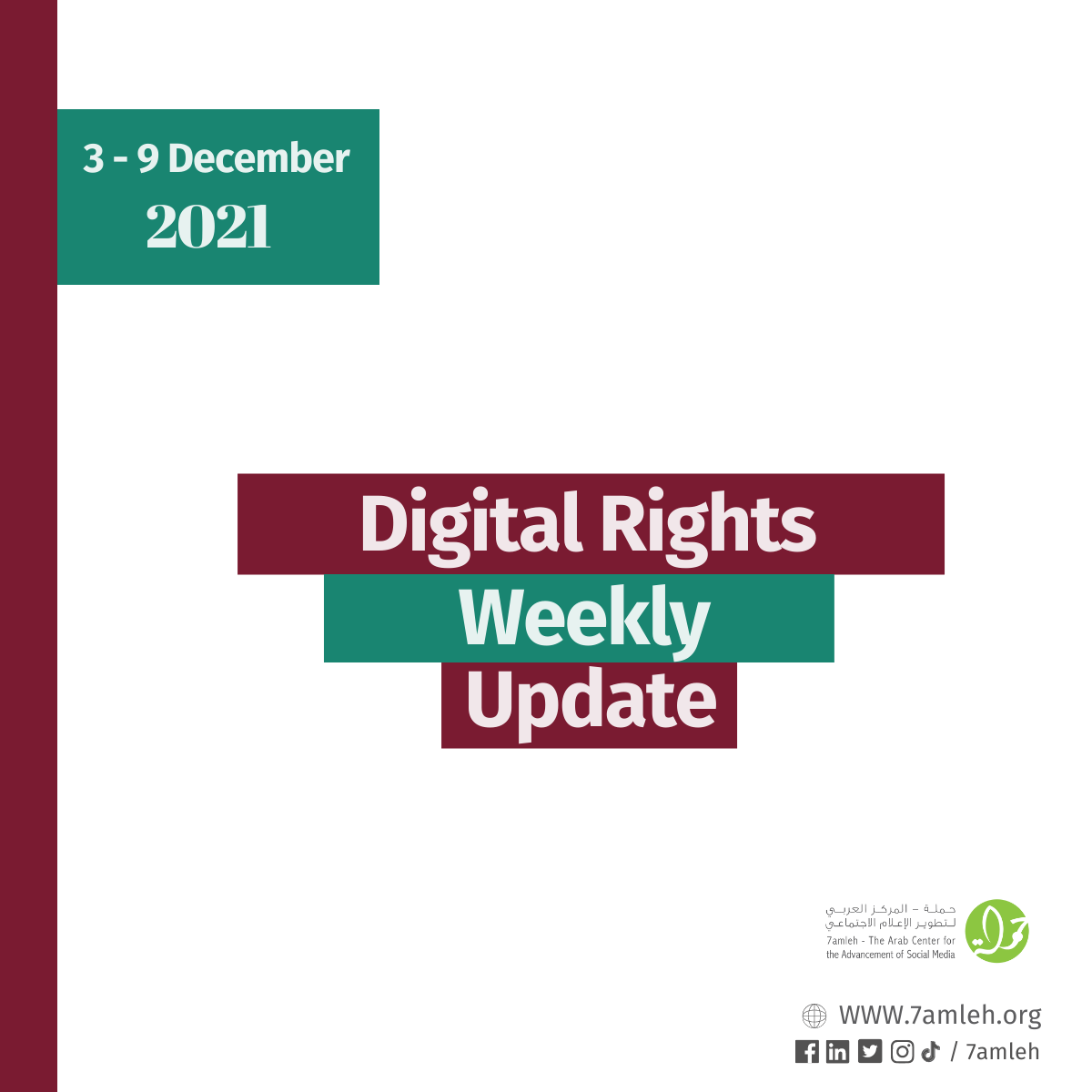 7amleh releases its Quarterly Report of Palestinian Digital Rights Violations (English)
7amleh
7amleh released its Quarterly Report of the Palestinian digital rights violations that took place in the period between September and November 2021. The report highlights the main violations committed by authorities and technology companies, and outlines the continuous violations of Palestinian digital rights over the previous three months, in different forms and at varying degrees, including the right to freedom of expression, the right to privacy, and protection of digital data, the right to access the digital economy, and other rights. 80 violations were documented by 7amleh across the different social media platforms, varying between platforms as follows: 49 violations on Facebook, 25 violations on Instagram, 5 violations on TikTok, and 1 violation on Twitter.
Report: EU Spending over $100 Million in Israeli Surveillance Technology to Turn Refugees Back (English)
Palestine Chronicle
Last year Frontex awarded a $121 million contract for the Heron and Hermes drones which operate over the Mediterranean and can be watched from the Frontex HQ in Warsaw. The drones are manufactured by two Israeli companies and have been used in the Gaza Strip. Mobile radars, thermal cameras on vehicles, heartbeat detectors, and CO2 monitors are used to spot movement and find people hiding inside vehicles, according to the report.
How Google advances the Zionist colonization of Palestine (English)
Mondoweiss
Google invests in and acquires Israeli startup companies that were built on efforts to terrorize and dispossess Palestinians. More than a service provider to the Israeli state, Google actively advances Israel's agenda and promotes Zionist propaganda. Google also occupies physical space in colonized Palestine, where the company's existence facilitates further destruction of the land. Google's products – which in some cases are Israel's products – even reflect a racist, Zionist view of space.
How to End Israel's Digital Occupation (English)
Foreign Policy
Although less than 2 percent of Palestinians had internet access in 2001, that figure had risen to 41 percent by 2011, making them among the most connected people in the Middle East. They managed this despite the severe import controls and periodic blockades that defined daily life, as well as Israel's near-total control of the physical backbone of the Palestinian internet. For young Palestinians, social media offered a way to engage with a cultural identity and shared history that had been fractured before they were born. It also enabled them to organize protests against the Israeli occupation and to cast light on the damage inflicted by Israeli bullets and bombs.
Rights groups urge EU to ban NSO over clients' use of Pegasus spyware (English)
The Guardian
Dozens of human rights organisations have called on the European Union to impose global sanctions on NSO Group and take "every action" to prohibit the sale, transfer, export and import of the Israeli company's surveillance technology. The letter, signed by 86 organisations including Access Now, Amnesty International and the Digital Rights Foundation, said the EU's sanctions regime gave it the power to target entities that were responsible for "violations or abuses that are of serious concern as regards to the objectives of the common foreign and security policy, including violations or abuses of freedom of peaceful assembly and of association, or of freedom of opinion and expression".