September and November 2021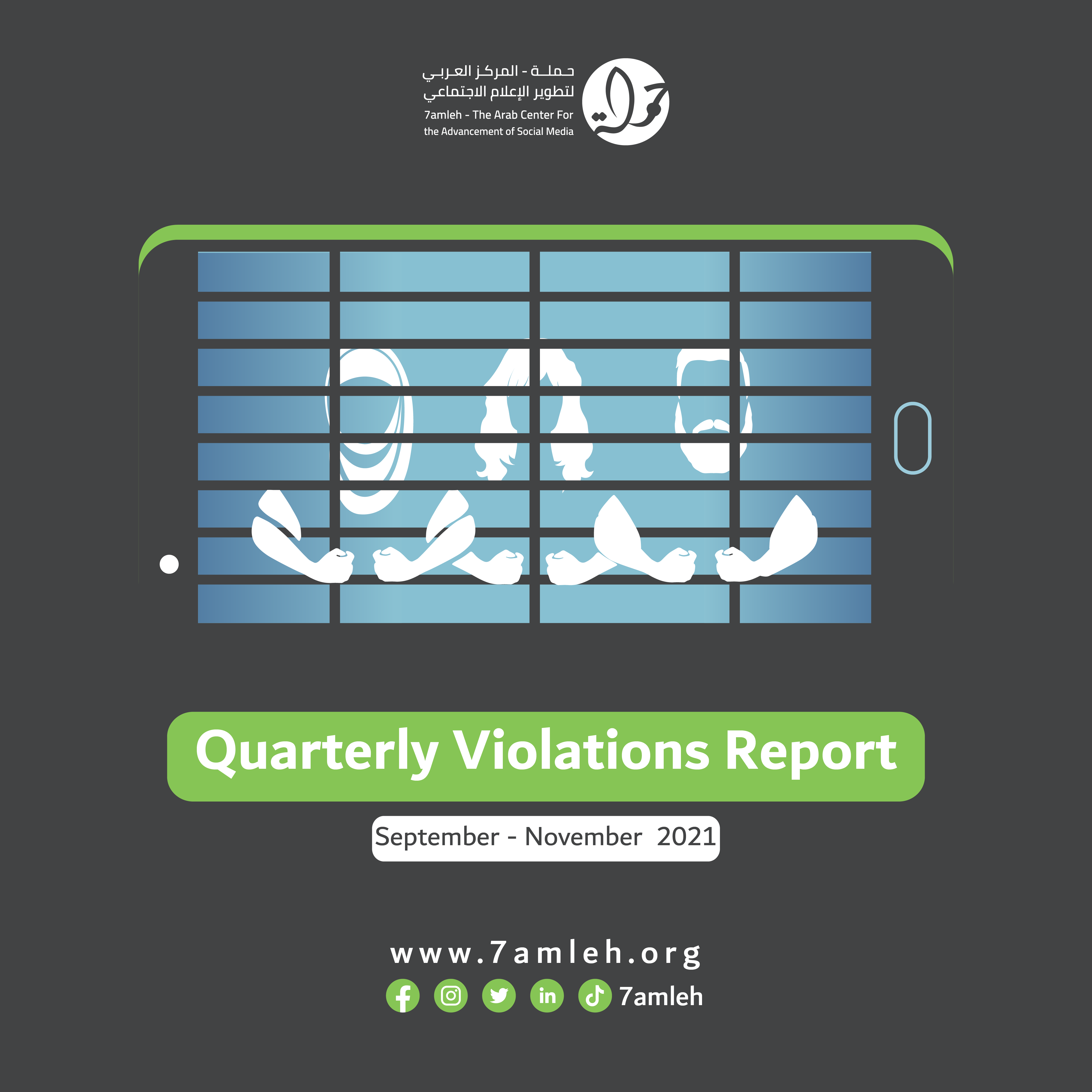 Ramallah -Haifa, 6 December 2021, 7amleh released its Quarterly Report of the Palestinian digital rights violations that took place in the period between September and November 2021. The report highlights the main violations committed by authorities and technology companies, and outlines the continuous violations of Palestinian digital rights over the previous three months, in different forms and at varying degrees, including the right to freedom of expression, the right to privacy, and protection of digital data, the right to access the digital economy, and other rights.
80 violations were documented by 7amleh across the different social media platforms, varying between platforms as follows: 49 violations on Facebook, 25 violations on Instagram, 5 violations on TikTok, and 1 violation on Twitter.
This quarter, the violations of social media and Israeli surveillance companies targeted pro-Palestinian activists and supporters in general, and Palestinian human rights defenders and journalists in particular. Frontline Defenders revealed the use of the Israeli manufactured "Pegasus" spyware, developed by Israeli surveillance company "NSO Group", in the targeting of Palestinian human rights defenders. Other reports revealed the work of the Israeli army to impose wide-scale mass surveillance in the West Bank, to surveil Palestinians through bridging facial recognition technologies with a growing network of cameras and smartphones.
This report comes as part of 7amleh's ongoing efforts to defend and support Palestinian digital rights, as the center works to continuously and systematically monitor violations that occur in the Palestinian digital space and escalate them with technology companies. The center further works in mobilizing advocacy efforts against authorities and other perpetrators, in order to guarantee the protection of Palestinian digital rights and secure a safe, fair, and free digital space for Palestinians and pro-Palestinian activists.