Digital Rights Weekly Update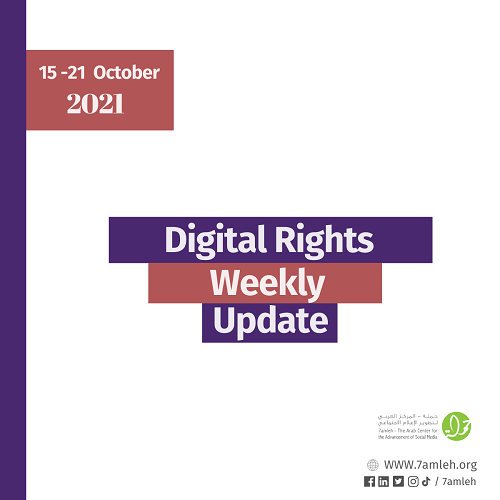 7amleh released a survey of the digital activity of Palestinian Civil Society Organizations
7amleh
7amleh - the Arab Center for the Advancement of Social Media released a new survey titled "Assesment of the Digital Performance of Palestinian NGOs," which aims to study and better understand the digital activity of Palestinian civil society organizations in the West Bank, Gaza Strip, Jerusalem and Israel, by analyzing the digital presence of said organizations, as well as their investment in media, social media, digital security and digital advocacy. Ultimately, the study aims to shed light on the digital needs of organizations, as well as the challenges they encounter in conveying their messages to their audience.
Facebook to investigate Israel-Palestine content suppression
Middle East Eye
Facebook will allow an independent body to launch an investigation into content moderation of Arabic and Hebrew posts after the tech giant was accused of removing and suppressing pro-Palestine content.
The Palestinian Digital Rights Coalition (PDRC) welcomes the decision to conduct a comprehensive and independent examination of Facebook's Arabic and Hebrew content management policies (English)
7amleh
The Palestinian Digital Rights Coalition (PDRC) welcomes Facebook's latest decision last Thursday, October 14, to implement the recommendation of the Facebook Oversight Board to conduct a comprehensive and independent audit of Arabic and Hebrew content management policies. The coalition appreciates this important step, which comes in result of the cumulative efforts and several calls made to Facebook to reconsider its discriminatory policies against Palestinian content.
"7amleh" Welcomes Facebook's decision to conduct an independent examination of content moderation policies in Arabic and Hebrew languages (English)
7amleh
7amleh welcomed Facebook's latest and surprising decision, yesterday Thursday, October 14, to implement the recommendations of the Facebook Oversight Board and conduct an independent examination of the moderation policies of Arabic and Hebrew content and considers this an important step in the right direction. This decision comes following repeated requests by 7amleh and a large number of local, regional, and international human rights organizations, coalitions and networks, that Facebook guarantees a transparent and equitable policy with regards to Palestinian content.
Experts call for investing and integrating digital tools in the path of sustainable development in Palestine (Arabic)
Wafa
Experts in the digital sector in Palestine called for promoting digitization in Palestine by reviewing the forms of life services that can be provided by digitization, increasing the quality of education, creating new economic sectors, various e-business, computerizing government services, and searching for ways and how to invest and integrate digital tools into the development path. To achieve sustainable and inclusive growth in Palestine, empower vulnerable communities, and bridge social and economic gaps between individuals through the dissemination and use of digital tools. This came during the "2021 Convergences" forum, which was held today, Thursday, for the first time in Palestine, through visual communication techniques, under the title "Project to Support Sustainable Development in the Palestinian Territories through Digital Inclusion".
Palestine: Rights groups urge PayPal to end "discriminatory practices" against Palestinians & to adhere to international law; co. didn't respond (English)
Business and Human Rights Resource Center
In October 2021, Palestinian and international rights groups have renewed a campaign demanding that digital payment giant PayPal stop excluding millions of Palestinians from accessing its services. PayPal is a global leader of online payment solutions that operates in more than 200 countries, including some which struggle with major economic and political instability, such as Somalia and Yemen. The company offers its services to all Israelis, including those residing in illegal settlements in the occupied West Bank, but not to the five million Palestinians living in the West Bank and Gaza.
How Facebook helps Israel hide its crimes (English)
Electronic Intifada
As Israel intensified its killing campaign in the Gaza Strip in May, people across the globe took to the streets in solidarity with Palestinians. Others used social media to document, condemn and raise awareness of Israel's crimes. But Facebook and Instagram users soon noticed their posts being taken down, their accounts suspended and their content receiving reduced visibility.