Check out our digital rights weekly update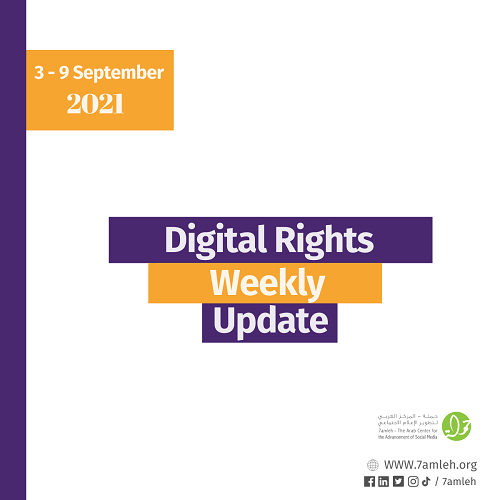 Weekly Update 3 - 9 September
Quarterly Report of Palestinian Digital Rights Violations (English)
7amleh
the Arab Center for the Advancement of Social Media issued its quarterly report on Palestinian digital rights violations in the period between June and August 2021. The report highlights the most prominent digital rights violations by various parties and entities, outlines the most prominent repercussions on the state of Palestinian digital rights following the recent developments in the Palestinian arena, and highlights other violations by the Israeli authorities and technology companies.
"Wafa" monitors incitement and racism in the Israeli media (Arabic)
Wafa Agency
The Palestinian News and Information Agency (Wafa) monitored incitement and racism in the Israeli media between 29 August and 4 September 2021. In its (219) report, "Wafa" presents its monitoring and documentation of the inflammatory and racist discourse published in the Israeli visual, written, and audio media and some pages on social media belonging to political and legal figures in Israeli society. The report presents a number of news articles, television interviews and video reports that carry clear messages of incitement and racism against Palestinians.
Podcast "The Final Line" | Everything Online with Angelique Abboud (Arabic)
Arab 48
In the fifth episode of the "The Final Line" podcast, we meet the digital security expert, Angelique Abboud. We discuss life in the digital world and try to understand why we must secure our accounts and information on the Internet? What are the types of threats we might face online? and how important is self and social education about digital safety?
Breaking Down How Instagram Search Works (English)
Instagram
It's time to open the curtains and look at how the search algorithms work on Instagram. The social network published a new edition of their How Instagram Works series, where they explain the formula behind the search function and how you can use it to improve your brand's presence on Instagram.