Check out the digital rights weekly update!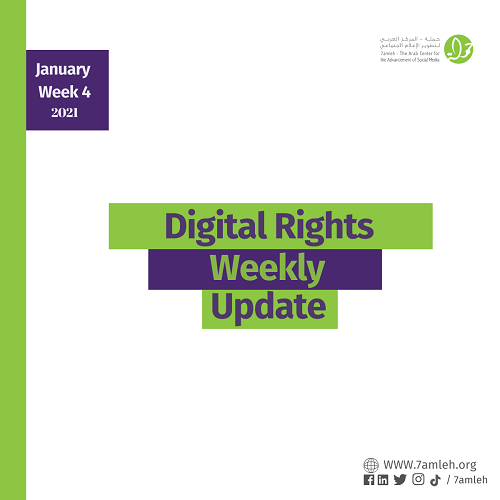 Facebook is under pressure from extremist Zionist organizations, and organizations supported by the Israeli government, to equate the word 'zionist' with 'Jewish' and make criticism of zionism a violation of Facebook's Community Standards. 7amleh has been working with local and international human rights organizations to launch a campaign and multilingual petition to protect freedom of expression online.
Amnesty International today launches a global campaign to ban the use of facial recognition systems, a form of mass surveillance that amplifies racist policing and threatens the right to protest.


Incitement and racism speech against Palestinians =in the Israeli media increased during 2020. The Arab Center for Media Freedom Development and Research (I'lam) reported 1050 cases in 2020, 778 in 2019 and 580 in 2918. The speech was published by Israeli politicians, media professionals and other parties.
On July 20, the Union of Agricultural Work Committees (UAWC), a major Palestinian agricultural development group, got word of a stunning blow to their work: the Dutch government. The fund was suspended in response to claims that the UAWC was tied to the Popular Front for the Liberation of Palestine (PFLP).
Twitter said it hopes to build a community of "Birdwatchers" that can eventually help moderate and label misleading tweets in its main product.
After the outbreak of the Arab Spring, Arab states felt the need to control even more the online activities of their citizens. Instead of protecting free speech against government censorship efforts, social media platforms suspended and removed thousands of accounts of political dissidents in the Arab World.