The Palestinian Digital Rights Coalition holds webinar on the renewed anti-Semitism definition and its impact on Palestinian freedom of expression.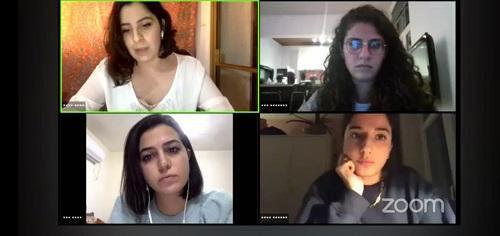 The Palestinian Digital Rights Coalition held the webinar "The Campaign to Redefine Anti-Semitism (IHRA) and its Impact on Palestinians' Freedom of Expression of Opinion," in Arabic on November 4th. The discussion between Adalah's international advocacy coordinator Suhair Asaad, the Cairo Institute for Human Rights Studies' Maha Abdallah, Access Now's MENA Policy Coordinator Marwa Fataftah was facilitated by 7amleh - The Arab Center for the Advancement of Social Media's Local Advocacy Coordinator, Mona Shtayah.
This webinar took place against the backdrop of increasing efforts of the International Holocoust Remberance Alliance and other Israel supporting organizationsto impose a new definition of anti-Semitism. This broad definition is designed to label all criticism against Israel and the Israeli government's policies as anti-Jewish and anti-Semitic. If Facebook and other policy makers adopt this definition, not only will content about Palestinians be further censored but freedom of expression in general, will be more severely limited.
Initially, Soheir Asaad gave an overview of the changes to the definition of anti-Semitism, explaining that the Israel supporting organizations aim is to equate iriticsm of Israel with anti-Zionism and anti-Semitism, in order to legitimize and jusitify Israel's ongoing unlawful occupation. On the international level, the new definitio of anti-Semitism was first adopted by the European Center for Monitoring Racism and Xenophoia in 2005 after pressure from the Israeli government and Israel supporting organizations, in particular the International Holocaust Remembrance Alliance. Even though this definition is not legally binding, it is widely used. Soheir stressed that the problems with the definition are that it is overly broad and general, and therefore easily misused to justify political aims of Israel, and secondly in misusing the term "anti-Semitism" to protect the Israeli government rather than as a tool to protect Jews.
Maha Abdallah connected to this in focusing on how the renewed definition is used to achieve political gains for Israel by using it to silence unwanted opinions and erase Palestinian narratives, thus further restricting Palestinian freedom of opinion and expression. Furthermore, she explained the International Holocaust Remembrance Alliance's effective force as a decision-maker, with members from 35 countries. She pointed out how the adoption of this new definition and its inclusion into local legislation by countries and universities is a sign of the already decreasing space of freedom of opinion and expression of Palestinians and on Palestine, and how it leads to a discrimination of Palestinians and their supporters.
These efforts are also visible in the online space, as Marwa Fatafta explained. Similarly to Israel, many governments around the world use broad terminology to restrict freedom of expression and impose censorship on users of social media platforms under the guise of combating terrorism and hate speech. The Israeli government has recently increased it's efforts through widespread arrest campaigns, the use of algorithms under the pretext of fighting terrorism and incitement to violence, as well as through the cyber unit of the Israeli Ministry of Justice which is known to restrict and delete Palestinian content in close collaboration with social media companies. The current attempts to urge Facebook to adopt the new anti-Semitism definition comes against this background. Fataftah also problematized that social media companies operate as profitable companies and thus profit from the spread of content that causes confusion and is emotional - such as hate speech.
During the webinar all speakers stressed that the adoption of the renewed anti-Semitism definition aims to legitimize the silencing of and limit freedom of expression for Palestinians and their supporters against an unlawful occupation, and thus include all critics of Israel.
A webinar on the renewed anti-Semitism definition in English in December.

Watch the full webinar (in Arabic) here.