This weekly update is prepared by 7amleh - The Arab Center for the Advancement of Social Media. For further information please visit our website at ​www.7amleh.org​.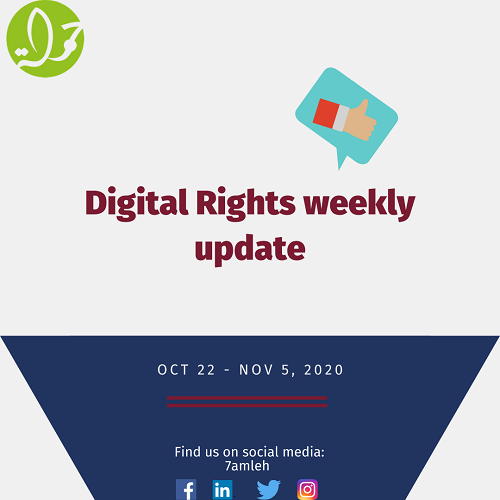 1. Leeds Uni investigates online event featuring controversial Palestinian plane hijacker - The Leeds Tab
Leeds University, which held an online conference featuring Palestinian Leila Khaled - banned by Zoom - is investigating the event which was banned by the university, but still took place. The online webinar was cancelled by Zoom who labelled Leila Khaled as a 'terrorist', and has caused some outcry as an attack on academic freedom and freedom of expression.
2. Zoom Video Tackles Tricky Role of Policing Its Service - The Wall Street Journal
As Zoom has increasingly come under scrutiny for their role in limiting academic freedom and freedom of expression after they cancelled an online webinar featuring Palestinian Leila Khaled, Zoom is evaluating their role between moderating harmful content and censoring free speech.
3. Twitter suspends Palestinian accounts shortly after Israeli ministry report on 'phony' profiles - Middle East Monitor
Social Media giant Twitter suspends large number of Palestinian accounts on the request of the Israeli government. The profiles, which according to Twitter are in violation of its terms of service, have been posting content criticizing Israel. This highlights again social media companies close cooperation with the Israeli government and thus the censorship of Palestinian content.
4. Deputy health minister: Extend Shin Bet surveillance until end of plague - The Jerusalem Post
Israeli deputy health minister requests extension of Israeli security service Shin Bet's authority to surveille corona virus infected people till the end of the pandemic. A petition is pending at the Israeli High Court regarding this programmes violation of the right to privacy.
5. YouTube removes soccer song by Israeli far-right fans insulting Prophet Muhammad - The Times of Israel
Palestinian Citizen of Israel politican Ayman Odeh requested takedown of video by notorious right-wing fans of Israeli soccer club insulting Islam. The video had been online since 2016, but recently gained in popularity, before it was removed after Odeh's request.
6. Online Campaign against Twitter bias towards Israeli Occupation - Sada Social (Arabic)
The campaign was launched the Sada Social Center using the hashtag #TwitterCensorsPalestine. The campaign witnessed a wide participation in both Arabic and English, denouncing the site's recent policies against Palestinian content that criticises the occupation and its policies.
7. Sada Social documented a significant increase in violastions towards the Palestinian content and narrative online - Sada Social (Arabic)
Sada Social Center documented a significant increase in violations by social media platforms administrators against Palestinian content and narrative during the month of October. Sada social documented 104 cases of violations and takedowns during the month of October, mostly were by Twitter.