This weekly update is prepared by 7amleh - The Arab Center for the Advancement of Social Media.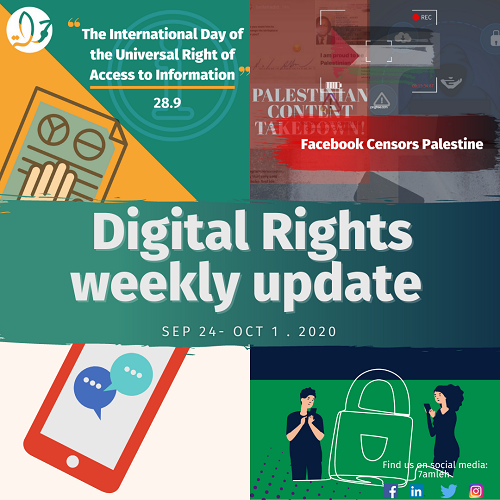 1. Shin Bet to Continue COVID-19 Phone Surveillance for Additional 21 Days - Algemeiner Journal
Israel's Ministerial Committee on Intelligence Services on Wednesday extended the mandate given to the Israel Security Agency (Shin Bet) to trace the mobile phones of coronavirus patients, as part of the epidemiological investigations held by the Health Ministry.
2. Weapons, Surveillance, Technologies: The Hidden Face of Israel-Gulf Ties - L 'Orient - Le Jour
Within the Israeli industry, the particularly rapid development of the cybersurveillance sector provides an offer that is all the more adapted to the demands of the Saudi and UAE regimes, which are better able to unlock large budgets to strengthen the hunt for dissidents.
3. Jerusalemite children and youth face challenges in digital rights protection - Palestine News Network
7amleh – The Arab Center for the Advancement of Social Media published "Digital Safety Among Jerusalemite Children and Youth".The report explores the needs and capacities of Palestinian children and youth in East Jerusalem regarding digtial safety through quantitative and qualitative research methods.
4. Why Do Google and Apple Maps Recognize Illegal Israeli Settlements, but Not Palestine? - Haaretz
Despite their claims, the two tech giants' ubiquitous, influential maps and navigation tools aren't value-neutral at all.You won't find hundreds of Palestinian villages, as they are missing from themaps produced by Google and Apple or on their GPS services. Palestine doesn't appear.
5. On the International Day of the Right to Access Information - Mada
A study issued by the Palestinian Center for Development and Media Freedoms "MADA", in conjunction with the International Day for the Right to Access Information, on Monday (28th Sep. 2020), recommended the utmost importance of adopting the Law on the Right to Access Information in light of the widespread of "Corona" epidemic, to reduce rumors and fake news, and enshrine a basic human right should the law be passed.
6. NGOs urge Facebook to stop censoring Palestinian content - Palestine News Network
Several Palestinian and international non-governmental organizations called on Facebook to stop censoring Palestinians and Palestine advocates and to get rid of an Israeli member of the social media company's Oversight Board who has a history of censoring Palestinian social media content.

7. Content Moderation Bias: Zoom, Facebook, and YouTube Cancel Leila Khaled - Smex
On September 23, Zoom cancelled a virtual event featuring the Palestinian Popular Front for the Liberation of Palestine's (PFLP) veteran Leila Khaled. The virtual event was organized by the Arab and Muslim Ethnicity and Diasporas Studies (AMED Studies) at San Francisco State University (SFSU). After the event was announced on Facebook, certain Jewish and Zionist groups launched campaigns and protests against the panel, due to Khaled's membership in the PFLP, which the United States designated as a terrorist group in 1997, and her involvement in two hijackings in 1969 and 1970.
8. Facebook is working towards eradicting the Palestinian narrative (Arabic) - The New Arab
The social network website Facebook continues to pursue Palestinian content by deleting the posts published or banning the accounts, amid accusations that Facebook is trying to eradicate the Palestinian narrative, silence and remove it from its platforms.
9. Redefining Anti-Semitism on Facebook - Common Reads
The objective is to force Facebook to alter its hate speech definition so that its own "detection algorithm" will characterize any criticism of Israel as hate speech and automatically remove the pertinent content from the platform.
10. Gaza Peace Activists Face Prison for Holding Video Call With Israelis - The New York Times
Palestinian military prosecutors in Gaza have charged three Palestinian peace activists with "weakening revolutionary spirit" for their role in holding a video call with Israelis in April.
11. Censoring Palestine - Mondoweiss
San Francisco State University was set to sponsor an online event titled "Whose Narratives? Gender, Justice & Resistance" through Zoom. It was a roundtable discussion hosted by Professors Rabab Abdulhadi and Tomomi Kinukawa, featuring Palestinian freedom fighter Leila Khaled. Her involvement in the talk sparked backlash from right-wing, pro-Israel groups like The Lawfare Project. Protestors showed up outside Zoom headquarters, demanding that the company take action, and insisting that Zoom would be providing "material support" for a terrorist if they allowed their platform to be used.
12. Facebook accused of censoring Palestinians under pretext of fighting hate speech - Middle East Eye
Facebook's Community Guidelines, a mechanism partly aimed at preventing hate speech, is to blame for the muzzling of Palestinian voices, says report.