Check out or Digital Rights Weekly Update Report!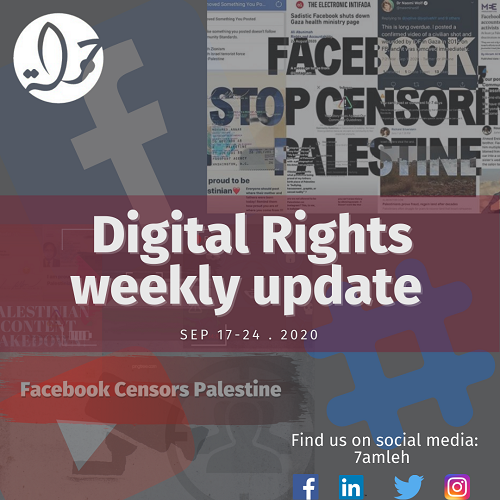 Digital Rights Weekly Update
September 17 - 24, 2020


1. A Palestinian cry against Facebook ... A campaign to stop the "censorship" war (Arabic) - Al Ain
Palestinian activists launched the hashtag #FacebookCensorsPalestine, and it quickly turned into a massive campaign to lift censorship of Palestinian speech on Facebook's platform. The campaign fights against what they describe as fighting Palestinian content on Facebook, the most widespread social media platform in the world.
2. Pro-Palestine groups hold digital day of action to protest Facebook censorship - Mondoweiss On September 23, Jewish Voice for Peace, Palestine Solidarity Campaign UK, The Palestine Institute for Public Diplomacy, 7amleh, and a number of other groups, held a digital day of action to draw attention to Facebook's censorship of Palestinian voices.
3. YouTube, Zoom and Facebook censor Leila Khaled for Israel - The Electronic Intifada
Major Silicon Valley companies censored an event at San Francisco State University on Wednesday.This means that during the pandemic, private companies closely aligned with the government have immense power over what can be said, even in an academic setting.
4. A shortage in 400,000 computers in light of e-learning: The Israeli Ministry of Education did not distribute any (Arabic) - Arab48
The Child Rights Committee in the Israeli Knesset said that the Ministry of Education does not have any reliable information about the number of students who do not have a computer, and the Ministry has not yet distributed even one computer to students, despite the fact that more than than a half a year has passed since the emerging Coronavirus (Covid-19) crisis, in the light of distance e-learning.
5. Zoom will not host S.F. State event featuring Leila Khaled - J weekly
Zoom announced late Tuesday afternoon that San Francisco State University will not be allowed to use its videoconferencing platform to host an event Wednesday featuring Palestinian hijacker Leila Khaled because her participation in the virtual event violates company policy.
6. Head of policy helps Jews in Israel, diaspora connect over Facebook - The Jerusalem Post
Increasingly, Israel's attempts to censor Palestinians are being fought on social media. As Facebook's Head of Policy for Israel and the Jewish Diaspora, Jordana Cutler is at the forefront of the social media giant's efforts to further the agenda of Israel and the Israeli and Zionist lobby by working to control incitement and hate speech online.


This weekly update is prepared by 7amleh - The Arab Center for the Advancement of Social Media. For further information please visit our website at ​www.7amleh.org​.