Digital Security Workshops are part of 7amleh's ongoing efforts to build the capacity of Palestinian civil society in digital security, digital activism, and digital rights.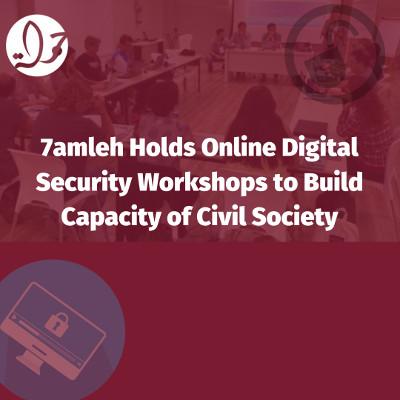 7amleh - The Arab Center for the Advancement of Social Media held two parallel online Digital Security Workshops for Palestinians throughout the occupied West Bank in cooperation with Action Aid on September 2, 2020.
A total of 20 Palestinians, 7 men and 13 women, from various human rights and civil society organizations, as well as a tech background, participated in the 2-hour online session which was announced through social media. The workshops focused on digital security for the individual and included content on digital rights.
"All participants were from the human rights field and this added an activism aspect to the digital security training which was very insightful," concludes Dana Lababidi, one of the trainers.
Initially, only one workshop was planned. In order to ensure small groups and the possibility of interaction, instead, two parallel sessions were held. Considering the ongoing coronavirus and safety precautions, the workshops were held online.
Amer from Ramallah states, "Despite my previous knowledge in digital security, there was a new and special content in the workshop."