This campaign is an ongoing part of 7amleh's work to protect Palestinian digital rights.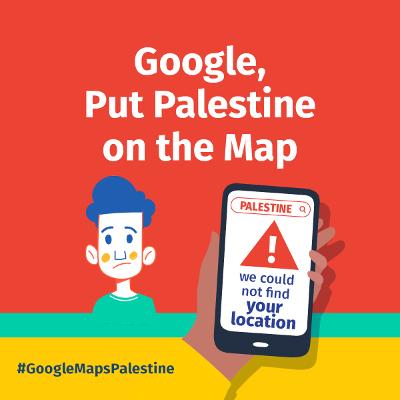 7amleh - The Arab Center for the Advancement of Social Media in July 2020 organized a twitter-storm and email campaign, with the Palestine Digital Rights Coalition, PNGO and PHROC, to pressure Google to put Palestine on the Map. This is part of ongoing efforts to raise awareness about how mapping policies impact human rights and to advocate for changes to Google's maps to bring them in line with international law and human rights responsibilities.
7amleh started to campaign for Google to put Palestine on the map in 2018, with the publication of the research "Mapping Segregation: GoogleMaps and the Human Rights of Palestinians", which shows how Google Maps' portrayal of Palestine are contrary to international law and human rights norms and standards. 7amleh also developed a campaign webpage that includes several informative videos about the issue.
In 2019, 7amleh made several efforts to speak with policy makers at Google Maps that were unsuccessful. Although Google did meet with 7amleh for an introductory meeting, Google employees did not follow up further and 7amleh was not able to work with the company in the past year.
In July 2020, 7amleh and the Palestine Digital Rights Coalition decided to renew the public call for Google to put Palestine on its maps by launching a Twitter-Storm #GoogleMapsPalestine on July 22 2020. The campaign included a total of 2,100 and 1,500 tweets in English and Arabic respectively, with 7amleh's tweets creating more than 20.000 impressions with more than 500 engagements in total. The campaign also launched an email campaign to Sundar Pichai, Google's CEO, and the Global Policy Head of Human Rights. So far, 525 emails were sent through the format on the page.