Join 7amleh and send an E-Mail to Google to put Palestine on the Map!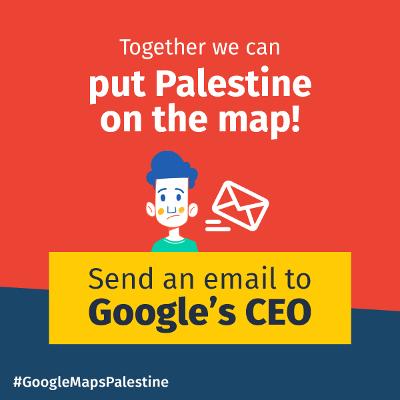 The Palestinian Digital Rights Coalition (including 7amleh and PIPD), the Palestinian NGO Network (PNGO) and the Palestinian Human Rights Organizations Council (PHROC), have mobilized together in the last week to pressure Google regarding its mapping practices against Palestine and Palestinians, as there a resurge of attention on the issue in the media.
Google's mapping practices are distinctly erasing Palestine from the maps. In light of this, we had a twitter-storm on July 22, 2020 urging Google to put Palestine and Palestinians on its maps. To continue exerting pressure on Google, we are kindly asking you to sign and send a direct email to Google's CEO and Global Policy Head of Human Rights through the Call to Action page, which features a ready-made email that only asks to sign.
https://bit.ly/GoogleMapsPalestine
In this google folder you can find graphics in English and Arabic to be used on social media platforms along with sample tweets, short motion videos and our report around the topic.