The Palestinian Digital Rights Coalition invites you to join a twitter storm calling out on #Google to add Palestine onto their maps, this Wednesday at 8pm Palestine time.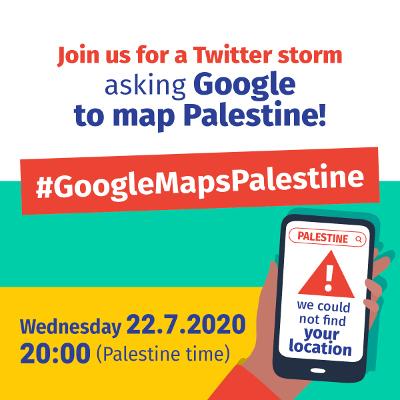 Why is Google adopting the Israeli narrative in its depiction of Palestine on its maps rather than abiding by the basic human rights standards? Google does not label Palestine on it's maps. There are checkpoints and movement restrictions installed by the Israeli army forces on Palestinian civilians in the occupied West Bank that do not appear on the maps. This digital discrimination of Palestinians through Google Maps is contradictory to human rights and international law standards. See the press release here.

We kindly ask you to join the Palestinian Digital Rights Coalition member organizations in asking Sundar Pichai, Google CEO to abide by international human rights standards and obligations by putting Palestine on its maps.
Please find below a list of sample tweets, and images and videos to use in this google drive folder.
Why can't you find #Palestine when you search on #Google Maps? #GoogleMapsPalestine @sundarpichai @google

Why can't you find #Palestine when you search #GoogleMaps? Ask Sundar Pichai by sending him an email here: https://bit.ly/GoogleMapsPalestine

Why doesn't #Google Maps show any sign of Palestine on its map? Send an email to Google CEO to request they abide by human rights & international law standards. #GoogleMapsPalestine https://bit.ly/GoogleMapsPalestine

@Sundarpichai put 'Palestine' on @GoogleMaps. Palestinians have the right to exist. #GoogleMapsPalestine @google

Palestine is not labeled on Google Maps while Israel is labeled alongside it!
@sundarpichai make @GoogleMaps reveal the reality on the ground. #GoogleMapsPalestine @google
No traces of Palestine appear on Google Maps. Why is @GoogleMaps refusing to show the truth by not putting Palestine on the map? #GoogleMapsPalestine @sundarpichai @google

How is @GoogleMaps omittance of Palestine from it's maps contradictory to international human rights laws? See @7amleh's research "Mapping Segregation" https://bit.ly/39crcFa #GoogleMapsPalestine @sundarpichai @google

"It is frustrating being excluded from the maps, it feels like @GoogleMaps ignores my existence and the existence of another 6 million people in this world, but we are here, in "Palestine", and we will stay here!", explains Munya. #GoogleMapsPalestine @sundarpichai @google

"The time has come for #Google to put an end to its systematic discriminatory mapping practices against Palestinians. Do not contribute to the erasure of Palestinians' long history and connection to their land. Put #Palestine on the map!", says Lina.

Why does #Google tailor its maps to settlers residing in illegal Israeli settlements built on Palestinian stolen land while endangering Palestinian innocent lives? @sundarpichai @Google #GoogleMapsPalestine @google

@GoogleMaps features unlawful Israeli settlements in the West Bank in full detail, while Palestinian villages - unrecognized by Israel - appear only when zooming excessively. #GoogleMapsPalestine @sundarpichai @google

Why is @GoogleMaps entirely adopting the #Israeli narrative in its depiction of #Palestine, rather than abiding by International Humanitarian law and human rights standards? #GoogleMapsPalestine @sundarpichai @google

Why is @Google's @StreetView available in illegal settlements, but barely in any #Palestinian cities? #GoogleMapsPalestine @sundarpichai @google

Israeli Forces' segregated road system and movement restrictions for #Palestinians do not appear on @GoogleMaps! #GoogleMapsPalestine @sundarpichai @google

"Whether we are on the map [@Google Maps] or not, the occupation wants us to leave by all means" - Raed Abu Joudeh, #occupied Jordan Valley. #GoogleMapsPalestine @sundarpichai @google