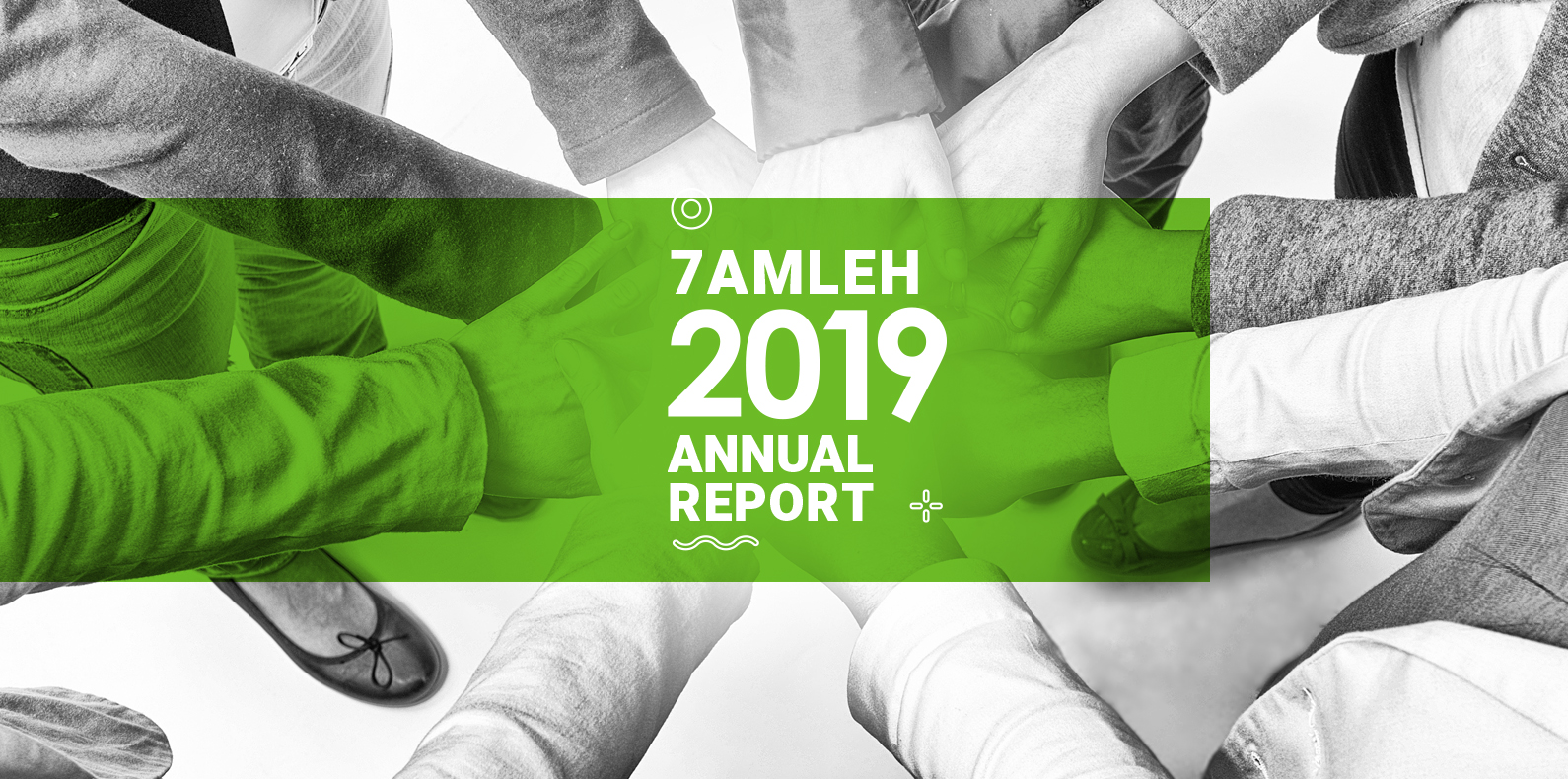 Summary
In 2019, 7amleh - The Arab Center for the Advancement of Social Media continued to focus on advancing and protecting Palestinians digital rights. Some of our achievements include:
Building the capacity of more than 2,000 Palestinians to use digital security skills and knowledge to safely access the internet and launching the first Digital Security Education Conference in Palestine.
Attracting over 700 participants and 40 local and international experts to the Palestine Digital Activism Forum to participate in panels and 20 workshops.
Reaching 1,000,000 Palestinians in the Gaza Strip, Jerusalem, Israel and the West Bank through our online campaign with 40 social media influencers focused on gender based violence online.
Publishing research about how the Palestinian internet is controlled by Israel, how digital rights violations are creating a chilling effect amongst Palestinian youth.
Developing the Palestinian Digital Rights Coalition and enabling Palestinian human rights organizations to share knowledge about digital rights issues, monitor violations and enhance their capacity to work safely online.
Presenting oral and written statements about the violations of Palestinan digital rights by governments and tech companies at seven international forums for human rights, technology and policy forums including the United Nations Human Rights Council, United Nations Internet Governance Forum and RightsCon.
Training
In 2019, 7amleh continued to work to achieve its goal of having digital security education mainstreamed in educational systems and youth serving organizations. This included work to train more youth in gender sensitive digital security and holding the first Digital Security Education Conference in Palestine. 7amleh also continued to respond to the needs of Palestinian civil society and provided Digital Security Audits and Digital Campaigning Training to organizations in Palestine. Lastly, 7amleh trained new cadres of trainers for Digital Security and Digital Storytelling.
Digital Security Training
Throughout 2019, 7amleh trained more than 2000 people in digital security, including in gender-sensitive digital security, throughout the West Bank, Jerusalem and Israel. Sarah Khatib, one of the participants of the training said, "The digital safety training is one of the few important and practical exercises of its kind. It is full of information and inevitably helps us to protect ourselves on the Internet, increases awareness of the dangers that may befall us and gives us the tools to prevent them."
Digital Security Education Conference
More than 200 people offline and 1,000 people online participated in the first of its kind "Digital Security Education Conference" at Birzeit University. The conference was held in order to bring all stakeholders involved in digital security education together and improve the coordination and cooperation on digital security education, international experts and local stakeholders discussed trends, experiences and best practices in digital security education, and gave workshops to teach hand-on tools.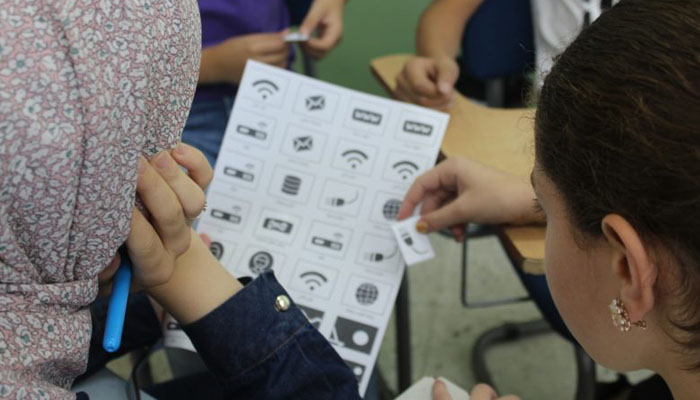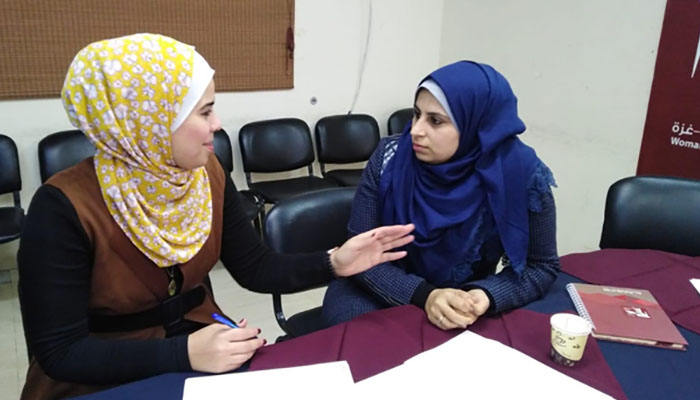 Digital Security Audits for Organizations
7amleh undertook a Digital Security Audit for the Women Affairs Center in Gaza. The audit included an in-house visit by the auditor to the organization, selection of a focal point within the organization and four months of accompanied follow up. Through conversations, training, and group activities the audit build the organization's agency and ability to address time-sensitive or critical threats.
Digital Campaigning Training
7amleh undertook a Digital Campaigning Training for the Women Affairs Center in Gaza with the support of GIZ. The training was tailored to the WAC's specific needs based on a Digital Security Audit and interviews with staff members. One participant stated: "The training is very useful and important both personally and in practice, as I have added and updated information in the field of digital security."
Digital Storytelling Training
7amleh held a Digital Storytelling Training of Trainers who were trained in the production of digital stories, data journalism and useful apps and tools. The trainers then organised their own digital storytelling workshops. The Digital Storytelling Workshop which 7amleh piloted in 2018 have attracted increased demand.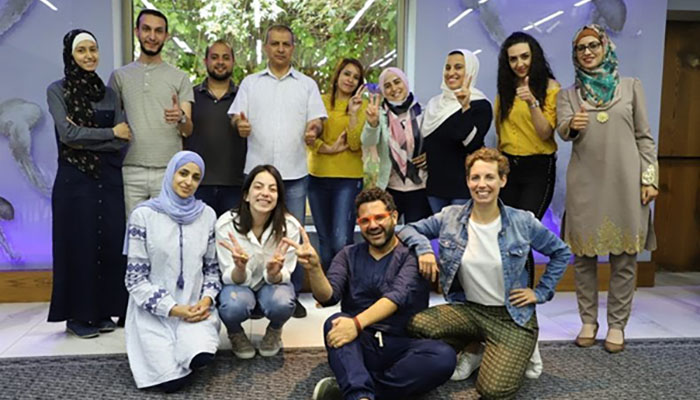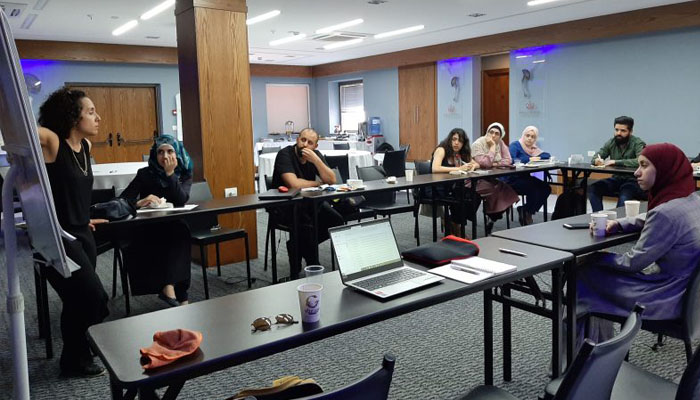 Digital Security Training of Trainers
In order to further improve the skills of 7amleh's pool of trainers, two training of trainers (ToT) were held in 2019. The training of trainers on digital security focused on further improving training skills, in particular activities for different age groups; Participants of both trainings organised rounds of workshops in the respective field after completing the training of trainers.
Research
7amleh continued to research the impact of governmental and technology company policies and practices on Palestinians digital rights. This included our annual HashTag Palestine report and Index of Racism and Incitement, as well as issue specific research into the Palestinian ICT Infrastructure and youth's political participation online. In general, our research findings in 2019 showed that increased use of erroneous artificial intelligence is contributing to an increasingly dangerous and censored environment.
#Hashtag Palestine 2018
Reaching 45,000 people through our media campaign with Hashtag Palestine 2018, the annual report focused on restrictive legislations by Israel, Hamas, the Palestinian Authority as well as the complicity of internet companies in digital discrimination of Palestinians throughout the year.
Index of Racism and Incitement
Reaching more than 144.000 people, the Index of Racism and Incitement in Social Media found an inciting post against Palestinians was posted at a staggering 66 second interval on social media. The research is an annual research that 7amleh conducts that analyses text in social media posts for racism, hatred and incitement.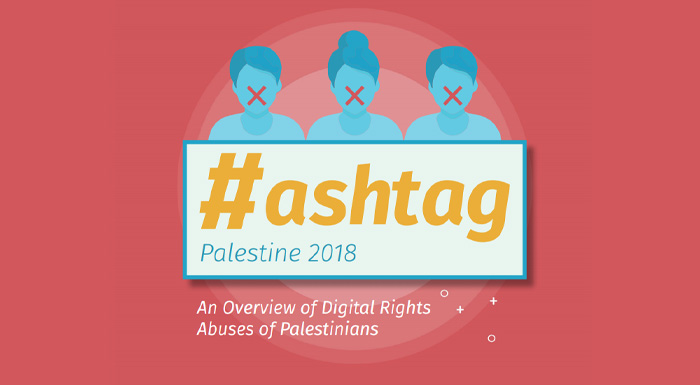 Research - Palestinian ICT Infrastructure
Reaching more than 100,000 people online, the research "Connection Interrupted" shows how the Israeli control over Palestinian telecommunications infrastructre is infringing on Palestinian digital rights.
Youth Political Participation Research
Reaching nearly 100,000 people online, 7amleh's research "Silenced Networks: The Chilling Effect among Palestinian Youth in Social Media", found that the enviornment is so oppressive for Palestinian youth that there is a chilling effect taking place, and two thirds of youth are afraid to voice their political opinons online. Furthermore, a secondary chilling effect is taking place, and Palesitnians are self censoring.
Advocacy
7amleh continued to advocate for international law, human rights and digital rights to be upheld by governments and technology companies through local and international advocacy work. This work included educating and advocating to the public, influential organizations, multi-governmental bodies, technoology companies and inidividuals about the dangers and consequences of policies and practices on Palestinian digital rights. In particular, we focused on proposed Israeli legislations, use of and export of spyware and facial recognition technologies, the Palestinian Authority's Cybercrimes law and the impact of Facebook, Google Maps, PayPal and Airbnb on Palestinians right to freedom of expression, self-determination and privacy.
Local Activities
Palestinian Digital Rights Coalition
In light of increasing violations of Palestinian digital rights, in December 2019 7amleh initiated the founding of the first of its kind Palestinian Digital Rights Coalition comprimising numerous Palestinian digital rights, human rights and media organisations. The DRC includes several local and international organizations working in Palestine on human rights issues.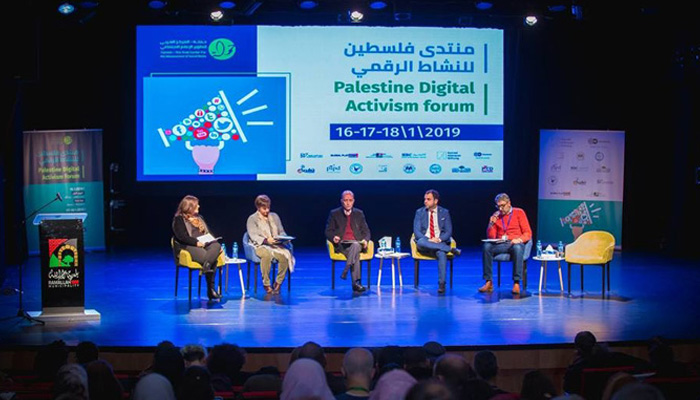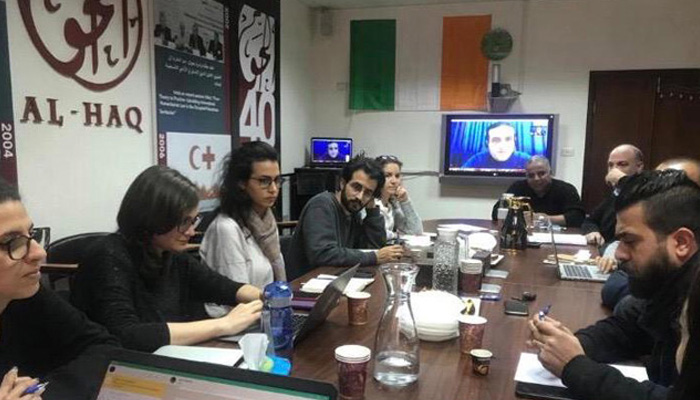 Palestine & Paypal
A roundtable discussion about lack of access to PayPal in Palestinel was organized with approximately 30 Palestinian business advocates. The roundtable provided the opportunity for advocates to share knowledge and to coordinate their advocacy efforts towards PayPal and other international technology companies blocking Palestinian access to the digital economy.
Palestinian Authority & Cybercrimes
7amleh held a Study Day on the Palestinian Cybercrime Law. Two panel-discussions with experts were held at the Grand Park Hotel in Ramallah to mark one year since the Cybercrimes Law by Decree No. (16) of 2018 (first published in July 2017 and later amended in May 2018). The law received widespread criticism as its open wording can be used to infringe on freedom of expression and privacy.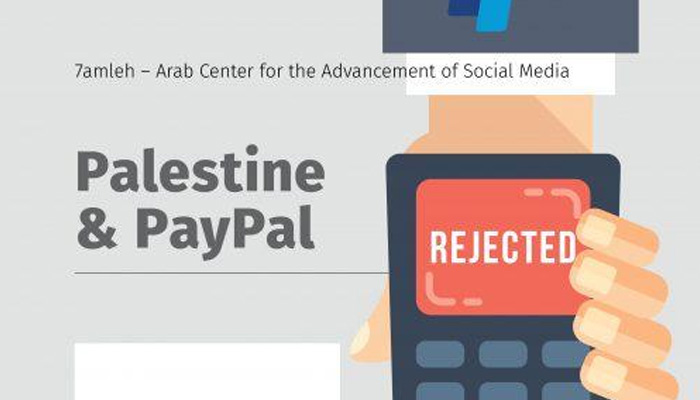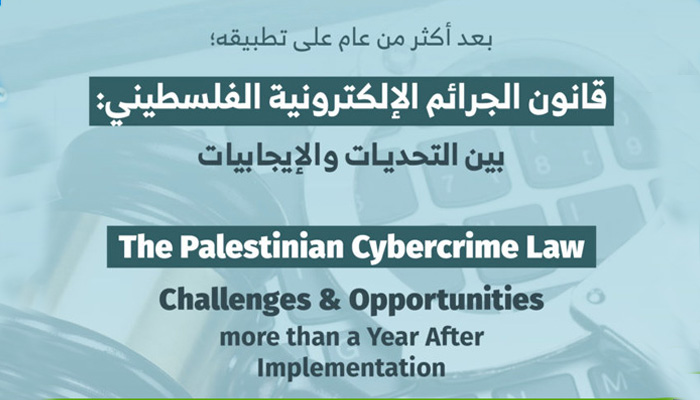 International Activities
United Nations Human Rights Council - Switzerland
For the first time, 7amleh participated in the United Nations Human Rights Council March session with the Association for Progressive Communications. Together, the organizations submitted a written statement on the "New Wave of Israeli Legislations Posing Severe Threats to Internet Freedoms A/HRC/40/NGO/163," and delivered a joint oral statement on the need for a moratorium on the sale and export of surveillance technologies until effective regulatory mechanisms are in place.
United Nations Internet Governance Forum - Germany
7amleh participated in the United Nations Internet Governance Forum in Berlin, Germany, one of the most highly attended internet conferences by the public and private sector in the world. 7amleh presented our research on Gender Based Violence Online in Palestine and shared how this GBVO coupled with digital discrimination is limiting Palestinian women's access to the digital economy (video). We also shared our expertise about and on Google Maps (video).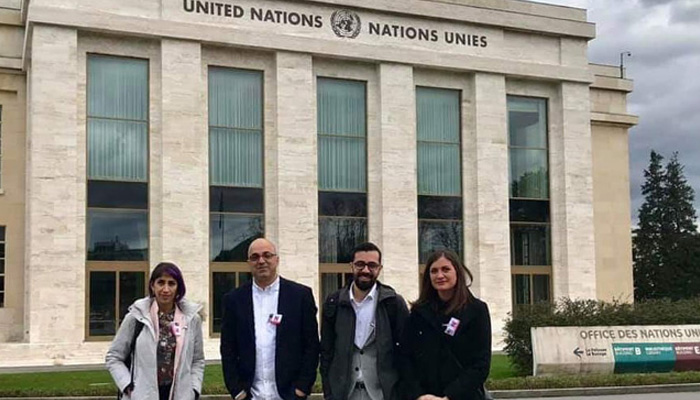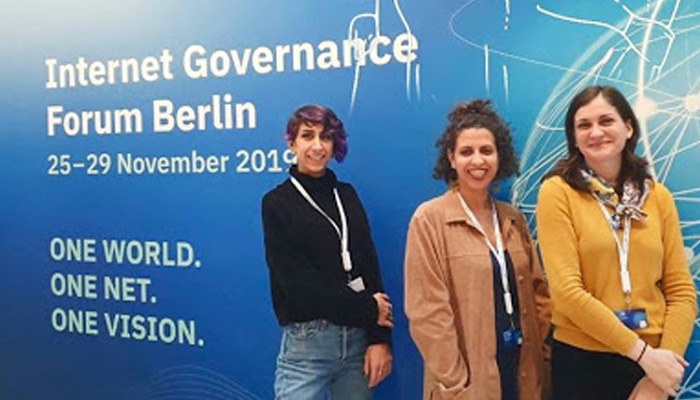 Access Now's RightsCon - Tunisia
7amleh hosted two panel-discussions on "The Palestinian Cause for Digital Freedoms" and "Complicit or Neutral? Content Moderation in Conflict Zones" at Access Now's Rights Con in Tunis. The conference is the largest digital rights conference in the world.
Institut Du Monde - France
7amleh spoke at the Institute Du Monde in France about Palestinian digital rights issues including the dangers of broad terms for incitement in Israeli and Palestinian policies and practices. He also spoke about the privacy and freedom of expression issues associated with technology companies like Facebook, Twitter among others, and the violations of international law that are being perpetrated by Google Maps, PayPal and Airbnb among other companies.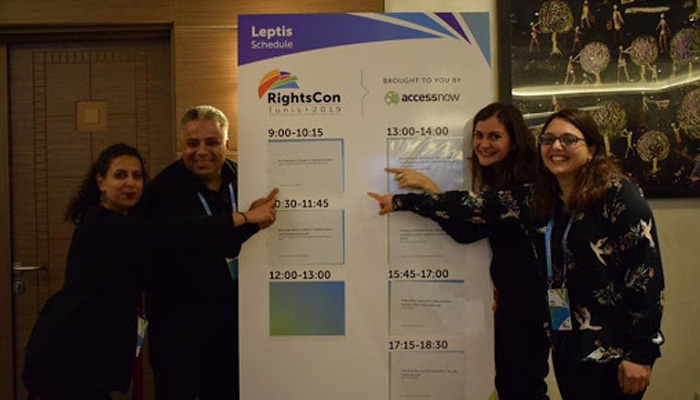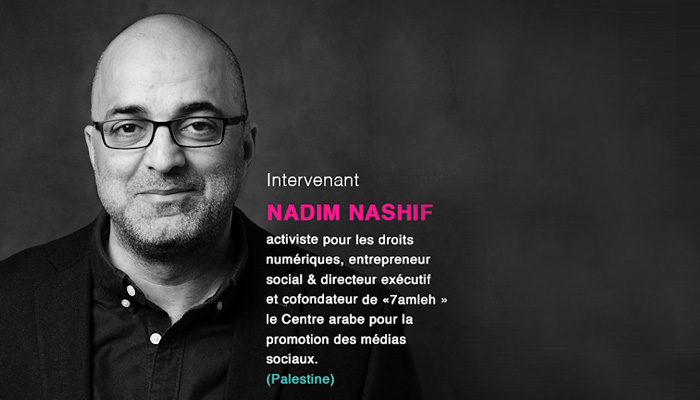 Bread & Net - Lebanon
7amleh gave two sessions during SMEX's Bread and Net in Beirut, Lebanon. This includes information about Palestinian digital rights issues and violations committed by the PA, Israel, Hamas and tech companies. 7amleh also joined another session about the campaign Missing Voices with Article 19 specifically discussing the content moderation issues Palestinians are facing.
"Folkemoedet" - Denmark
7amleh participated in the "Claiming Civic Space" conference organized by Global Fokus Denmark last March. Many civil society and human rights organizations, partners and activists from around the world participated in the conference and shared their experience and work in building civic spaces in their respective communities. Shatha Sheikh Yousef shared 7amleh's work around developing the digital space of Palestinian youth and challenges they face regarding the illegal Israeli occupation of Palestine.
World Media Forum - Germany
7amleh participated in the World Media Forum in Germany in May organized by Deutsche Welle Akademie. Many subjects were discussed in panels and sessions throughout the two days event, such as: how law-makers can fight hate speech on social bots, who's got the power in media landscape, how social media changes our communication, media policy in the digital age, media and politics, the future of the digital economy, fake news, Instagram for news, silencing digital expression in the name of security, defending online media spaces . Within the two days 7amleh members met partners from all over the world and got the chance to learn about other organizations work in the media field.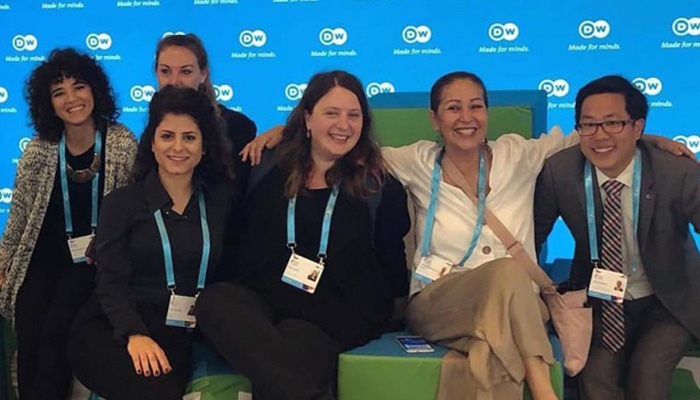 Campaigning
7amleh continued our campaigning work with local, regional and international campaigns. These campaigns were designed to both reach the public and decision makers. They included a digital campaign to counter gender based violence online that reached 1,000,000 people, a public statement to the PA against blocking websites, open letters calling on Facebook to stop the spread of hate speech directed towards Palestinians online, open letters to leaders at the G7 Summit about the principles of a healthy digital society among other campaigning activities.
Digital Campaign to Stop Gender Based Violence
In conjuction with the international 16-day campaign to combat violence against women and utilizing the influencers awareness raising campaign tactic for the first time, 7amleh and more than 20 influencers reached 1,000,000 Palestinians with our campaign.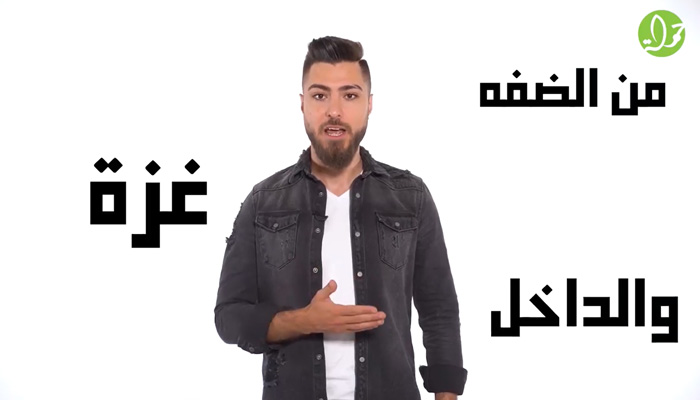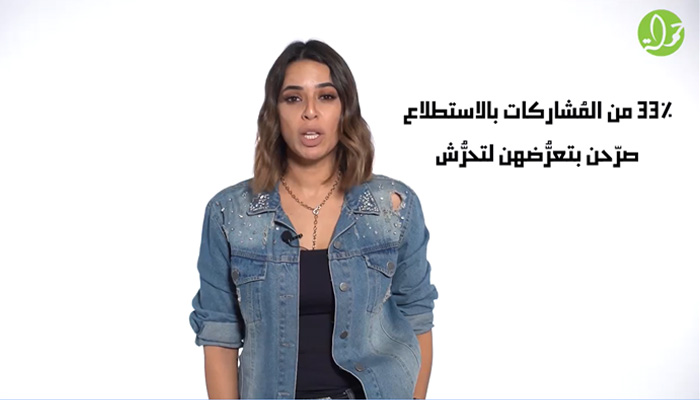 Statement to the PA
7amleh issued a statement condemning the Palestinian Authorities' censoring of 59 Palestinian websites under the guise of vague definitions of the Palestinian cyber crime law, which is in contravention of the international obligation to protect Palestinian digital and human rights.
Open Letter to leaders at G7 Summit
7amleh submitted an open call to world leaders at the G7 Summit to adhere to principles for a healthy digital society. As part of this open letter 7amleh encourages world leaders to encourage strong encryption as the foundation for digital economies and societies.
Open Letters to Facebook
7amleh called on Facebook to stop Israeli incitement and hate speech against Palestinians which increased during the Israeli pre-election period in September 2019. In contrast to posts by Palestinians deemed 'incitement' by Facebook which are removed and result in pages and accounts blocked, Israeli incitement goes widely unpunished.
7amleh also signed an open letter encouraging Facebook to uphold their end-to-end encryption as a vital privacy tool instead of carving into governmental pressure to suspend encryption in the name of 'public safety'.
Statement to United Nations General Assembly
7amleh signed a statement to the United Nations General Assembly highlighting how an international convention on cybercrime is a threat to human rights, urging the General Assembly to re-consider a draft resolution which would ultimately endanger, rather than protect, the use of the internet for human rights and social and economic development.
Thank You!
7amleh would like to thank all of our partners, board members, volunteers and staff for their continued dedication to Palestinian digital rights and 7amleh's work in 2019.