7amleh Center calls on Facebook to stop the spread of hate speech against Palestinians in the Israeli elections
7amleh Center calls on Facebook to stop incitement against Palestinians on their platform.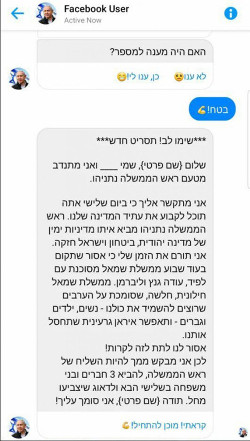 For several weeks, Israeli politicians and political parties campaigning for elections to the Israeli Knesset have been using social media platforms to spread hate speech and call for violence against Palestinians, particularly Palestinian Citizens of Israel, as a tactic to increase their popularity with voters and win the elections.
7amleh Center is calling on Facebook to abide by its own Community Guidelines and to stop the spread of hate speech and ensure that violent rhetoric and hate speech is spread on Facebook.
The most notable hate speech, came from Israeli Prime Minister Benjamin Netanyahu, whose campaign published a post stating. "We must prevent the establishment of a left-leaning government based on Arabs who want to destroy us all: children, women and men."
In 7amleh Center's letter to Facebook, 7amleh called on the platform to monitor and enforce it's Community Guidelines and to prevent such incitement and violence being spread online. Such publications should be deleted from Facebook as a violation of these policies as they constitute direct incitement against a certain group.
Facebook banned the Prime Minister's party's page for 24 hours and his political profile page from using a chatbot. 7amleh sees this as a positive step, but we believe that Facebook should do more comprehensive monitoring of hate speech online and ensure that they are transparent with the public about how they are responding to the spread of hate speech online.