7amleh in cooperation with a group of local, regional and international civil society organizations, launched the "Meta, Let Palestine Speak" campaign yesterday.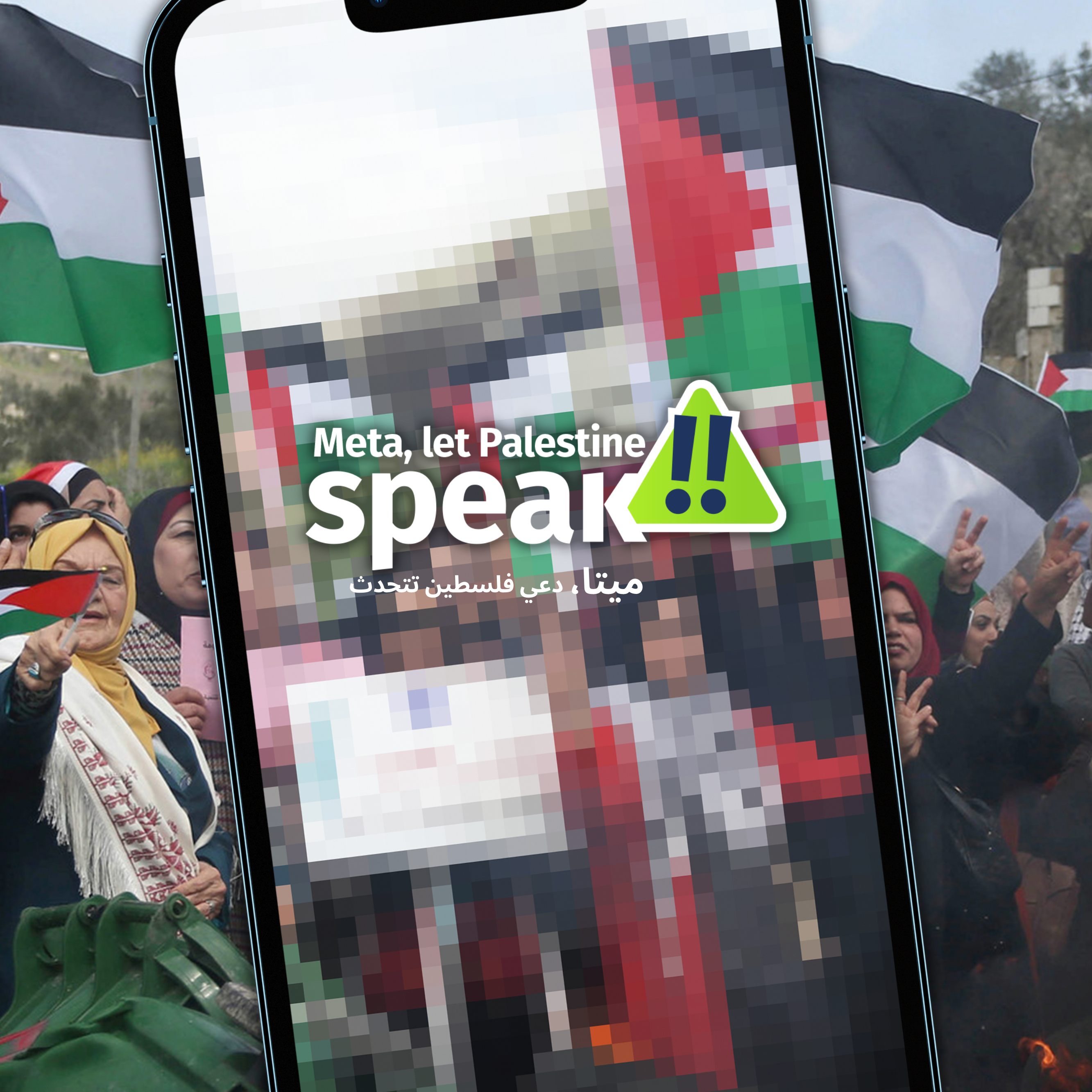 Haifa, Ramallah, 13/12/2022 - 7amleh - The Arab Center for the Advancement of Social Media in cooperation with a group of local, regional and international civil society organizations, launched the "Meta, Let Palestine Speak" campaign yesterday. Their efforts entail a coordinated social media campaign and a detailed and interactive official campaign website. The purpose of the campaign is to call on Meta (Facebook & Instagram) to end its discriminatory policies and practices on Palestinian content across its platforms. This campaign came as a direct response to the recently published independent Human Rights Due Diligence Report issued by the global nonprofit - Business for Social Responsibility (BSR), and the campaign includes coordinated efforts to send emails to Meta executives.
On September 22, 2022, BSR published its Human Rights Due Diligence Report of Arabic and Hebrew content on Meta's platforms in the Israel/Palestine context during May 2021. The report provided evidence of Meta's bias against Palestinian content, through over-enforcement of Arabic content, and under-enforcement of content moderation policies on Hebrew language content. Furthermore, the report cites adverse human rights implications to Palestinians' right to freedom of expression, freedom of assembly, freedom to political participation, and non-discrimination.
BSR issued a series of recommendations including reevaluating specific content moderation policies, taking substantial action to increase transparency around their content moderation practices and policies, investing in more precise Hebrew and Arabic language content moderation resources, and establishing greater clarification around its legal obligations with regards to Foreign Terrorist Organizations and State Designated Global Terrorists (DOI).
Accordingly, this campaign urges Meta to implement the recommendations of the report within a clear and announced timetable, and to provide complete transparency on voluntary content removal requests from the Israeli government, including its Cyber Unit. We also ask Meta to reevaluate and clarify its legal obligations in relation to its dangerous organizations and individuals policy. Meta should also carry out its own investigation to identify and add additional extremist Israeli armed groups to the list. The campaign also called for the need to take decisive measures to end Israeli hate speech against Palestinians, by creating a hate speech lexicon for the Hebrew language, in the hope of reaching a safe, fair, and free digital space for Palestinians.
We are launching this campaign with local, regional, and international partners, including SumOfUs, American Muslims for Palestine, Arab Resources & Organizing Center, European Legal Support Center, JLAC, Fight for The Future, European Coordination of Committees and Association for Palestine, MIFTAH, Jewish Voice for Peace, PIPD, Palestinian Youth Movement, Makan, Mnemonic, Masaar and American Friends Service Committee.


Nadim Nashef, General Director of 7amleh, says, "We are launching the 'Meta, Let Palestine Speak' campaign to call on Meta to abide by international human rights law, as well as business and human rights principles, and end the deliberate censorship of Palestinians, thus committing to implementing the recommendations included in the BSR report within a clear plan and timeframe."
Join the campaign by sending a letter to META's executives: https://meta.7amleh.org/