Check out our digital rights weekly update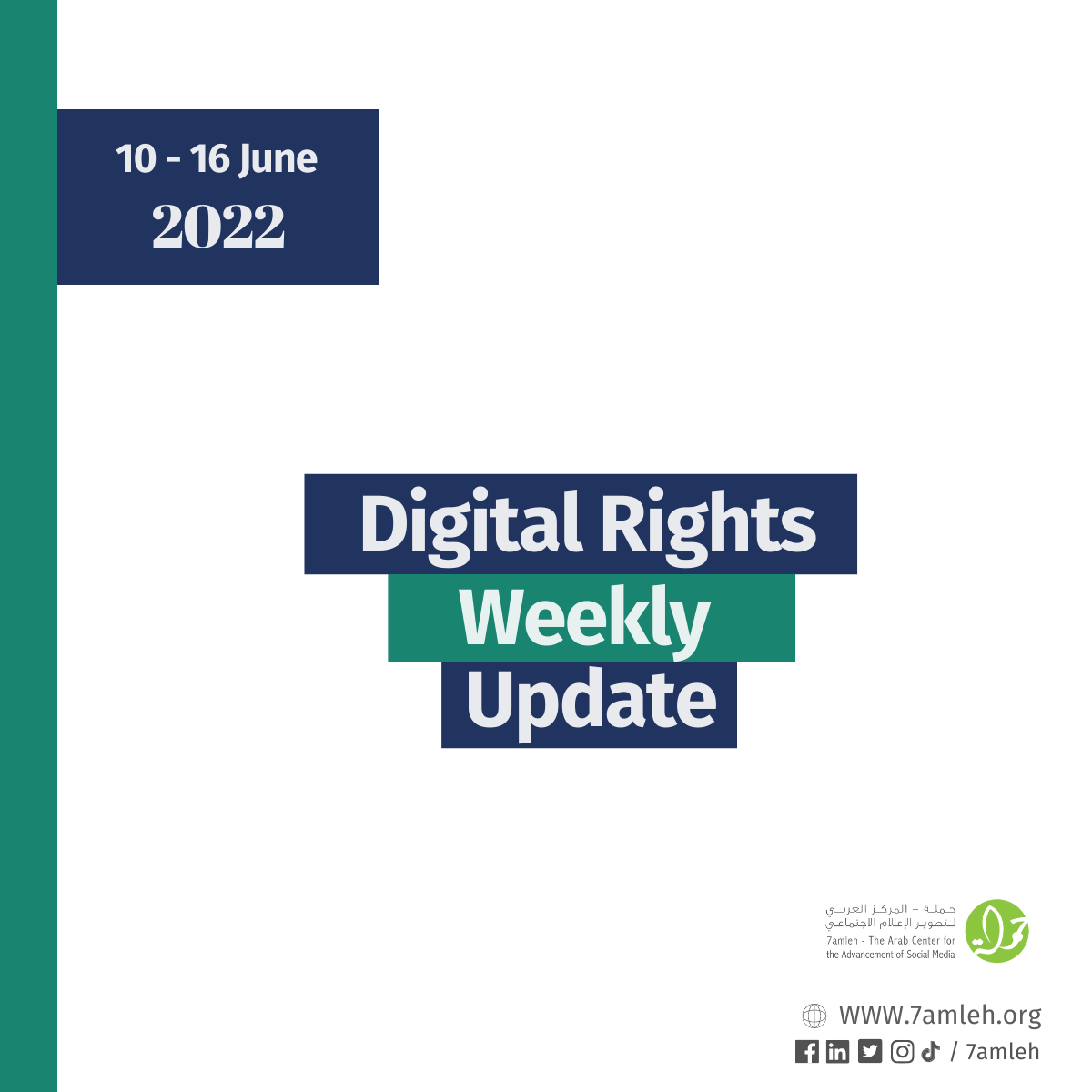 Weekly Update 10 - 16 June
PALESTINE: 'They label us antisemites or terrorists to silence us and paralyse our human rights work' (English)
CIVICUS speaks about civil society's online activism against repression and oppression in Palestine with Nadim Nashif, executive director and co-founder of 7amleh: The Arab Center for the Advancement of Social Media. 7amleh is a civil society organisation that advocates for Palestinian digital rights. With the aim of creating a safe, fair and free digital space for Palestinians, it researches digital rights, provides training to Palestinian activists and organisations and leads local and international advocacy campaigns.
"Wafa" Monitors Incitement and Racism in Israeli Media (Arabic)
Wafa
This month, the Palestinian News and Information Agency "Wafa" monitored incitement and racism in Israeli media between 5-11 June. In its 259 page report, Wafa provides documentation of inciting and racist speech in Israeli visual, audio and written media, as well as on the social media pages of politicians and prominent figures in the Israeli society.
'Dark Horse': Israel Pushing US Govt to Remove Pegasus-developer NSO from Blacklist, Say Reports (English)
News 18
Israeli authorities are reportedly urging the United States to remove the NSO Group, a controversial Israeli cyber surveillance firm, from the Commerce Department's blacklist. This comes after the department stated that the spyware company's actions were incompatible with US foreign policy and national security concerns. So at this point, removing NSO from the list would be a dramatic reversal by the Joe Biden administration, and many Democratic Party progressives, Congress, as well as the cyber defence community would criticise the move.
U.N. experts at RightsCon: digital rights violations enable and escalate violence during crises (English)
Access Now
The five U.N. Special Rapporteurs — who actively engaged at RightsCon on 6-10 June — emphasize that digital rights violations enable and escalate offline violence, deepening conflict and humanitarian crises worldwide. In particular, they shone the spotlight on "shrinking civic space and rising digital authoritarianism through internet shutdowns, targeted surveillance, cyber and physical attacks on critical broadcast and communications infrastructure, the use of drones by domestic law enforcement, as well as disinformation and smear campaigns," during such crises — where they ultimately stressed "the need for accountability under international law."
Human Rights and Digital technologies at the Human Rights Council 50th Session (English)
APC
The UN Human Rights Council (HRC) will hold its 50th session in Geneva from 13 June to 8 July 2022. As this latest session begins, APC reiterates the importance of supporting and strengthening the Council as a key mechanism for advancing human rights online. APC considers the HRC sessions an important opportunity to influence the setting up of international standards on human rights in digital contexts and to raise awareness regarding violations of human rights online in specific countries. APC's priorities at this HRC 50th session include the following: Gender-based violence online, in particular the issue of gendered disinformation and violence against women journalists, and Freedom of expression and association as well as The human rights impact of the tech sector.