Check out our digital rights weekly update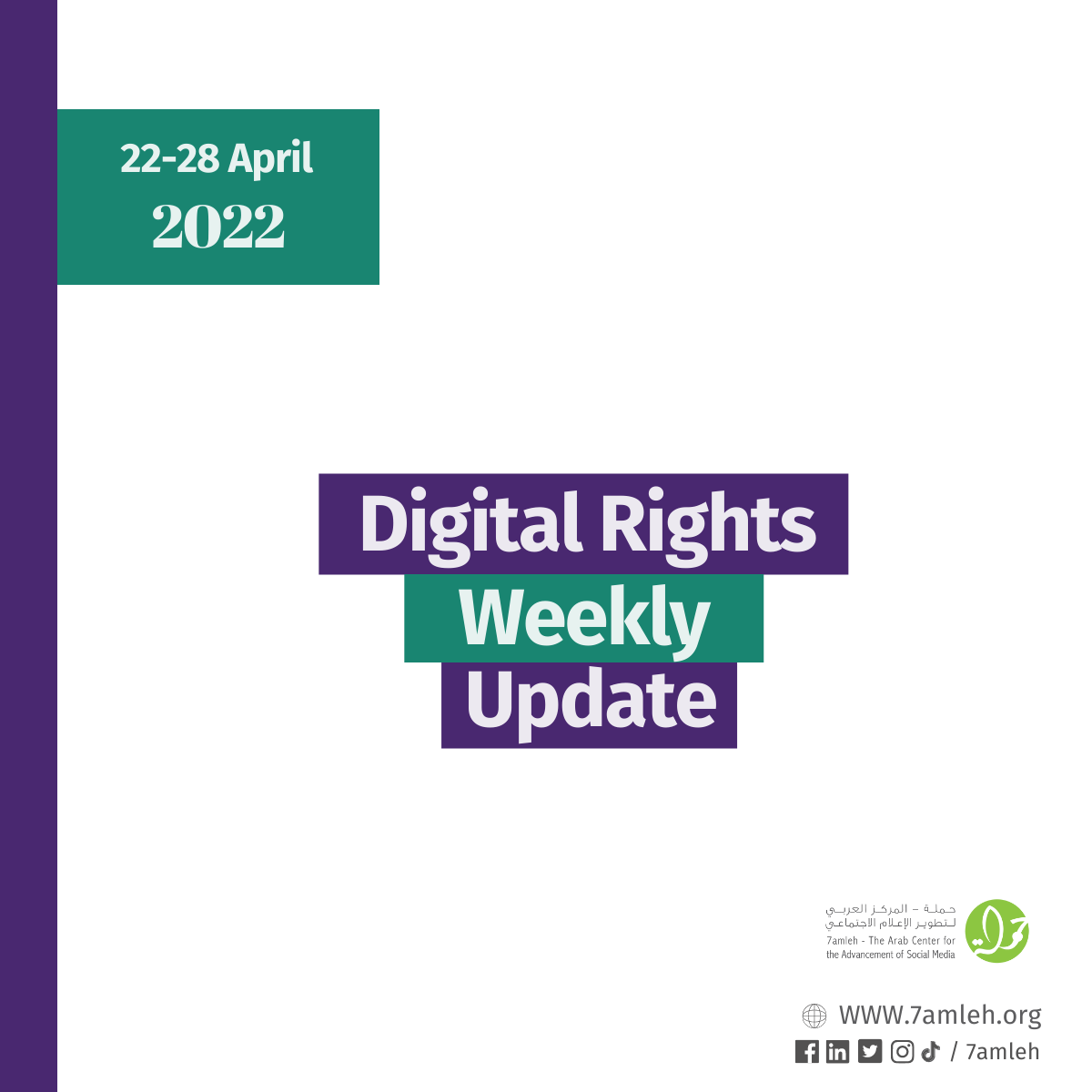 Nowhere to hide: The impact of Israel's digital surveillance regime on the Palestinians (English)
MEI@75
Over the course of 2020 and 2021, groundbreaking investigations revealed in stark detail Israeli authorities' intensifying use of surveillance and predictive technologies to police and control Palestinians. Subjecting Palestinians to such scrutiny from security and military apparatuses narrows their expressive spaces and plunges them into a state of constant anxiety. This practice also carries out a commercial purpose: Occupied Palestine effectively functions as an open-air laboratory for Israel to test techniques of espionage and surveillance before selling them to repressive regimes around the world. This commerce has troubling implications, particularly as more governments have leveraged digital monitoring tools against political opponents, activists, journalists, civil society workers, and others deemed "threatening." The case of the Palestinians, then, can be understood as an ominous example of how various actors can probe deep into private lives through the ever-watching eyes of surveillance.
Palestinians' plight exposes West hypocrisy (English)
China Daily
With the latest skirmishes at the Al-Aqsa Mosque compound in Jerusalem, analysts say the international community's response to the plight of the Palestinians, when compared to their response to the Ukraine conflict, exposes Western hypocrisy. Experts see these double standards in the Western-dominated mainstream media's influence on storytelling, policy adoption, and even in the censorship of social media content, when it comes to the Palestinian cause.
European Union: Digital Services Act agreement a 'watershed moment' for Internet regulation (English)
Amnesty
The political agreement on the Digital Services Act (DSA) that was reached by co-legislators is a landmark moment in the history of Internet regulation, Amnesty International has said today. The DSA includes new rules that will require Big Tech platforms – including Facebook and Instagram (owned by Meta), and YouTube (owned by Google) – to assess and manage systemic risks posed by their services, such as advocacy of hatred and the spread of disinformation. For the first time, Big Tech companies will also need to submit to independent yearly audits, and to give regulators and third-party researchers, including civil society, access to platform data and insights into their algorithmic 'black boxes' to ensure greater scrutiny and accountability.
Mission failed: How Israel's anti-BDS app went belly-up (English)
+972 Magazine
In June 2017, at an event connected to New York's annual Celebrate Israel parade, then-Minister of Strategic Affairs Gilad Erdan announced the launch of a new digital campaign, 4IL ("For Israel"), a one-stop digital shop designed to provide tools for activists to promote Israel and delegitimize the Palestinian-led Boycott, Divestment, and Sanctions (BDS) movement. The centerpiece of the initiative was an app called Act.IL, which would assign users "missions" to push back on articles and social media posts deemed critical of Israel and/or supportive of the boycott movement; Erdan called the new project an "Iron Dome of truth" and "a true game changer in defending Israel online and changing the narrative." At the New York parade, a float promoting the app showed a cellphone with Act.IL's logo next to a rendition of Theodor Herzl, the father of modern Zionism, as a hipster, complete — for some reason — with a pair of Israeli flags protruding from his head.
Palestine Ranks Last in the World in the Mobile Internet Speed Index (Arabic)
Al-Iqtisidi
Last March, Palestine ranked last in the world on the "Speed ​​Test" Service Index for testing mobile internet speeds, with an average internet speed of 4.89 MB/s. Palestine has been dependent on 3G services since the beginning of 2018, due to the continued deprivation by the Israeli authorities against the Palestinians from accessing 4G frequencies, despite the readiness of Palestinian companies to operate the service.