Check out our weekly update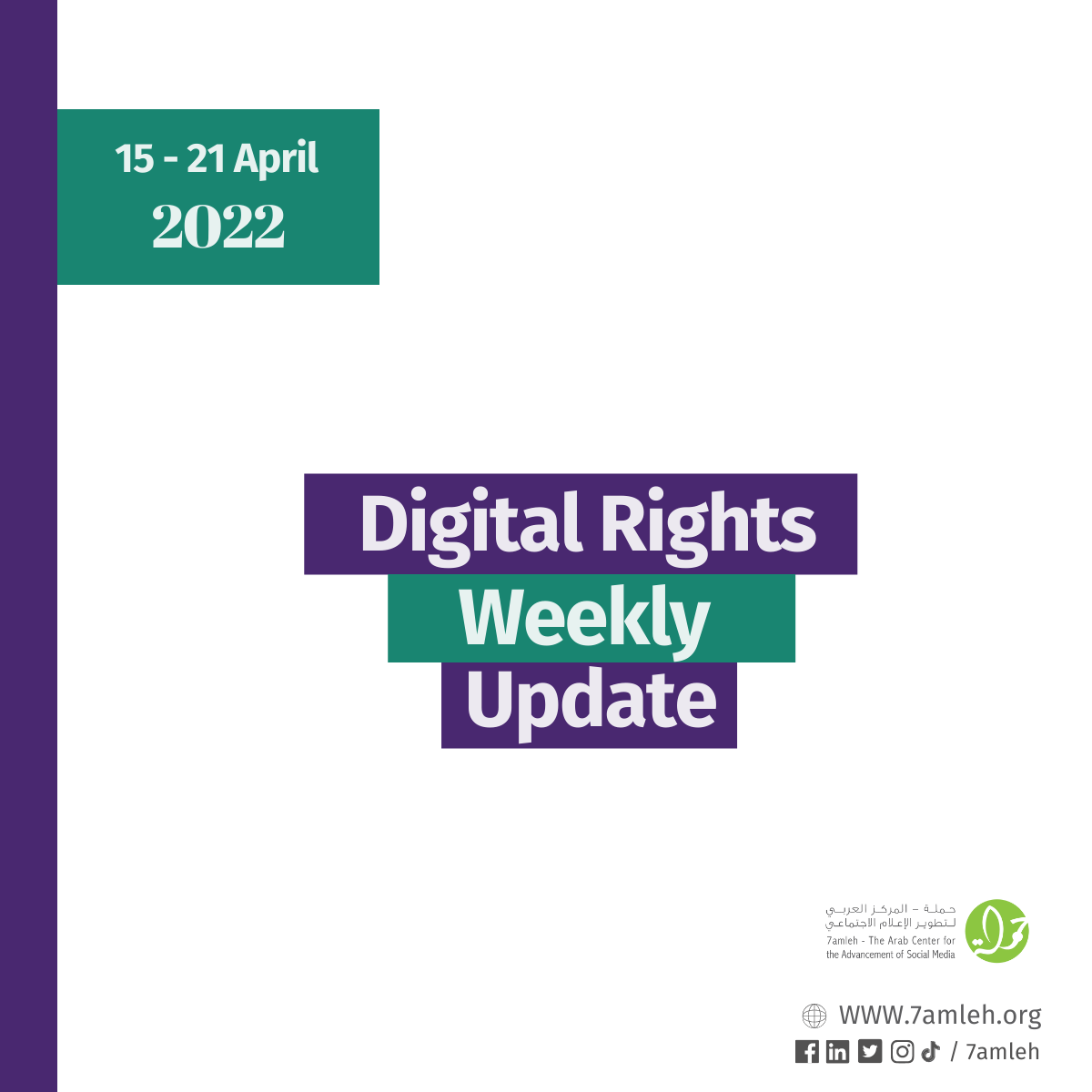 "Al-Qastal News" page reactivated after being removed by Facebook (Arabic)
Arab 48
Al-Qastal News page was reactivated on Facebook, after being banned by Meta, owner of Facebook, after covering the Israeli authorities raids of al-Aqsa Mosque in Jerusalemon Friday (15 April), and the Israeli forces attacks on worshippers at the mosque. On Saturday, activists launched an online campaign on social media platforms against the suspension of "A-Qastal News" as a result of covering the events in Jerusalem.
Double Standards … Why is Palestinian Content Restricted on Social Media Platforms? (Arabic)
Araby TV
Removals and restrictions against Palestinian content on social media platforms, especially on "Facebook" and "Instagram," were renewed with the return of Palestinian events to the forefront, due to Israeli aggression. Questions arose about the bias of these platforms that claim being a free space for expression, contrasting their response to Palestine with their response to Ukrainian content, and the space they allowed for amendments to their regulations. Activists are concerned about double standards in dealing with Palestinian content on social media platforms, as policies on some platforms were modified to allow for some form of incitement against Russia in its war on Ukraine, and in March, Facebook's parent company, Meta, announced that it would allow an amendment to its rules to allow "violent messages" against Russians.
Social media watch group monitors a number of violations against Palestinian content (English)
Wafa
Sada Social center, which specializes in protecting Palestinian narratives on social media platforms, said that it monitored a number of violations against Palestinian content for their coverage of the current events that do not violate the policies of the Facebook administration and are merely news content. Sada Social has denounced the Meta attack against Palestinian news pages and accounts due to their coverage of recent Israeli attacks at Al-Aqsa Mosque during Fajr prayer on the second Friday of Ramadan.
'Systematic censorship' of Palestinian content on social media alarms many (English)
The Jordan Times
Jordanians have expressed dissatisfaction with social media companies' "systematic censorship" of the recent Israeli violence at Al Aqsa, amid the platforms' focus and empathy towards Ukrainians. "What is happening now with Palestinian content suppression is not new," Baraa Ahmad, a Jordanian social media expert, told The Jordan Times on Sunday. A considerable number of photos and videos of Ukraine were published on Instagram, but meanwhile, there has been a "systematic social media repression when it comes to Palestine", she added.
What is shadow banning? And what do social platforms say about it? (English)
The Sydney Morning Herald
It most recently popped when Palestinian-American supermodel Bella Hadid accused Instagram of shadow banning her, after she shared footage at the weekend of the Israeli-Palestine conflict to her feed. But it's also something that Republicans have reported occurring on Twitter, and black creators have called out TikTok for the same thing. Shadow banning is a moderation technique allegedly used by social media platforms to censor content. That content could be anything from an individual post, a users' account, a hashtag or an entire community.