Check out our weekly update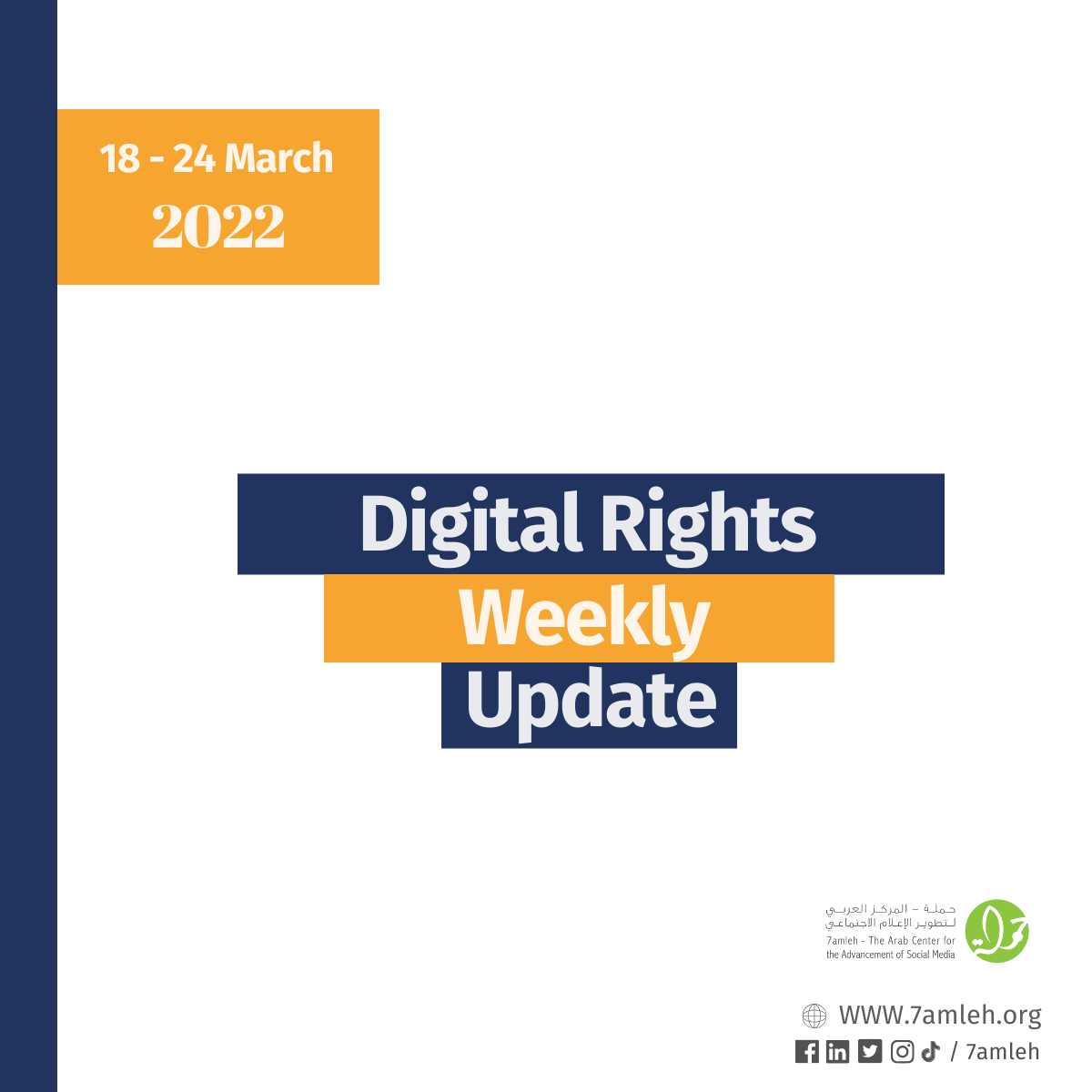 Weekly Update 18 - 24 March
Facebook's solidarity with Ukraine is impressive. Now extend it to others (English)
The Guardian
Palestinians know this double standard better than most. Last May, when the Israeli government was seeking to forcibly uproot Palestinian families from their homes in Sheikh Jarrah, protests broke out on the streets of Jerusalem and on screens across the world. Facebook and Instagram were hardly neutral spaces for information-sharing during this period, and Facebook was definitely not on the side of the occupied in that situation.
Social media giants allow hate speech against Russia but silence Israel's critics (English)
Middle East Eye
Silicon Valley's rank hypocrisy in allowing hate speech against Russia and Russians is particularly evident when compared with the special protections put in place by tech firms to block criticism of Israel and Israelis. If Meta's new policy for Ukraine were to be applied impartially, would Palestinians then be allowed to promote violence against Israel and against Israeli soldiers that have been occupying and besieging them for decades?
The billion dollar deal that made Google and Amazon partners in the Israeli occupation of Palestine (English)
MEMO
"We are anonymous because we fear retaliation" This text was part of a letter signed by 500 Google employees last October, in which they decried their company's direct support for the Israeli government and military. In their letter, the signatories protested a $1.2 billion contract between Google, Amazon Web Services (AWS) and the Israeli government which provides cloud services for the Israeli military and government that "allows for further surveillance of and unlawful data collection on Palestinians, and facilitates expansion of Israel's illegal settlements on Palestinian land".
Russia, Ukraine, and Social Media and Messaging Apps (English)
HRW
Since Russia's invasion of Ukraine on February 24, 2022, companies providing social media and messaging services have taken a wide array of steps to counter harmful disinformation, to label or block state-sponsored or state-affiliated media, and to introduce extra safety measures. For over a decade, digital platforms have played an important and growing role in crises, conflicts, and war. As in Ethiopia, Iraq, Israel/Palestine, Libya, Myanmar, Sri Lanka, and Syria, among others, people use platforms to document human rights abuses in conflicts, condemn atrocities, appeal to the international community for action and crowdsource relief and assistance. Platforms are also spaces where governments and others spread disinformation, incite violence, coordinate actions, and recruit fighters. The war in Ukraine is no exception.