Check out our digital rights weekly update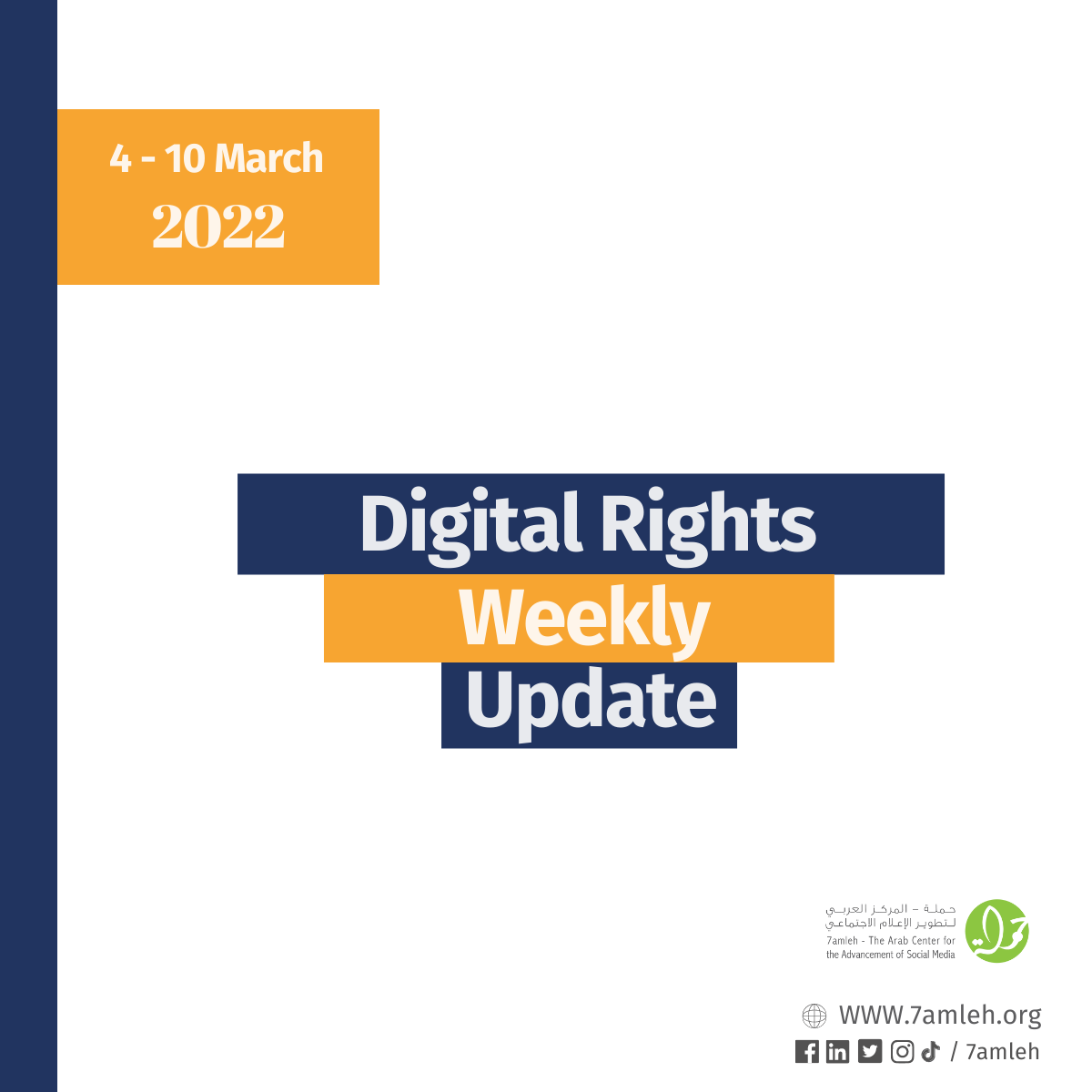 Sowt| "7amleh" organizes a workshop to share with journalists the center's latest efforts in monitoring and digital advocacy
Nisaa FM
7amleh - the Arab Center for the Advancement of Social Media organizedon Thursday 3 March, a workshop to share with journalists the center's latest efforts in monitoring, documentation and advocating digital rights, through launching the Palestinian Monitor of Digital Rights Violations "7or," in the center's office in Ramallah. Ahmad Qadi, the Coordinator of the Monitoring and Documentation Program at 7amleh, told Nisaa FM: "the workshop seeks to build bridges of cooperation and joint effort between the center and journalists, as well as share the best practices to tackle such violations."
Israeli Digital Propaganda for Palestinians and Arabs: "Content Analysis" (English)
PRC
Digital developments and the growth of social media have provided effective tools for Israel to abuse in its attempts to disseminate its narrative in the Arab world, thus breaching the barriers of traditional diplomacy, that until recently faced an Arab iron wall. On the other hand, there is a great effort by Palestinian youth in the opposite direction, that is making important wins that may outweigh its limitations, as it remains voluntary and reliant on individual efforts. This article is nonetheless concerned with analyzing the content of Israeli propaganda directed at Palestinians and Arabs within platforms designated for this purpose, often sponsored by military and government agencies.
Reddit's silencing of pro-Palestine speech betrays its own ethos (English)
The New Arab
Then problems began to pop up. Reddit began removing content at the behest of censors, as the site moved from eliminating hate speech to outright censorship of political speech. This was especially true of views critical of Israel or supportive of Palestinian rights. Earlier this month, Amnesty International released a report declaring that Israel was an apartheid state. While many celebrated this recognition, on Reddit, the response has been dispiriting, as some subs have censored attempts to highlight the report.