Check out the full report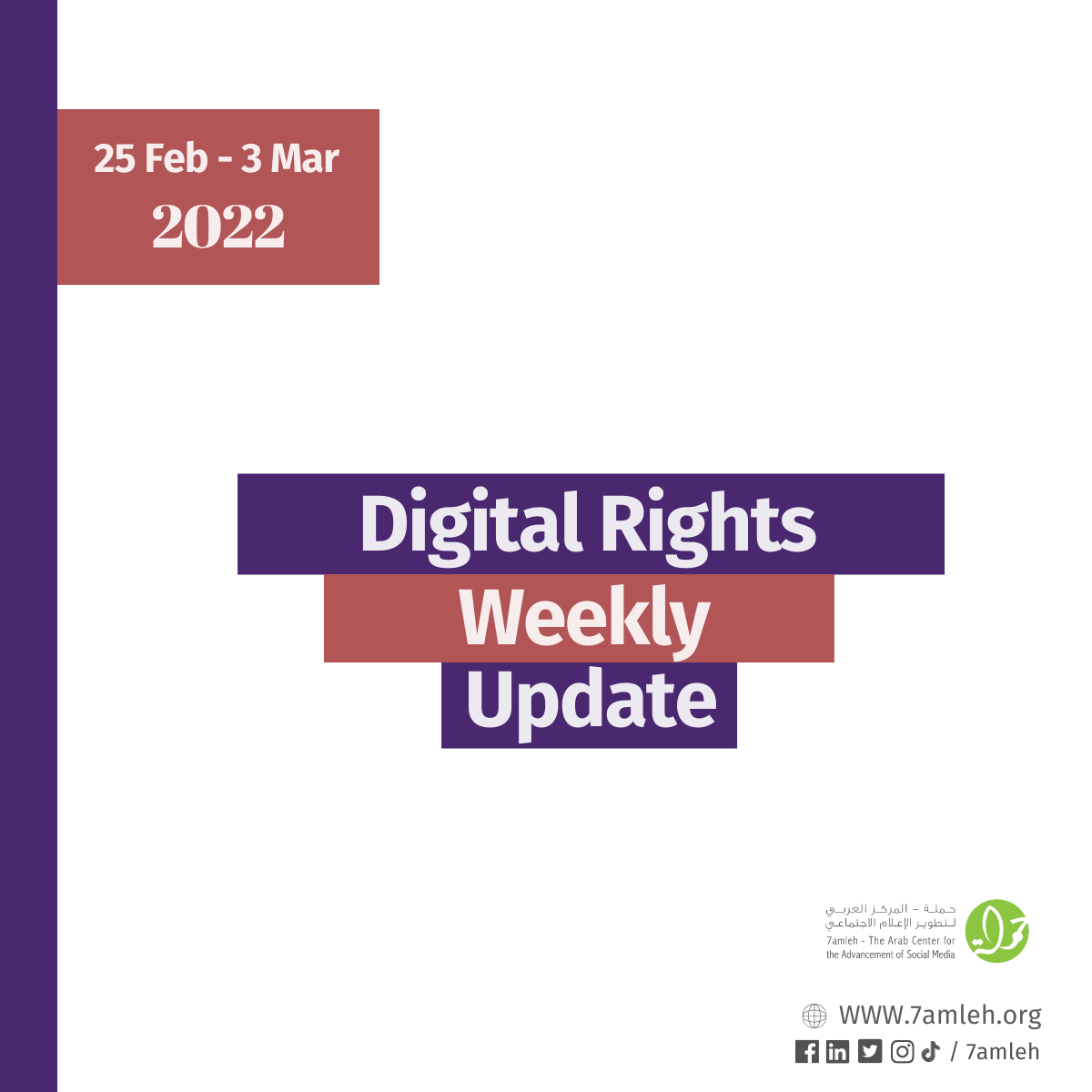 Weekly Update 25 February - 3 March
Israel completes 'digital occupation' of Palestinians (English)
Arab News
Israeli forces have digitized their occupation of the West Bank and control over the Gaza Strip through various electronic systems, including dozens of advanced thermal cameras deployed across the West Bank's main roads, as security experts warn that every Palestinian is under their control. The cameras are connected to a control room manned by specialized security officers who analyze footage and deliver orders to troops.
Life Under Digital Occupation: The Global Implications of the Israeli Surveillance State (English)
MEI@75
The Israeli tech sector is booming more than ever and has come under increased scrutiny for its direct facilitation of the surveillance and spyware industries. Experts and activists have long drawn attention to the ways in which the Israeli state is directly complicit in technology-aided abuses of Palestinians living in the occupied territory - what might this mean for the future? This expert panel, co-hosted by 7amleh (The Arab Center for Social Media Advancement) and the Middle East Institute, will be part one of a two-part series on mass surveillance in Palestine examining the impact of the Israeli surveillance state on the lives of Palestinians.
The cost of speaking out for Palestinian rights (English)
Al-Jazeera
"This effort to specifically redefine anti-Semitism in a way that encompasses basically any criticism of Israel has really gained ground in the last several years," says Dima Khalidi, founder and director of Palestine Legal. "To the extent that this definition has been codified in laws around the world, including in the US and Europe, especially." While high-profile figures like Emma Watson and Mark Ruffalo have faced intense backlash for speaking up for the rights of Palestinians, it is mainly academics and college students who face the most retaliation on campuses across the United States and Europe.
Digital Resistance: New Methods to Combat the War on Palestinian Content (English)
Al-Keffiyeh
Exclusive: Palestinian content is threatned with numerous restrictions and procedures such as content removal, accounts suspension, viewability reduction and public page removal. To bypass these restrictions, many turn to tricks against the "algorithms" of such platforms, to be able to share content without facing removal or suspension. For example, users have turned to posting in "dotless" Arabic, as a form of digital resistance. Simultaneously, many rights organizations have filed complaints against censorship with Facebook's management. On the other hand, Israeli authorities have doubled its efforts to combat Palesitnian content online, including establishing the "Cyber Unit" a few years back, dedicated to send thousands of reports against Palestinian content, which have risen from 2421 removal requests in 2016 to 20,000 requests in 2020.