Check out our digital rights weekly update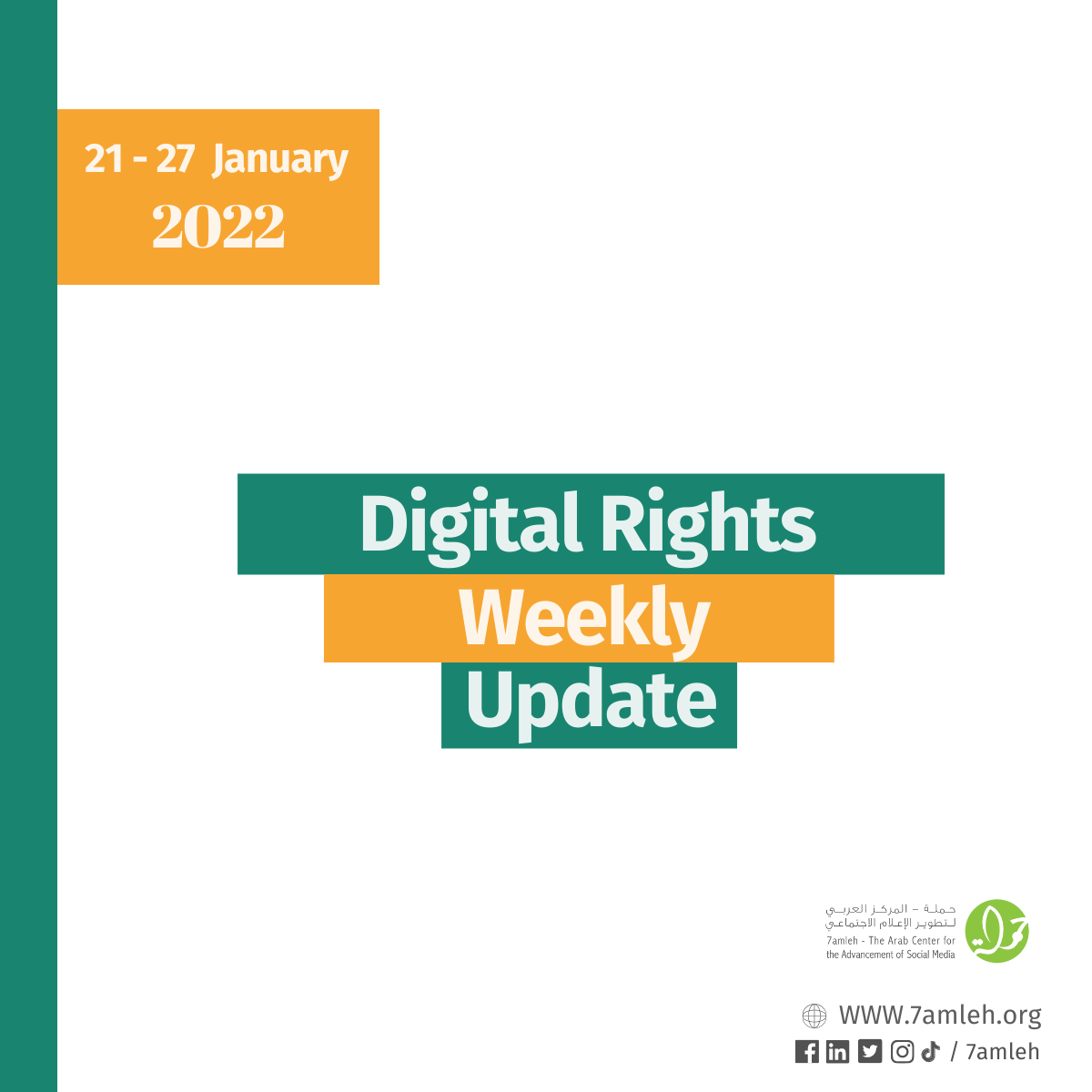 Weekly Update 21 - 27 January
UK Israel lobby takes aim at Palestinian university lecturer (English)
The Electronic Intifada
A British university has suspended a Palestinian graduate student from teaching amid a smear campaign by supporters of Israel. Shahd Abusalama, a longtime activist and contributor to The Electronic Intifada, is a PhD student at Sheffield Hallam University. Abusalama has written about her experiences in the Gaza Strip, where she was born and grew up under Israeli occupation, siege and military assaults. She has also written about the terror of being separated from her family in Gaza while they were under Israeli bombardment in 2014. The campaign against her resembles the tactics used last year to target David Miller, a professor at Bristol University.
Israeli firm develops body cams with facial recognition (English)
France 24
Tirza, a former Israeli army colonel, says his company Yozmot Ltd aims to produce a body-worn camera enabling police to scan crowds and detect suspects in real time, even if their faces are obscured. Facial recognition in law enforcement has sparked global criticism, with US tech giants backing away from providing the technology to police, citing privacy risks. Palestinian digital rights activist Nadim Nashif said the use of facial recognition technology entrenched Israel's "control" over Palestinians and added to a "domination" of physical spaces.
HRW says staffer was targeted with Israeli-made Pegasus spyware (English)
Al-Jazeera
Human Rights Watch (HRW) says one of its senior staff members was targeted five times last year with Pegasus, a spyware made by the Israeli company NSO Group. The software was used against Lama Fakih, director of the New York-based group's Beirut office who also oversees its crisis response in countries including Afghanistan, Ethiopia, Israel, Myanmar, the occupied Palestinian territory, Syria and the United States, HRW said on Wednesday.
How to confront incitement and hate speech by the occupation against Arabs? (English)
Al-Araby TV
Israeli incitement and hate speech against Arabs on Israeli social networks tripled in 2021 compared to 2020. According to a report by 7amleh - the Arab Center for the Advancement of Social Media, the most violent speech was shared on Twitter, as the platform hosted 58% of monitored inciting speech, while Facebook hosted 19%. 7amleh confirmed that the results of its Index of Racism and Incitement in Israeli Social Networks annual report for 2021 showed an increase in hate speech towards Arabs by 8%. In this context, Munia Thaher, media coordinator at 7amleh said: There is bias in the moderation and level of removal of Palestinian content, while on the other hand, inciting content in Israeli networks in Hebrew is less targeted."
Israel Paves the Road to Suppress Palestinian Content in the Digital Space (English)
The Independent Arabic
Dareen Tatour, 39, from the village of Rina, north of Nazareth, did not expect that a post on her Facebook page would turn her life upside down, and that her poem "Resist, My People," in which she expressed her grief for Palestinian children, would transform her from a poet and artist to a "michapelit" (a terrorist in Hebrew), she says. During 21 days of interrogation, Israeli investigators accused Tatour of "incitement to terrorism and violence," as the poem's words were deemed inciting to violence and a danger to state security and public safety. Tatour was also accused of "supporting and applauding a terrorist organization."