Check out our digital rights weekly update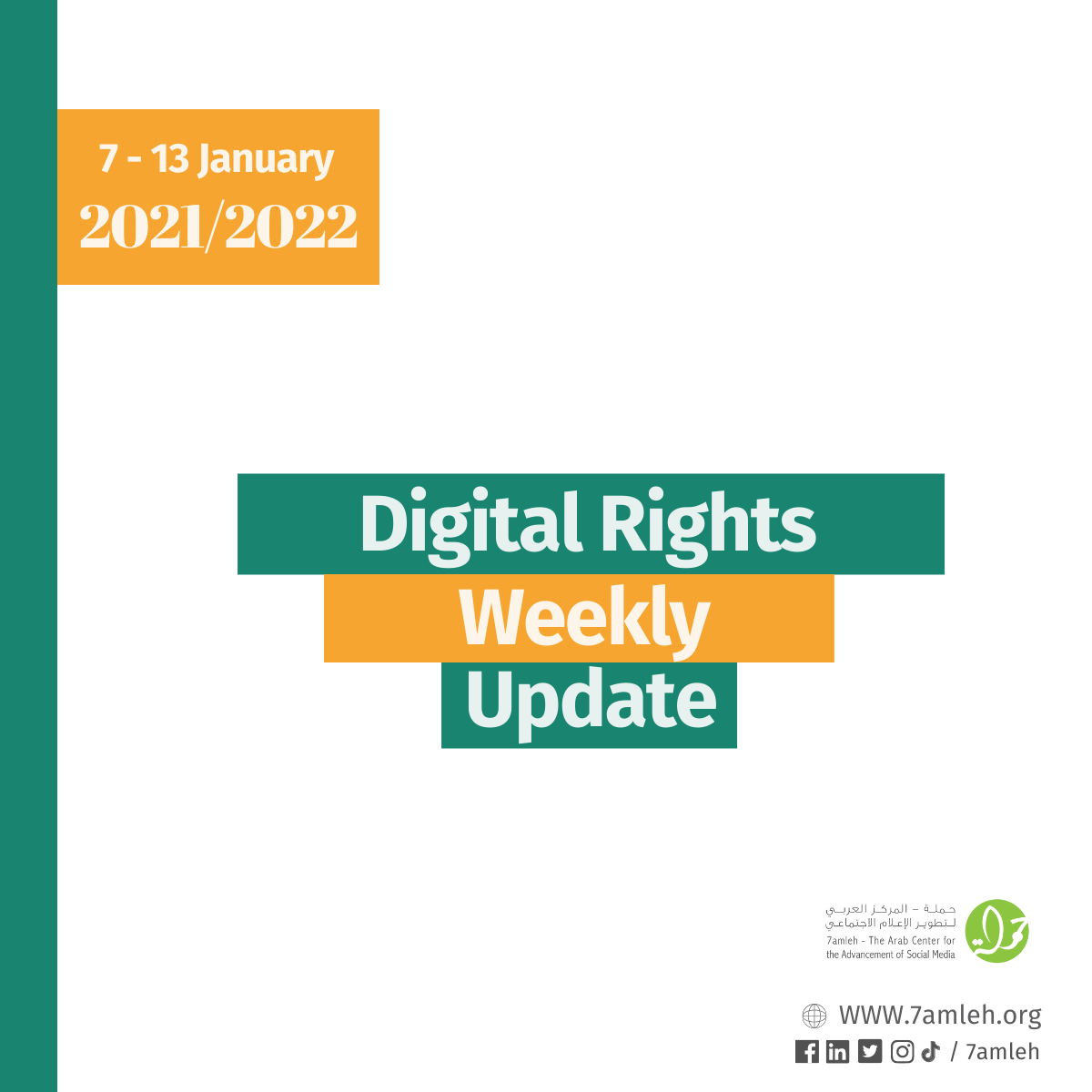 Weekly Update 7 - 13 January
Hashtag Palestine: Rise in Violations of Palestinian Digital Rights in 2021 (English)
7amleh
7amleh - the Arab Center for the Advancement of Social Media released on Tuesday, 11 January 2022, its seventh annual report "Hashtag Palestine," illuminating the digital rights violations of Palestinians and pro-Palestinian advocates online, at the hands of the three authorities as well as different social media companies in relation to the escalations and developments on the ground.
EU admits teaming up with Israeli police enables mass surveillance (English)
Electronic Intifada
The European Union funds research involving Israel's police despite admitting that it may be used for spying purposes. Over the past few years, a project named Roxanne has been examining how criminals can be identified with the aid of speech recognition technology and visual analysis. Material intended for public consumption presents the EU-financed project – costing $8 million – as benign. However, serious ethical issues have been raised when it was discussed behind closed doors. Internal EU documents obtained under freedom of information rules confirm there is a risk that Roxanne's results will be used for mass surveillance.
Israel arrested 390 Palestinians last year for 'inciting violence' on social media (English)
MEMO
The Israeli occupation authorities arrested 390 Palestinians last year for alleged "incitement of violence" on social media, the Palestinian Prisoners' Centre for Studies has reported. According to the centre's media spokesman, 2021 witnessed a significant escalation in the Israeli arrest campaigns targeting Palestinians on charges related to social media content.
Israel advances bill censoring Palestinian content on social media (English)
MEMO
The Israeli Ministerial Committee for Legislation yesterday approved a draft bill that gives Israeli authorities broad powers to censor Palestinian digital content. Last Wednesday, Israeli lawmakers provided preliminary approval to the bill; brought forward by MK Meir Yitzhak Halevi from Justice Minister Gideon Sa'ar's New Hope party. The bill would allow Israeli authorities to remove certain posts supporting "illegal activities" from social media sites. The bill must now go through three more plenary votes. Under the proposal, a judge would be able to issue an order requiring a content publisher, such as Facebook or TikTok, to remove posts from its website, if law enforcement agencies are convinced that a criminal offence has been committed through the publication of the content.