Check out our digital rights weekly update!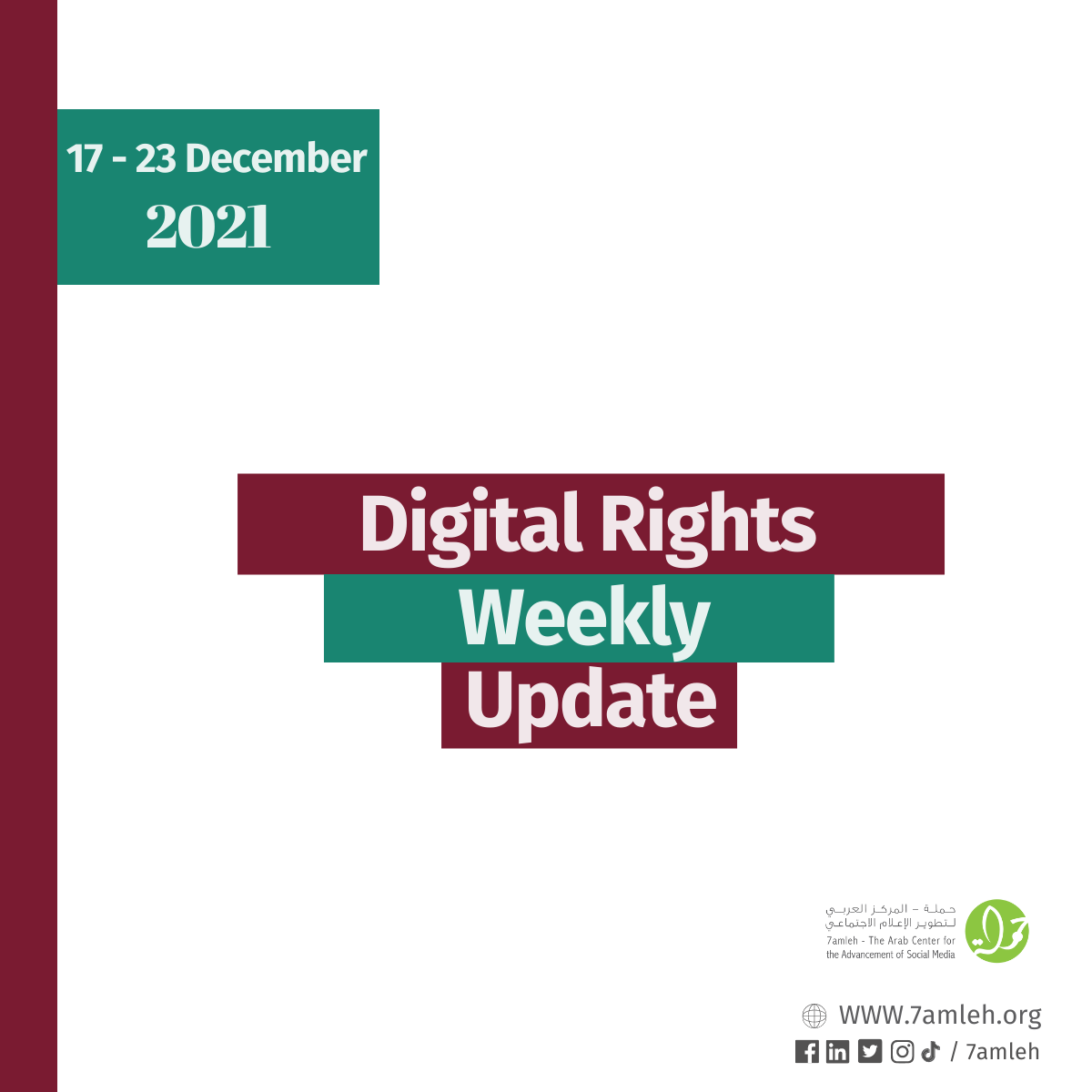 Podcast "The Field" | How Israel turned the espionage industry into a profitable business? (Arabic)
Arab 48
In the nineteenth episode of the "Al-Midan" podcast, we host the director of the Arab Center for Advancement of Social Media - 7amleh, Nadim Nashif. In this episode, we discussed how Israel has turned the Palestinian people into a laboratory for Israeli spy companies and security services in order to develop control software that claims to be able to "predict" what the Palestinians are doing. We touched on spyware and how it affects our daily lives and makes social and political decisions without our knowledge. These software and algorithms play a large role in Israeli government plans with the ability to monitor all Palestinians. We concluded the conversation with questions: Do democratic regimes have the ability to control non-governmental spyware, control government spying devices, and prevent them from invading our privacy? Does this software pose a threat to the democracies in the world?
Israel's Systematic Surveillance of Palestinians (English)
WRMEA
A recent Washington Post investigation, which demonstrated that Israel has been systematically increasing surveillance on Palestinians in the West Bank by building a database that integrates facial recognition, set the stage for much of the talk. Avner Gvaryahu, executive director of Breaking the Silence, remarked that he, along with his peers, were simultaneously "surprised and very unsurprised" by the revelations. In particular, the former Israeli soldier was surprised at how widespread and accessible these technologies were to everyday soldiers and even Israeli citizens. In fact, the Israeli government and certain universities provided extra credit to students to monitor Palestinian social media, while also encouraging Israeli citizens to take pictures of Palestinian adults, children and the elderly.
'Cyber Mercenaries': Israel's Spyware Industry Is Getting Slammed Around the World (English)
Haaretz
U.S. blacklisting and scathing reports by Google and Facebook-owner Meta are only some of the steps being taken against Israeli firms that are not being properly supervised by agencies at home. At first glance, the Israeli startup Cobwebs Technologies seems like just another cybercompany. On its website, the firm proudly declares that it's "a world leader in web intelligence." In 2019, when it announced that it had raised $10 million, the company claimed to have developed a search engine for intelligence information and said it wanted to be the "Google for intelligence." But the report released Thursday by Meta, Facebook's parent company, exposes a more secretive element of the company's activities.
Israel's cyberwarfare industry had a bad year (English)
The Electronic Intifada
It's been a bad year for Israel's notorious cyberwarfare firm NSO Group. As more news of its role in human rights abuses surfaces, the company has been hammered with lawsuits from tech giants and US government sanctions. It may even be on the verge of collapse. But that does not mean Israel's state-sponsored cyberwarfare and espionage industry would disappear with it. Over the summer, an investigation by the global reporting consortium Forbidden Stories with the help of Amnesty International revealed that NSO Group's spying technology has been used much more widely than previously known.
Digital inclusion: Inclusive opportunities for Palestinian entrepreneurs (English)
relief web
The Palestinian economy suffers from imposed restrictions on the movement of people and goods, especially in Gaza, as well as the lack of growth stimulators. Palestinian youth and entrepreneurs struggle to access opportunities that will allow them to create successful initiatives and employment opportunities in the Palestinian market. During the first quarter of 2021, the unemployment rate reached 48% in Gaza and 17% in the West Bank. This situation especially affects women. Over 250 information and communication technology companies exist across Palestine and they contribute to about 12% of Palestine's GDP.