Check out our digital rights weekly update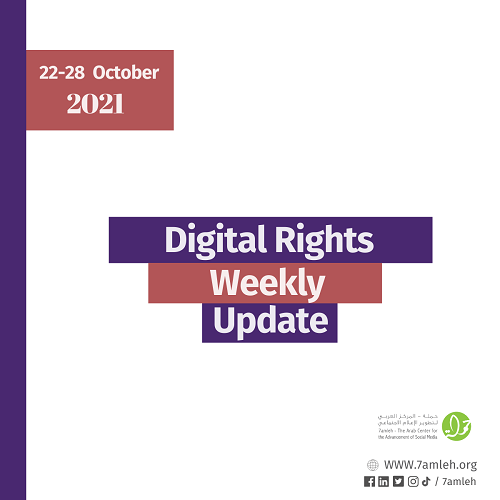 Weekly Update 22 - 28 October
7amleh releases a new investigative study on the Palestinian public's perceptions of Palestinian civil society organizations (English)
7amleh
7amleh - the Arab Center for the Advancement of Social Media released a new investigative study titled "The Palestinian Public's' perception of Palestinian Civil Society Organizations," which tries to understand and analyze the perceptions of Palestinians of civil society organizations in the West Bank, Gaza Strip, Jerusalem and Israel. This study sheds light on these perceptions, through examining the attitudes of members of the Palestinian society towards civil society organizations, and trying to understand the relationships between civil society and indvdiuals, based on how indviduals interact with and react to the activites of these organizations. The aim of the study is to identify "problems" that may face the Palestinian civil society and its organizations.
Facebook's language gaps weaken screening of hate, terrorism (English)
AP
Activists in Gaza and the West Bank lost their ability to livestream. Whole archives of the conflict vanished from news feeds, a primary portal of information for many users. Influencers accustomed to tens of thousands of likes on their posts saw their outreach plummet when they posted about Palestinians.
Palestinians urge PayPal to offer services in West Bank and Gaza (English)
The New Arab
Palestinian activists have accused PayPal Holdings Inc of discrimination for not allowing Palestinians in the Israeli-occupied West Bank and the Gaza Strip to link their bank accounts to its digital payment platform. PayPal did not respond to multiple requests by Reuters for comment on the accusations and demands for Palestinian access to its services, part of a campaign launched this month by Palestinian digital rights group 7amleh.
Google, Amazon workers call to cancel billion-dollar Israel contract (English)
The Guardian
We are writing as Google and Amazon employees of conscience from diverse backgrounds. We believe that the technology we build should work to serve and uplift people everywhere, including all of our users. As workers who keep these companies running, we are morally obligated to speak out against violations of these core values. For this reason, we are compelled to call on the leaders of Amazon and Google to pull out of Project Nimbus and cut all ties with the Israeli military. So far, more than 90 workers at Google and more than 300 at Amazon have signed this letter internally. We are anonymous because we fear retaliation.
Revealing 48 Palestinian organizations and individuals Facebook classified as "terrorist" (Arabic)
Arab 48
Last week, The Intercept revealed a list of individuals and organizations around the world (100-page document) that Facebook classified as "terrorist." It seems that Facebook intends to block the official accounts of the individuals and organizations on this "black list". Forty-eight names of Palestinian individuals, organizations and institutions were found on the list, among them organizations and leaders, the majority of which affiliated with Hamas and Islamic Jihad according to the "black list".