Check out our digital rights weekly update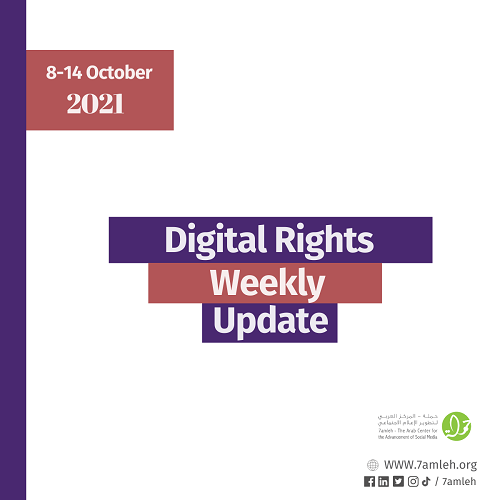 Israel/Palestine: Facebook Censors Discussion of Rights Issues (English)
HRW
Facebook has wrongfully removed and suppressed content by Palestinians and their supporters, including about human rights abuses carried out in Israel and Palestine during the May 2021 hostilities. The company's acknowledgment of errors and attempts to correct some of them are insufficient and do not address the scale and scope of reported content restrictions, or adequately explain why they occurred in the first place.
How PayPal's 'digital discrimination' is stifling the Palestinian economy (English)
TRT World
In light of PayPal's exclusionary approach, Palestinians and international human rights groups have renewed a call this week for the global payments giant to stop its "digital discrimination" that excludes Palestinians in both the occupied West Bank and Gaza from using its service, while making it available to Israeli settlers in the West Bank.
Digital Rights in Palestine (English)
This Week in Palestine
Last May, through Instagram stories and Twitter hashtags, Palestinian youth were able to make their voices heard throughout the world and mobilize an uprising across the fragmented parts of occupied Palestine. The uprising started with a call for support by Muna and Mohammed El-Kurd, through their personal social media accounts, to stop the forced displacement taking place in their Jerusalemite neighborhood of Sheikh Jarrah. Soon the twin siblings made headlines in international media and brought hundreds of thousands around the globe to march for their cause in some of the largest demonstrations in history in support of Palestine.
Facebook is not doing enough against anti-Palestinian hate (English)
The New Arab
While the Oversight Board's recommendation of an independent investigation into bias in relation to Palestine and Israel is a step in the right direction, glaring questions still remain, not only about how content is reviewed and moderated but also how Facebook plans to protect freedom of expression and protect against government interference. This case is not an isolated incident and stresses the need for a thorough and transparent public audit of Facebook's policies and actions regarding Palestine.
We are Google and Amazon workers. We condemn Project Nimbus (English)
The Guardian
We are writing as Google and Amazon employees of conscience from diverse backgrounds. We believe that the technology we build should work to serve and uplift people everywhere, including all of our users. As workers who keep these companies running, we are morally obligated to speak out against violations of these core values. For this reason, we are compelled to call on the leaders of Amazon and Google to pull out of Project Nimbus and cut all ties with the Israeli military. So far, more than 90 workers at Google and more than 300 at Amazon have signed this letter internally. We are anonymous because we fear retaliation.
REVEALED: FACEBOOK'S SECRET BLACKLIST OF "DANGEROUS INDIVIDUALS AND ORGANIZATIONS" (English)
The Intercept
The restrictions appear to trace back to 2012, when in the face of growing alarm in Congress and the United Nations about online terrorist recruiting, Facebook added to its Community Standards a ban on "organizations with a record of terrorist or violent criminal activity." This modest rule has since ballooned into what's known as the Dangerous Individuals and Organizations policy, a sweeping set of restrictions on what Facebook's nearly 3 billion users can say about an enormous and ever-growing roster of entities deemed beyond the pale.
Facebook is in Trouble! (Arabic)
Daraj
After the company's service and its affiliated platforms, "WhatsApp", "Instagram" and "Messenger", were down for nearly 6 hours of almost complete isolation, former Facebook employee Francis Haugen revealed loud leaks during the "60 Minutes" program on C channel. BSN". In the meeting, Haugen suggested that "Facebook" preferred "profit over safety", noting that changing its algorithms to make the platform more secure would reduce the time people spend on the site, which affects the frequency of ads and thus profit. Thus, a bad week became a terrible week for the company.