Check out our digital rights weekly update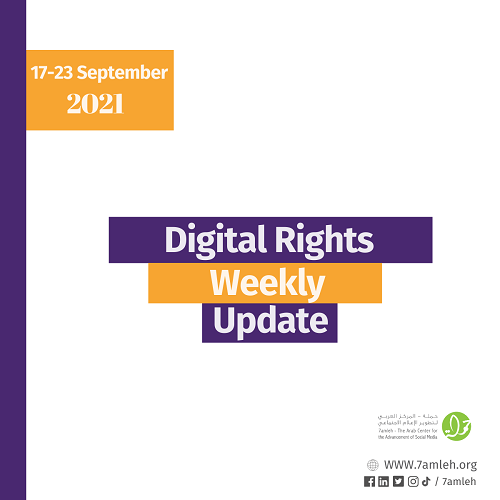 Messy on the inside: internet memes as mapping tools of everyday life (English)
Taylor & Francis Online
This paper presents the first systematic analysis of memes created by Palestinians in Israel. An analysis of 150 memes reveals how memes are used to reflect on and intervene in Palestinian youths' navigation of life in mixed cities under prolonged war and colonialism. I analyze these memes at three different levels: global popular culture and politics, in relation to the Israeli State, and Palestinian in-group dynamics. The analysis reveals a divide between Palestinians and Israelis despite living in mixed cities, putting the myth of coexistence in such cities into question. Memes appear to function both in navigating the contested cultural and spatial politics and carving out space in the cultural landscape for youths' aspirations.
Is Facebook biased against Palestinians? (English)
Forward
Facebook, like every major social media company, faces enormous challenges in moderating content on its platform. In the past few years, news outlets such as The Verge, Radiolab and NBC have made major investigations into the moderation process for the social media giant, which involves both artificial intelligence and thousands of employees sourced through third-party companies. These employees look through hundreds of violent or offensive images a day, making decisions that require a nuanced understanding of Facebook's policies and the context of posts.
Think Facebook's review will fix alleged Israeli bias? Not so fast, say Palestinians (English)
Middle East Eye
Palestinian digital rights advocates have welcomed Facebook's Oversight Board's call for an independent review into alleged bias in the tech giant's moderation of Palestinian and Israeli posts. But not so fast, they say. While the review is long overdue, the platform still has a way to go before it is moderated fairly and transparently, and it remains to be seen if the company will act on the board's recommendations. The board's report, released last week, came after an uproar in May when Facebook, Instagram (also owned by the tech giant) and Twitter were accused of censoring Palestinians and their supporters following the removal of hundreds of pro-Palestinian posts, often without explanation.
Israel's Pegasus: Is your phone a '24-hour surveillance device'? (English)
Al-Jazeera
Between June 2020 and February 2021, the iPhones of nine Bahraini activists – including two dissidents exiled in London and three members of the Bahrain Centre for Human Rights – were hacked using the Pegasus spyware that was developed by NSO Group, an Israeli cyber-surveillance firm regulated by Israel's defence ministry. The hackings were revealed in a new report from Citizen Lab at the University of Toronto, which has studied Pegasus extensively along with related nefarious modern phenomena.
Who Spies on Us? (Arabic)
Al-Quds al-Arabi
Average users often do not worry about the security dimension of what they say or publish as they consider themselves outside the scope of social, political, economic or security-based accountability. Therefore, they do not consider the amount of information others may have on them. What they do not know is that by entering the digital world, they have been transformed from simple numbers to full on digital folders including their personal information, social information, interests in sports, shopping and an endless list of personality traits and even including their tax and customs status, etc.
New York University reveals Israeli algorithms to block Palestinian content (Arabic)
Al-Hadath Newspaper
A scientific research issued by New York University revealed the details of an Israeli campaign against Palestinian content on social media based on "algorithms" that monitor and report Palestinian content as "violent content that should be removed". A recent paper titled "Fueling the Fire: How Social Media Intensifies Political Polarization in the United States?" accused Facebook of contributing to the spread of extremist ideas and a divisive political climate.