Check out our digital rights weekly update!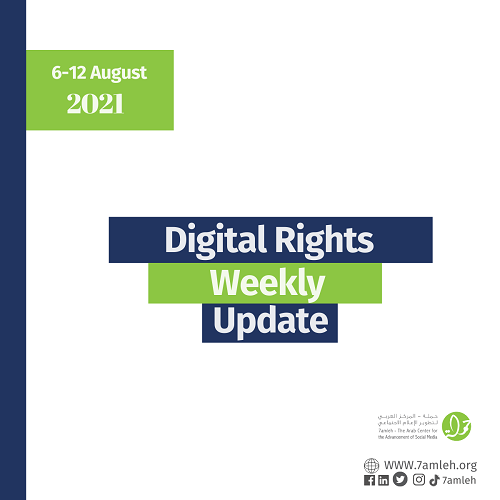 The Enemy is Watching you: Facial Recognition Technology Violates the rights of Palestinians (Arabic)
Quds News Network
Across the occupied Palestine, the security system of the occupation has boosted the "monitoring and control" arsenal that's been developed over the past years, with thermal camera systems to "recognize faces". This has raised widespread Palestinian and international concerns by human rights organizations. Recently, Palestinians noticed that the Occupation deployed "face recognition" cameras in northwest areas of Ramallah and at intersections in villages surrounding occupied Jerusalem.
MADA: 43 violations against media freedoms in Palestine during July (English)
PNN
July 2021 witnessed a relative decrease in the number of violations against media freedoms in Palestine, compared to what it was in the previous two months (May and June) when it recorded a sharp increase (167 violations in May, 123 violations in June).
ADC urges probe of rising discrimination against Arab Americans (English)
The Arab Daily News
Over the past few weeks ADC has received numerous calls involving employees being punished, either by being fired or disciplined, for posting or sharing pro-Palestinian sentiment on social media. These cases all involve similar fact patters — an employee is targeted by the employers, after outside pressure, and is disciplined or fired for posting or sharing pro-Palestinian posts on social media.
Cyberspace is an arena for gaining the support of international public opinion (Arabic)
Al-Hadath
According to a survey carried out by 7amleh on racism and incitement in the Israeli digital space, about 60,000 Israeli activists wrote on the Internet at least one violent post against Arabs. It also revealed the number of racist and inciting posts against Palestinians on social networks (mostly on Facebook) during 2020 reached about 675,000 ones, with an average of one post every 46 seconds.
QF alumni use digital art to raise awareness of Palestinian crisis (English)
Gulf Times
Henzab feels that it is his duty as an artist to raise awareness of the conflict by using his Instagram account as a platform. "I have two works on Palestine. One of which I came across a photo of a young Palestinian girl hugging a baby doll by her family's home in Gaza, which had been destroyed. I was deeply affected as the father of a daughter of a similar age to the girl in the photo. So I drew the girl hugging Al-Aqsa Mosque in Jerusalem, representing Qatar and other countries' support and compassion towards the people of Palestine," said, Henzab.