Check out our digital rights weekly update!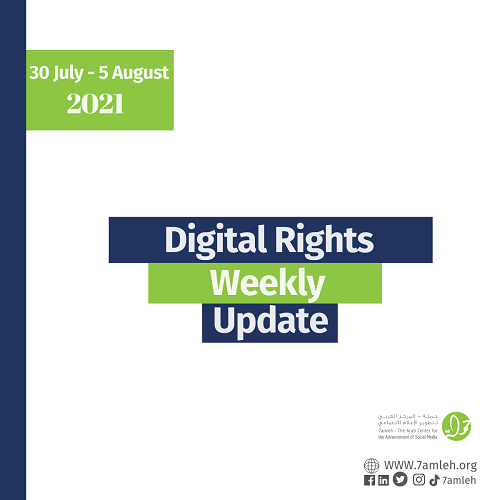 Pegasus Spyware: UN Urges Better Regulation of Surveillance Technology (English)
Good Men Project
The UN High Commissioner for Human Rights Michelle Bachelet said the apparent widespread use of Pegasus spy software to illegally undermine the rights of those under surveillance, including journalists and politicians, was "extremely alarming" and confirmed "some of the worst fears" surrounding the potential misuse of such technologies.
Israeli Cyber Authority Opposes Police Facial Recognition Cameras (English)
Haaretz
Israel National Cyber Directorate expressed far-reaching opposition to a move by the police to install facial recognition cameras in public areas, citing concerns over the leakage of personal data that would amount to human rights breaches. The law could violate human rights, leak sensitive data, and cause 'friction' between the police and the public, warn cyber experts
Fact Sheet: The Palestinian ICT sector and digital rights (Arabic)
Mezan Center
The Israeli occupying authorities continue to violate the digital rights of the Palestinians in the Gaza Strip, and deprive them of benefiting from digital and technical development. The occupation imposes restrictions on the entry of equipment necessary for the development of this sector, doesn't allow for 3G and 4G systems of Internet to operate, and targets facilities and companies operating in the ICT sector directly and indirectly.
Israel's Pegasus spyware: Tested in Palestine, sold to the world (English)
The New Arab
Prior to marketing the technology, Unit 8200 have been known to spy on Palestinians living in the West Bank following an open letter in 2014 from 43 soldiers who confessed to conducting invasive surveillance operations and subsequently refused assignment in a "moral duty to act".
Israel lobby group ADL teams up with PayPal (English)
Days of Palestine
PayPal is partnering with the Anti-Defamation League, a major Israel lobby group, to investigate how "extremist and hate movements" use financial tools to fundraise. This could mean that financial tech giant PayPal is letting the ADL, with its lengthy history of spying on human rights activists, dictate what is and what is not "extremism" with no clear indication that this process will be transparent or accountable.