Check out our digital rights weekly update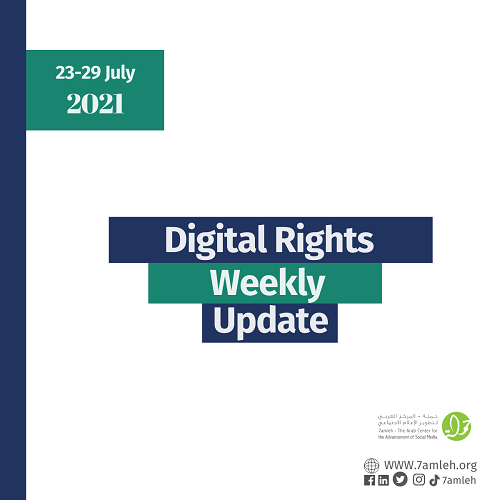 Facebook's censorship-by-algorithm silenced Palestinian voices. Can its biases ever be fixed? (English)
WIRED
From May 6 through the end of the month, as the conflict in Jerusalem descended into a war between Israel and Hamas that ended in a temporary ceasefire, 7amleh says it logged a total of 668 digital rights violations, each of which it flagged to social media platforms, with more than 250 complaints relating to Instagram alone.
Social Media—Lobby of the Powerful (English)
CASS
The latest escalation of violence between Israel and Palestine has once again brought to the fore the issue of discriminatory policies of social media giants. The voices of Pro-Palestine activists were, and continue to be, suppressed, blue-penciled, and removed from social media platforms. This appears to be a systemic attempt to silence the Palestinian narrative and shaping general perception in favor of the oppressor 'Israel' inconsistent with the reality.
The Full Story behind the NSO Hack: The Israeli-Military-Allied Surveillance Industry and Transnational Repression (English)
Arab Center Washington DC
The recent investigation into the NSO Group exposed a widespread global targeting of journalists and human rights activists and revealed evidence that their smart phones were hacked using The Pegasus spyware sold by the Israeli firm. The collaborative investigation was conducted by the Pegasus Project—named after NSO's hacking software—which is a consortium of 17 media organizations in ten countries. The project is coordinated by Paris-based journalism nonprofit Forbidden Stories, with technical support and forensic analysis by Amnesty International's Security Lab and independent corroboration by University of Toronto's research project Citizen Lab.
Moderating online content: fighting harm or silencing dissent? (English)
OHCHR
In either case, there are few channels for people to use to address their concerns. As an example, during the recent upsurge in violence in Israel and the Occupied Palestinian Territory in May, Palestinian voices were disproportionately undermined by social media company content moderation practices, and there were limited avenues for challenging take-down decisions. Instagram acknowledged problems with its automated curation systems.
Pro-Palestine groups denounce Paypal-ADL research into extremism funding (English)
Middle East Eye
Pro-Palestine groups have urged PayPal to cancel its partnership with the Anti-Defamation League (ADL), which seeks to investigate how extremist and hate movements in the United States use financial platforms. The Palestinian Youth Movement (PYM) said in a statement on Tuesday that PayPal should scrap working with the ADL due to the organisation's "anti-Palestinian and Islamophobic" track record.