check out our weekly update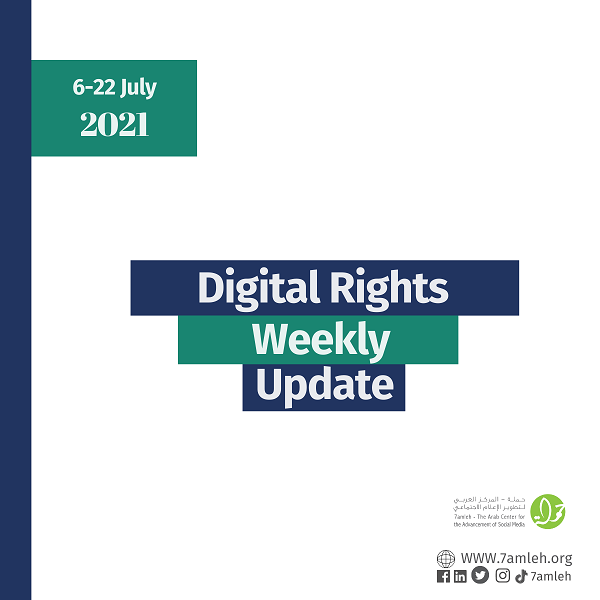 Facebook Blocks Account That Posted Letter by Jailed Palestinian ex-MP (English)
Haaretz
Facebook suspended for two months the account of a user who posted a letter from Khalida Jarrar, a Palestinian political activist and former parliament member who is serving a prison sentence in Israel, written after Jarrar's daughter's funeral Tuesday.
Facebook is imposing 'digital apartheid' on pro-Palestine accounts and content (English)
Middle East Monitor
Social media has played a major role in spreading awareness of the Palestinian cause, providing a voice to those marginalised by the mainstream. Now, though, social media outlets are excluding Palestinian voices from their platforms in order to silence them. Dozens of Palestinian pages and accounts have been removed, banned or restricted, and specific terminology often leads to users being suspended, especially on Facebook.
Hate Speech on Israeli Social Media Grew 9 Percent in Past Year, Report Shows (English)
Haaretz
Hate speech on Israeli Hebrew-language social media grew by 9 percent over the past 12 months, compared with the previous 12 months, according to the Hate Index Report issued Sunday by the Berl Katznelson Foundation, in conjunction with the Vigo research institute.
Israel's Pegasus spyware global weapon to silence critics (English)
Anadolu Agency
It was a few weeks later that Forbidden Stories – a global network of journalists engaged in investigations – confirmed that not just Pineda, but also the state prosecutor who investigated the case, Xavier Olea Pelaez, were the targets of Israel's Pegasus spyware in the weeks and months before his murder.