Check out our digital rights weekly update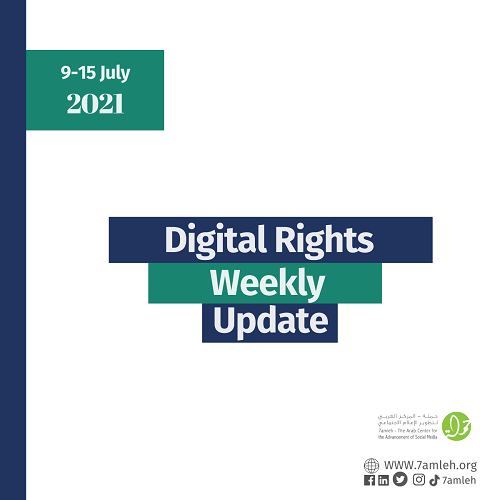 Why Palestinians are uniting around watermelon emoji (English)
Washington Post
Raising the red, green, white and black Palestinian flag has historically been banned at times in Israel and today draws the ire of authorities. So the watermelon — locally grown and similarly colored — has for decades served in Palestinian iconography as a subversive stand-in.
Study: 87% of Jerusalemite youth don't participate in political discussions on the Internet for fear of occupation (Arabic)
Al-Quds Alaraby Newspaper
A "position paper" issued by 7amleh - the Arab Center for The Advancement of Social Media, titled "Protecting Children Digital Rights Violations Against Jerusalem Children & Youth," revealed that Palestinians in occupied Jerusalem are subjected to policies and practices that systematically violate their basic and digital rights.
How a Secretive Cyber Unit Censors Palestinians (English)
The American Prospect
The social media blackouts of Palestinian accounts during the protests in May were just the most recent case in a pattern that's emerged over the last several years. A collection of civil society groups has documented a rise in content removals targeting Palestinians. Oftentimes, the problem lies in translation issues. In many other cases, the account suspensions are prompted by more politically motivated reasons, such as Facebook's internal content moderation policy on the word "Zionism," which conflates any criticism of the political ideology with anti-Semitism.
How Palestinian-Israeli conflict changed the way social media firms deal with content (English)
Arab News
Throughout the month, the Arab Center for the Advancement of Social Media (7amleh) documented more than 700 cases of Palestinian digital rights violations, of which 500 cases took place between May 6 and 19 alone.
Campaigns to combat sharing private photos of female participants in recent protests (Arabic)
Ultrapal
Human rights organizations announced that a number of complaints were received from female protesters as their phones were confiscated by the Palestinian security forces during their participation in protests on the killing of the political activist Nizar Banat. Later, protesters' private photos were published and circulated on social media.
Digital rights groups urge US to block Israeli surveillance firm's stock exchange plans (English)
The New Arab
Cellebrite supplies digital forensic tools that can extract data from cell phones, and its technology is widely used by law-enforcement agencies around the world. Rights groups say the Israeli firm continues to sell its tools to repressive regimes.
Facebook blocks Gaza's Shehab News Agency from its platform (English)
Middle East Eye
Facebook blocked the Palestinian Shehab News Agency from its platform on Tuesday, accusing the news organisation of violating its guidelines. The news agency, headquartered in the besieged Gaza Strip, extensively covers the Israeli occupation and Israel's violations against Palestinians in Gaza, the occupied West Bank and occupied East Jerusalem.
New Law Would Give Israeli Police Sweeping Biometric Surveillance Powers (English)
Find Biometrics
Israeli police are backing a bill that would give them sweeping biometric surveillance powers. The bill was recently published in draft form, and would codify a practice that has already drawn the ire of the Israeli Supreme Court and Israeli privacy advocates.