Check out the full report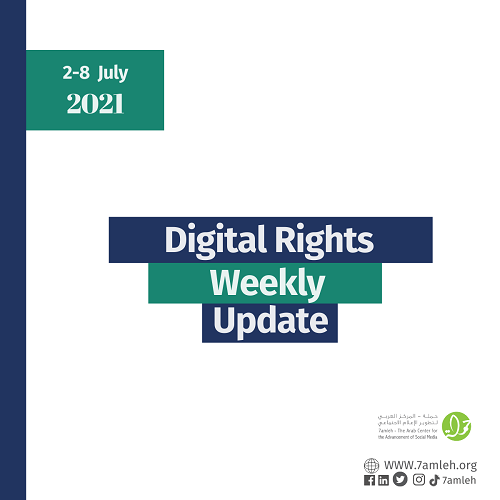 Protecting Children: Digital Rights Violations Against Jerusalem Children and Youth (English)
7amleh - Arab Center for the advancement of social media
The virtual world has become the primary space where children and youth in occupied East Jerusalem spend their time. 42 per cent use the Internet for more than 5 hours per day, while 31 per cent use it for 3 - 5 hours per day. It has also become the space where they express their opinions and political views. However, 87 per cent of children and youth rarely or never participate in political discussions online due to fear of prosecution from the authorities who monitor their social media content.
Publishing private photos for protestors...New tactics for suppression used by PA? (Arabic)
DW
Palestinian Authority activists were accused of leaking private photos of them and defaming them on social media after their phones were confiscated in the recent protests, which took place after the death of activist Nizar Banat. But does this method work to deter the protesters?
How Israel is automating the occupation of Palestine (English)
The New Arab
In-depth: Israel is using advances in biometric technology to facilitate its military occupation, with movement restrictions, policing, and surveillance becoming increasingly digitised.
Israeli military's TikTok attempt to make propaganda cool (English)
Al Jazeera
One month before engaging in the 11-day attacks of May that resulted in the death of more than 250 Palestinians and 13 Israelis, the Israeli army posted a TikTok video where plane pilots celebrate Israel's independence to the sound of "Pretty Boy Swag".
New investigation shows global human rights harm of NSO Group's spyware (English)
Amnesty
A new interactive online platform by Forensic Architecture, supported by Amnesty International and the Citizen Lab, maps for the first time the global spread of the notorious spyware Pegasus, made by cyber-surveillance company NSO Group.
Ending Internet shutdowns: a path forward - Report of the Special Rapporteur on the rights to freedom of peaceful assembly and of association (English)
Relief Web
As a follow-up to his report on the rights to freedom of peaceful assembly and of association in the digital era, submitted to the Human Rights Council at its forty first session (A/HRC/41/41), the Special Rapporteur on the rights to freedom of peaceful assembly and of association, Clément N. Voule, presents to the Human Rights Council a study of recent trends and the impact of Internet shutdowns in relation to peaceful protests, and makes recommendations to address this global phenomenon.
Facebook, Google, TikTok and Twitter make unprecedented commitments to tackle the abuse of women on their platforms (English)
World Wide Web Foundation
Facebook, Google, TikTok and Twitter — four of the world's largest tech companies — today announce a bold package of commitments to tackle online abuse and improve women's safety on their platforms at the UN Generation Equality Forum in Paris.