Check out the full report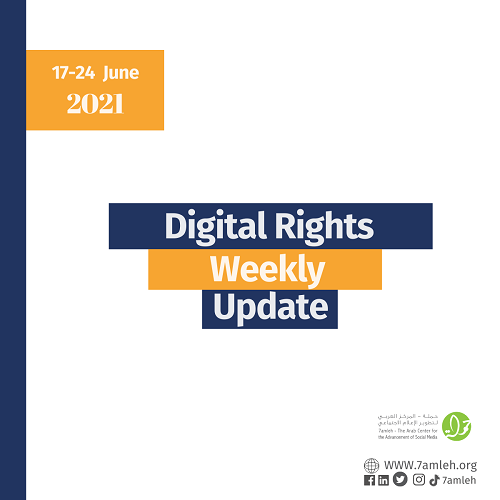 Racism Index shows 15-fold increase in online hate speech directed at Palestinians and Arabs (English/Arabic)
IFEX
Our partners at IFEX released this report uplifting and amplifying the findings of 7amleh's latest report "the Index of Incitement and Racism," which recorded a staggering 15-fold increase in violent online speech against Palestinians and Arabs in May 2021, compared to the same time period in 2020, spurred by Israel's recent aggression.
Narratives and Social Media: Palestinians' Uphill Battle (English)
The Tahrir Institute of Middle East Policy
Mona Shtaya, the Local Advocacy Director at 7amleh published this article commenting on the censorship that Palestinian content and users were subject to last month, May 2021. Shtaya stresses that such censorship is part of a longer history of anti-Palestinian bias in content moderation policies that social media companies employ on their platforms, that 7amleh has monitored and observed for years before the events of last month. Shtaya then outlines the details of the violations that took place most recently, specifying the percentage of cases that took place on each of the main social media platforms, how many were resolved or not, and the justifications that were cited by each company for such violations. Shtaya references multiple researches conducted by 7amleh, mainly including its recent report on the censorship in May as well as its latest Index of Racism and Incitement which revealed a 15% increase in such violent content compared with last year.
An increase in racism and incitement against Palestinians & Arabs during the last Israeli aggression (English)
Palestine News Network
This report by the Palestine News Network provides a summary of 7amleh's latest report "The Index of Racism and Incitement," which revealed that there were 183,000 conversations that included racism, insults, or incitement against Arabs, out of 1,090,000 conversations the report monitored which addressed Arabs and Palestinians generally on the internet, marking a 15% increase since last year.
Fact-checkers face obstacles to bring news to Gazans during wartime (English)
Al-Monitor
Al-Monitor met with the Palestinian Observatory for Verification and Media Professionalism (Kashif) who said that during the 11-day conflict in Gaza, there were more rumors and misinformation compared to past periods related to the coronavirus pandemic, the legislative elections and the Israeli forced eviction of the residents of Jerusalem's Sheikh Jarrah neighborhood. In an interview al-Monitor held with Misbar, it was revealed that 200 of the 320 pieces reviewed by the fact-checking initiative turned out to be false. The report further cites 7amleh's report "Fake News in Palestine," which found that 72% of Palestinians encountered misinformation in 2020.

Palestinian Authority arrests activist over online criticism (English)
Associated Press
The Palestinian authortiy arrested Issa Amro, an outspoken critic of both Israel and the PA who has been arrested by both in the past, who said he was summoned for questioning by the PA's cybercrimes unit late Monday 21 June 2021. Amro said he was particularly asked about a Facebook post in which he protested the arrest of a man linked to a political rival of Palestinian President Mahmoud Abbas. In the post, Amro said the PA should instead arrest "corrupt" people within its own ranks.