Check out our digital rights weekly update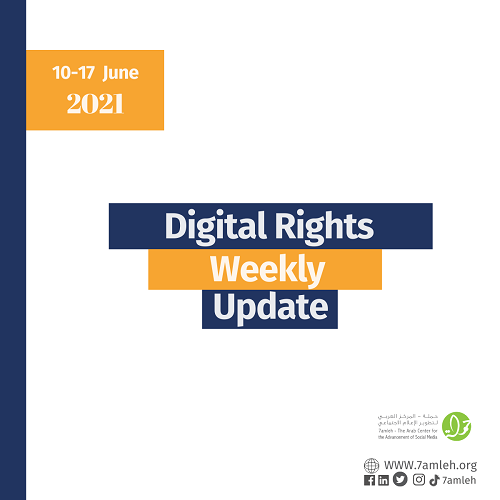 7amleh - The Arab Center for the Advancement of Social Media
Weekly Update 10 - 17 June
Violent speech against palestinians escalated as israel assaulted gaza, new report claims
Independent
This report by the Independent sites 7amleh's reporting on incitement and racism online in Hebrew against Palestinians, particularly in May 2021 during Israel's aggression on the Gaza Strip and Palestinians across the occupied Palestinian territory and Israel. The report tells us that the amount of violent speech against Arabs and Palestinians on social media rose by 15 times compared to last year.
Anti-Arab speech surges on social media during Gaza clashes, survey shows
Arab News
Arab News reports on the increase in violent speech and incitement, in Hebrew, against Palestinians between 6-21 May, and specifically during Israel's last aggression against Palestinians across the occupied Palestinian territory and Israel. The report cites both 7amleh's report "The Index of Racism and Incitement," published in June and "The attacks on Palestinian Digital Rights," published in May.
Global Civil Society Coalition Calls On Facebook To #StopSilencingPalestine
Scoo World
Access Now released a press release, along 16 organizations and 50 artist, calling on Facebook to stop censoring Palestine using the hashtag #StopSilencingPalestine, following the series of content takedowns and account suspensions that Palestinian users faced in their advoacay against the froced expulsion of the Palestinian residents of Sheikh Jarrah, and the last Israeli attack on the Gaza Strip. This report on the release cites 7amleh's latest report on over 500 violations the center documented and responded to in May 2021 alone.
Chicago protest against Facebook censorship targeting Palestinians
100 activists gathered in front of the Facebook offices in Chicago to demand an end to digital apartheid in Palestine, following the series of content takedowns and accounts suepsnion that Palestinian users face during the Israeli attacks on Sheikh Jarrah and the Gaza Stirp in May 2021. The demonstration was organized by the Coalition for Justice in Palestine (CJP) which also called on Facebook to review its Hate Speech policy regarding the word "Zionist," and for the protection of Palestinian jouranlists.
Palestinians' Claims of Social Media Censorship Mount
Popdust
This report originally posted by Middle East Eye accounts for the rising calls to end censorship against Palestinians on social media platforms. The report documents public statements by human rights organizations, workers in social media companies, universities in the United States and lastly, Congresswoman Rashida Tlaib who wrote letters to the main social media companies. The report cites 7amleh's latest report on over 500 violations the center documented and responded to in May 2021.
Cartoon: Systematic campaign by Facebook to censor Palestinian content on social media
ABNA
This post documents a cartoon that went viral, showcasing the weight of the censorship practiced against Palestinians by Facebook, as it paints an image of a fighter jet dropping bombs on what seems like a Palestinian city, alongside another aircraft carrying Facbeook's symbol, dropping ban icons, representing censorship, on the same city.

Activists call for intensifying pressure on digital platforms and warn that fighting content is depriving Palestinians of their digital archive
Palestinian experts, activists and media professionals demanded yesterday the need to stop deceiving algorithms and digital platforms, and to turn to direct confrontation by continuing to express the Palestinian identity and narrative. The report cites an interview with Mona Shtaya, the Local Advocacy Director at 7amleh, who said that this censorship is not a one-time problem, but is part of a greater trend that 7amleh center has observed in the algorithms of digital media platforms for years now.
Arab activists and experts launch a campaign "Facebook wants to execute us"
Shorouq
Arab and Palestinian activists launched a campaign online calling out the censorship Facebook and other social media platforms has been subjecting Palestinian to, particularly during the last Israeli aggression on the Gaza Strip and against Palestinians at large. The campaign was joined by prominent figures such as Mona al-Kurd from the Jerusalemite neighborhood of Sheikh Jarrah. The report cites 7amleh's recent report on over 500 digital rights violations the center documented and responded to.
22 Rights Groups Tell PayPal and Venmo to Shape Up Policies on Account Closures
Electronic Frontier Foundation
22 rights groups and civil society organizations have joined together to tell PayPal and its subsidiary Venmo to shape up its policies on account freezes and closures, as its opaque practices are interfering with payment systems connected to many First-Amendment protected activities. 7amleh signed on this letter, as it is one of its main missions to combat deplatfromng against Palestinians and Palestinian human rights defenders, as well as granting Palestinians access to the global e-commerce economy, via enabling them to use services like PayPal and Venmo.
TikTok hires Israeli lobbyist after IsraeliPalestinian violence goes viral
Haaretz
TikTok has decided this week to hire an Israeli Lobbyist, Dafna Cohen, in response to what this report describes as " a wave of backlash the company received from the United states and Israeli government," claiming that the platform had a role in intensifying Arab violence in Israel last month, revealing that Prime Minister Benjamin Netanuyahu at one point suggested freezing access to the platform. We consider this step a serious threat to the digital rights of Palestinian users on TikTok, who have already been facing increasing censorship on different social media platforms, as evident in 7amleh's latest report on digital rights violations against Palestinians in May 2021.